It can be hard to criticise a nation with the heritage of Brazil but my first thought watching them play Croatia on Thursday night was that they were too rigid. Sure, this is a team with some outstanding individual talents in Neymar and Oscar, but when I watch Brazil I expect to be blown away with their quality and their movement. This time I wasn't.
My belief is that a team requires a ball-playing midfielder. One who can pass the ball forward from deep positions and bring other players into the game. That was what Brazil teams had when I watched them as a kid but I did not feel that way this time.
I felt the issue was that Brazil, in Luiz Gustavo and Paulinho, do not have a player who is comfortable passing the ball forward. They are both good up-and-down, workmanlike midfielders but neither of them has got the guile. That was the problem that Tottenham had last season. We missed the clever ball-playing midfielder.
It's a player like Luka Modric. I call him a "disguised passer". When you play against him, you can't read where the ball is going to go. He plays so many passes with the outside of his right foot. On the flip side you get the "side-foot Charlies", wearing out the instep of their boots. When they have the ball at their feet, you do know where it's going. Those players have a role to play, but you need a blend of both.
World Cup 2014: Brazil 3 Croatia 1 - player ratings
World Cup 2014: Brazil 3 Croatia 1 - player ratings
1/22 Julio Cesar 7

Produced some assured catches and stops, and could do little about the goal.

GETTY IMAGES

2/22 Marcelo 5

Not completely at fault for the goal, but far from a complete performance.

GETTY IMAGES

3/22 Thiago Silva 6

Did much to eventually shore Brazil's defence together, but not at his best.

GETTY IMAGES

4/22 David Luiz 6

If always a little unreconstructed, Luiz did do well to cut out a range of Croatian attacks.

GETTY IMAGES

5/22 Dani Alves 4

Must realise he is no longer the right-back-cum-right-winger he used to be.

GETTY IMAGES

6/22 Luiz Gustavo 6

One of the typical midfield cogs that Felipe Scolari so leans on.

GETTY IMAGES

7/22 Paulinho 6

Eventually got to grips with Croatia's technical midfield passing before being taken off.

GETTY IMAGES

8/22 Oscar 9

Neymar's superb supporting act. Having kick-started the response, he delivered the sign-off.

GETTY IMAGES

9/22 Hulk 5

Mostly ineffective, before being taken off when the game really got serious.

GETTY IMAGES

10/22 Neymar 9

A decisive and potentially defining performance. This was the real deal.

GETTY IMAGES

11/22 Fred 6

Almost as ineffective as Hulk, but produced a blatant dive for the penalty.

GETTY IMAGES

12/22 Stipe Pletikosa 7

One exceptional save from Oscar and a host of solid ones.

GETTY IMAGES

13/22 Sime Vrsaljko 6

Ably supported Olic up the left for some of Croatia's best moves.

GETTY IMAGES

14/22 Darijo Srna 6

Caused Brazil a fair few problems but eventually succumbed to the siege.

GETTY IMAGES

15/22 Vedran Corluka 5

Increasingly exposed by the runs and movement of Neymar and Oscar.

GETTY IMAGES

16/22 Dejan Lovren 5

Doubts about his starting place, but even more doubts about the unfortunate penalty decision.

GETTY IMAGES

17/22 Mateo Kovacic 6

Nowhere near as perceptive as for Inter, and eventually taken off.

GETTY IMAGES

18/22 Ivan Perisic 6

Another Croatian wideman who enjoyed such initial joy on the flanks, only to be gradually forced in.

GETTY IMAGES

19/22 Ivan Rakitic 6

Played his role but never as ably as Modric.

GETTY IMAGES

20/22 Luka Modric 7

One of the visiting sides better performers and often the source of some of those exhilarating early attacks.

GETTY IMAGES

21/22 Ivica Olic 7

Started superbly, ran out of steam: the story of the team.

GETTY IMAGES

22/22 Nikica Jelavic 6

Had an unintentional part in the goal, and caused Brazil enough problems.

GETTY IMAGES
Paulinho's strength is that he can get from box to box. He will get on the end of a move and score a few goals, but he needs it on his right foot for that to happen. It would be optimistic to compare him to someone like Frank Lampard who, at his peak, was capable of surging into the opposition area from midfield and scoring with his left or right foot.
As for Gustavo, he spent a lot of time dropping between the two centre-halves, who split and let the full-backs attack. Brazil needed to go down the sides because they didn't have the ability to pass through the middle of Croatia. Neymar and Hulk had to drop deep to get the ball and were in areas where they couldn't hurt Croatia.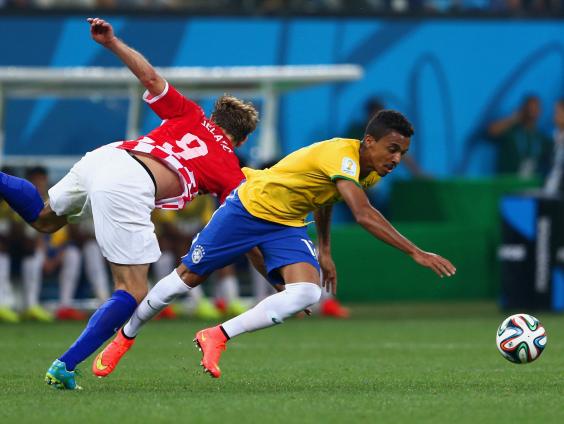 Perhaps you could best express the point this way: if Modric had been in a Brazilian shirt he would have been capable of passing the ball forward and getting Neymar and Hulk into dangerous positions. Brazil's pattern of play would be more what we expect of them. They did not really have any sustained possession. Modric has the ability to pass the ball between the lines, and he has the technique to take the ball in difficult situations.
Brazil got the job done in the end, albeit with a penalty decision that was very fortunate, but it made me wonder why they have started to play like this. I have watched their games for a long time – especially when I was keeping tabs on Sandro and Paulinho at Spurs – and Brazil have played like this for a while.
I think the trend started with Dunga playing holding midfield in the 1994 World Cup finals and ever since they have believed they need at least one in his image. Now, in Luiz Felipe Scolari's second reign, they seem determined to play with two.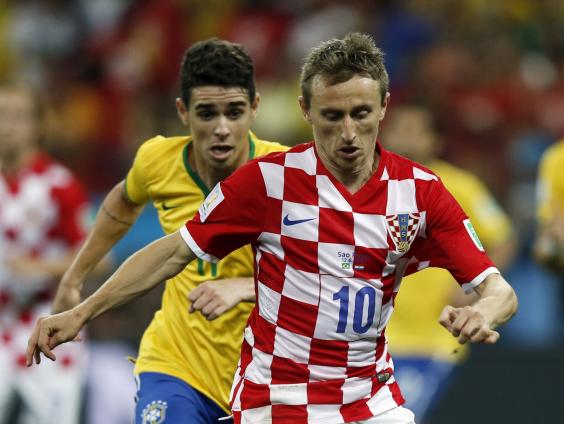 In the past I have watched Brazil teams and thought: "Well, they're just better than the rest". Now I wonder if they are opting for the holding midfielders because they don't trust their quality. Perhaps it is too optimistic to expect them to be the great entertainers.
This is not an outstanding Brazil side. For instance, their striker, Fred, is average. It seems to me they would be quite happy counter-attacking against opposing sides. If that is how the World Cup is won, we are in for a boring tournament. That's not how I think a Brazil team should play. Their tradition is built on playing as many attacking players as they can and going at opposing sides and breaking them down.
Perhaps those days of expansive, attacking football are gone for ever.
England youngsters must be let off the leash from the start
My mind has not changed since watching England's warm-up games in Miami. I would like to see Raheem Sterling and Adam Lallana start against Italy.
They have a good enough group of young players to win the next European Championship, so let's see them go for it this time. In the last two games the better players have tended to be the younger lads. They are more comfortable on the ball and more trusting of their technical ability.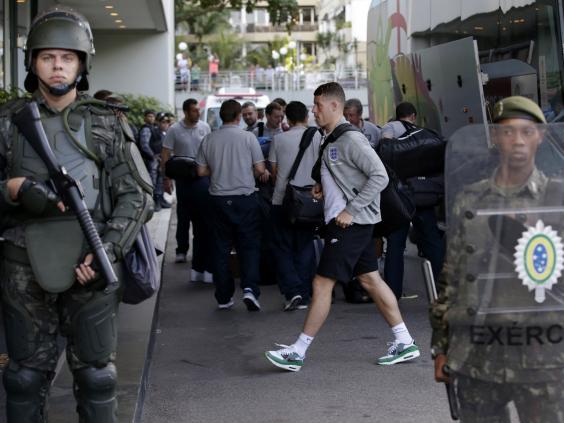 The likes of Sterling, Lallana and Ross Barkley are prepared to receive the ball on the back foot and move it forward. Barkley, in particular, is a very expressive player.
It shows we can develop this kind of English player. The issue is whether they are going to play in their club first teams or not. It is a problem that has many root causes but one of them is the kind of manager who comes into the English game from overseas and just doesn't trust English players to do it in the first team. They have to be given that opportunity.
Lallana and Rickie Lambert were given that chance at Southampton, at different stages of their career, and a long way below the Premier League at first. They are proof that English talent, given trust and a run of games in the first team, can develop to international standard. I wonder what will happen to the next few good young lads from Southampton's academy. Someone has to be brave and play them.
Street star Sterling shows the virtue of not over-coaching
I look at someone like Raheem Sterling and it is clear to me he is a street player. I worked in development for a long time at Spurs and I always felt that in England we try to coach young boys in tactics for the sake of winning a game. We need to coach technique. Let them play. They can start to learn the tactical side between 16 and 18. Let them develop the flair in their game.
Neymar has that flair, and Oscar too. There are many more in the Argentina team – Lionel Messi, Angel Di Maria. Do you think Luis Suarez was coached at the age of nine? He will have just played at that age. Some days I watch development games and the teams are so rigid and drilled that not one player stands out. The attacking players are shackled in the system.
I watch games where the wingers have been coached to help cover back with defensive work. It means that when they get the ball they don't have the energy to take their full-back on. If I have to make a decision on a boy's contract I need to know whether he can go past the full-back, cross the ball, score goals. Making him track back might win a few games for the Under-18s but the kid could end up working in Sainsbury's.
Chile's expansive game will be well worth watching
I really like the look of Chile. They are in a tough group with Spain, the Netherlands and Australia but they have some great players. I can guarantee the football will be attractive and if they go out, they will go out fighting. They make the pitch very big for opposing teams and stretch them in both directions. They murdered England at Wembley in November.
They take the game to opposing sides. If you are conservative and wait to get beaten the likelihood is that that is exactly what will happen.
Reuse content