What a welcome antidote, in this new Age of Sycophancy, that the fashion for insults under the disguise of accolades continues to rise. I once lived in a flat which, thanks to the "bulging trousers" of my novelist cohabitor, had the giant alabaster foot trophy of the Bad Sex in Fiction Prize on its mantelpiece.
Likewise, Shaun Woodward, erstwhile BBC producer and until very recently Labour MP for St Helens, may not even know he was twice winner of the BBC's chauffeur driver company's informal Shit of the Year Award, for most unpleasant passenger. (Though we hope he does now.)
Enter Bubba Watson. So much of sport, we are now told, is psychological, so it is arguably unfair of ESPN to spring on a man attempting to win a third Green Jacket in four years the results of a survey of his golf-pro peers that reveal he is the most disliked man on the circuit.
As Tiger Woods' agonising struggles show, great sportspeople are still human. Find me the mechanic, librarian, poet, dog walker or anyone at all whose performance in the workplace wouldn't take a terminal nosedive should they have to turn in their Triple A pass into every last nook and cranny of the Californian porn industry.
Masters 2015 in pictures
Masters 2015 in pictures
1/37 Masters Final Round

2016 Ryder Cup captain Darren Clarke takes a shot from the second hole

Getty Images

2/37 Masters Final Round

Paul Casey smiles after an eagle on the second

Getty Images

3/37 Masters Final Round

Jordan Spieth looked to maintain his gap to Justin Rose and the rest of the pack

Getty Images

4/37 Masters Final Round

Tiger Woods and Rory McIlroy fell out of contention on the final day early on

Getty Images

5/37 Masters Final Round

Tiger Woods appeared to hurt his hand when he hit a tree root on the ninth

Getty Images

6/37 Masters Final Round

Rose got into trouble at the fifth and dropped a shot

Getty Images

7/37 Masters Final Round

Phil Mickelson was not able to make in-roads in his front-nine to end his hopes of victory

Getty Images

8/37 Masters Final Round

Justin Rose opened his fourth round with two birdies

Getty Images

9/37 Masters Third Round

Justin Spieth calls out to fans after hitting a wayward drive on 14

Getty Images

10/37 Masters Third Round

Justin Rose reeled off five birdies on the back-nine to put himself in the final pairing come Sunday

Getty Images

11/37 Masters Third Round

Phil Mickelson celebrates after carding a third round 67 to move into contention

Getty Images

12/37 Masters Third Round

Jordan Spieth remained calm while others were catching him and stretched his lead with a birdie at 9

Getty Images

13/37 Masters Third Round

Jordan Spieth reacts after missing a par-putt at the fourth

Getty Images

14/37 Masters Third Round

Rory McIlroy carded a very impressive 68 but was unhappy to drop a shot on the 18th

Getty Images

15/37 Masters Third Round

Tiger Woods rolled back the years as he reeled off five birdies in his third round

Getty Images

16/37 Masters Third Round

Phil Mickelson was an early mover as he birdied two, three and four

Getty Images

17/37 Masters First Round

Masters overnight leader Jordan Spieth carded an impressive eight-under 64

Getty Images

18/37 Masters First Round

Justin Rose carded a 67 to share second place after the opening round

Getty Images

19/37 Masters First Round

England's Justin Rose enjoys sinking a birdie putt on the 10th during his brilliant five-under-par first round of the Masters at Augusta

Getty Images

20/37 Masters First Round

Rory McIlroy didn't have the start many expected as he carded a one-under 71

Getty Images

21/37 Masters First Round

Tiger Woods grimaces as he shanks his tee shot on the seventh

Getty Images

22/37 Masters First Round

Twice winner Tom Watson produced a one-under-par 71

AP

23/37 Masters First Round

Korean amateur Gunn Yang outdrove Watson at the first but struggled thereafter

EPA

24/37 Masters First Round

Gary Woodland challenged the front-runners early

Getty Images

25/37 Masters First Round

Bubba Watson tees off at the first yesterday to get his Masters defence under way at Augusta National

Reuters

26/37 Masters First Round

A shot of the Augusta National course on the opening day of the 79th Masters

Getty Images

27/37 Masters Second Round

Fans arrive on Day Two

28/37 Masters Second Round

Ernie Els started the morning well

29/37 Masters Second Round

Louis Oosthuizen made a blazing start to the day

30/37 Masters Second Round

Hunter Mahan chips out of a bunker

31/37 Masters Second Round

Tiger Woods went under par for the first time with back to back birdies

32/37 Masters Second Round

A bogey on the 11th hole saw Jason Day drop to -3

33/37 Masters Second Round

Runaway leader Jordan Spieth

34/37 Masters Second Round

Rory McIlroy reacts to a poor shot on the fifth

GETTY IMAGES

35/37 Masters Second Round

Dustin Johnson set a new Masters record with three eagles in a round

36/37 Masters Second Round

The 21-year-old American Spieth's total of 130 shots is the lowest ever set at the halfway stage at the Masters.

37/37 Masters Second Round

Tiger Woods' partner Lindsey Vonn at Augusta

AP
On being told at a press conference he was officially the golfer least likely to be helped out "if a fight broke out in the car park", Watson made a predictable lunge for the dictionary of sports-interview-ese, claiming: "'It's a challenge. It's great. I'm glad that it came out and it's going to help me improve."
We hope it was rising to this new challenge that prevented the reigning champion, on bogeying the 18th on the first day of the Masters to finish up a worrying seven shots off the lead, from turning his head to the sky and screaming: "Why doesn't anyone like me?" Well done, Bubba, but there is much golf yet to be played.
Those of us with esoteric sporting columns to write can only hope that the ESPN Which-Colleague-Do-You-Hate-Most? survey is quickly rolled out to all sports and indeed walks of life. It would at least make life easy for the legions of John Terry Photoshoppers, given this would be one presentation ceremony he would not require airbrushing into.
JT, we think, could handle the ignominy. He's certainly had worse, and in a court of law too. But should ESPN turn its vicious attention to those who no longer play sport but talk about it instead, we fear for the cold sweats breaking out under a Savage duvet somewhere in Wrexham.
St Ledger proves a winner with his Swift riposte
How reassuring to know that, after a hard night's work down at the Grand Ole Opry in Nashville, Tennessee, a 16-year-old Taylor Swift would rush straight home to catch the next instalment of Sky 1's Big Ron Manager.
Swift, it is commonly understood, is still stepping out with the Scottish DJ Calvin Harris, but she has certainly made no attempt to shake shake shake shake off the persistent rumours of a fresh dalliance with one Sean St Ledger, the Republic of Ireland and Orlando City centre-half, once of Preston North End, Leicester City, Millwall and Peterborough United.
Now, she has not openly confessed to ever having seen the curious 2006 fly-on-the-wall documentary that dispatched Ron Atkinson into the failing Peterborough club, ostensibly as a "managerial troubleshooter" but principally as a vehicle through which to rebuild his own annihilated reputation, two years after having inadvertently dropped the mother of all N-bombs on live TV.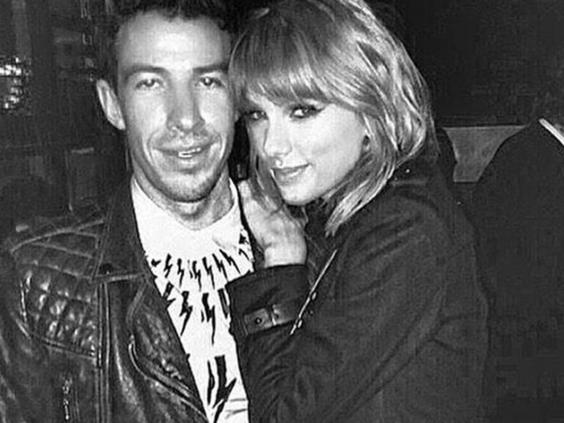 But if St Ledger has indeed succeeded where Harry Styles failed, it is only fair to deduce Swift must have once been a dreamy-eyed consumer of his constant cameos in that still openly YouTube-able show, then just a 21-year-old lad, and positively oozing with the kind of Celtic charm that only comes from a childhood in the Birmingham suburbs via a Carlow-born grandma.
If the fickle vagaries of love can be reduced to a single moment, we would like to think it was in Episode One's ill-advised tour of a Fenland lubricants factory, a desperate roll of the dice by St Ledger's tortured Scouse manager Steve Bleasdale to hammer home the luxury that is a life in football.
To you or me, having been explicitly told that the gaffer "doesn't want to hear anyone say that this is a f***** waste of time," to then immediately remark to a bemused forklift driver that "this is a f***** waste of time" – the very banned phrase itself – might seem the height of rudeness.
But to a young woman now rapidly emerging as the spokeswoman of her generation that kind of devil-may-care insouciance is clearly such stuff as teenage dreams are made on.
Cole fired by the fear of defenders who aren't there
And finally, what a relief to know that Carlton Cole, lovingly known to the more unkind corners of the West Ham United faithful as "Can't Control", is as razor-sharp upstairs as down.
Yes, he is far from the only striker to have scored fewer goals in his entire career than Lionel Messi once managed in a single calendar year, so we won't admonish him for that, but he nevertheless conspired to raise a few eyebrows at a West Ham fan engagement event this week.
Asked who was the toughest player he ever played against, he didn't so much as pause for breath, declaring: "It would have to be Jaap Stam."
A fearsome opponent indeed, but for the sadly incontrovertible fact that Carlton Cole made his Chelsea debut in April 2002, close to a full year after Stam's dishonourable departure from Manchester United to Italy, and there appears to be no official match in which the two men both featured.
If Cole, like that infuriating little kid from The Sixth Sense, is a man who sees terrifying Dutch centre-halves where there in fact are none, then suddenly a lot of previously unexplainable incidents start to make sense.
Reuse content