A wise man called David Hickey wrote to this newspaper's little sister, i, earlier this week. "I watched the England-Germany women's football on TV. Why was it screened? Women can't play football. They don't even know the basic rules," he wrote.
I doubt I can have been alone in recoiling in horror. I, and all other right-thinking people, have not been so appalled since I first heard Bobby Cliff claim not to like cricket.
If was just a wee ruse, of course. Mr Cliff, you may know, only doesn't like cricket (oh no), because in fact he loves it, and Mr Hickey too, had a reassuring surprise in store.
"When tackled, they get up and play on," he continued. "They don't pretend to be hurt. They don't dive. They don't get opponents sent off. They don't wrestle at corner kicks. Worst of all, they don't hassle the match officials. As any fool who has watched the men's Premiership knows, that is not the way to play football."
He is absolutely right. The game was a travesty. The only thing the women did to preserve the footballing dignity of their nation was to be comprehensively outplayed and thoroughly beaten by a technically superior Germany, who are – quel sürprischen – favourites for next year's World Cup.
Still, the game's dominant sex must have been rattled by their efforts because in the ensuing days they have quickly sought to put yet more clear water between them and the ladies in their off-pitch behaviour too.
This page has previously hinted at the wisdom of a degree in football advocacy, with special modules in drink-driving, biography-based libel, domestic violence and divorce.
But Gervinho, formerly of Arsenal, now of Roma, has just added a whole year on to the syllabus.
We have searched diligently through  the archives and can claim with at least  70 per cent certainty that the diminishingly dreadlocked Ivorian is the first player of the beautiful game to be done for attempted people-smuggling.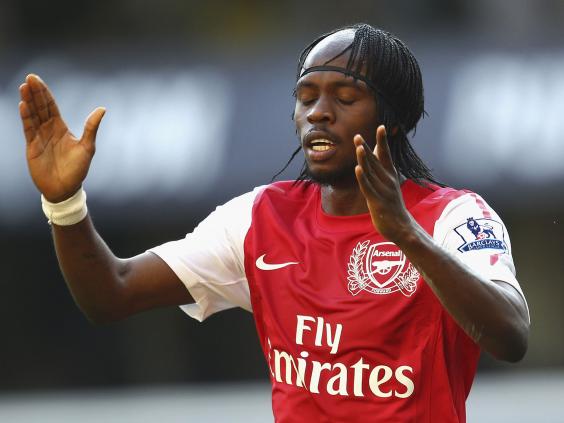 It was, at least, people smuggling done with a sense of exclusivity befitting a 21st-century footballer. No large families crammed into tiny air pockets between trays of tomatoes in the backs of lorries at Dover.
Rather, as he attempted to board the private jet to Rome laid on by his employer to ferry him back from Cote d'Ivoire, where he'd been on international duty, the plane's pilot was the only person he proved unable to bribe into letting him smuggle a still unidentified woman back with him.
No fewer than four separate airport staff accepted varying quantities of West African francs to look the other way, but not the pilot.
Of course, we should not be too quick to judge. Things just look bad when there's a footballer involved.
Had Angelina Jolie or Madonna attempted to spirit away some poor unfortunate on their private transport, a special plenary of the United Nations would have been convened to give them a standing ovation.
Saido Berahino is a case in point. The difficulties that force a person to flee their home are so rarely understood or appreciated by their new neighbours.
West Brom's once Burundian teenage sensation described his recent England call-up as a chance to give something back to his adopted country, which had given so much to him.
Immigrants are so often criticised for their failure to integrate, but if he is convicted of 110mph drink-driving, we must be prepared to accept Mr Berahino was merely attempting to fit in with his new football friends.
The Real union of the true religions, football and dosh
It is a cliché repeated to a point beyond all known levels of tedium that football is the new religion, so thanks must be given to Real Madrid, who have proved beyond all doubt that the game has moved far beyond the constraints of organised spirituality.
And respect, too, for having done so via the noble sacrament of a brand new credit card for the Abu Dhabi National Bank.
The Spanish club is quite right in its view that Jesus isn't really going to mind having his little cross taken off its logo. This, after all, as president Florentino Perez has said, is "a strategic alliance with one of the most prestigious institutions in the world".
It means that Los Blancos fans up and down that vast shopping mall thinly disguised can conspicuously consume away entirely un-insulted by a tiny cross it is very hard to even notice in the first place.
"If God did not exist it would be necessary to invent him," Voltaire once opined, and now that football is so much bigger than religion, we can only assume it is fear (and not greed) that has led the game to find a new figure to genuflect before, even if it does appear to be Middle Eastern oil wealth.
Reuse content