The school holidays may sound like bliss to most children, but for some of those in the North London area it can mean seven weeks of mischievous behaviour and getting up to no good. With many choosing to take the wrong path through life that can lead to more trouble than not, it is a welcome sight to see Tottenham Hotspur legends Ledley King and David Ginola, former team-mates at White Hart Lane, fronting the club's newest initiative to teach and educate children through the medium of sport.
The Tottenham Hotspur Foundation – the club's charitable arm – have secured a six-figure grant from BT Sport and the Premier League that will see the To Care Is To Do program engage and inspire youngsters in an effort to produce a better way of life.
BT Sport's The Supporters Club is the TV broadcaster's charitable initiative that looks to invest money generated from the game back into the local communities. Together with Spurs and the Premier League, they will help develop the lives of young children and offer them an education they may not receive outside of the program, be it at home or at school.
It's something that the two Spurs greats feel should be a regular thing up and down the country, and the belying notion is that more initiatives such as this would help create "a better world".
Tottenham Hotspur: Potential transfer targets
Tottenham Hotspur: Potential transfer targets
1/8 Memphis Depay

The PSV winger impressed for the Netherlands as an impact sub during the World Cup, scoring twice and adding an assist for Louis van Gaal's team. He was excellent in Eredivisie last season, scoring 12 goals as PSV finished second. Depay is quick, skilful and strong and plays on the left, a problem position since the departure of Gareth Bale.

Getty images

2/8 Yevhen Konoplyanka

Spurs are battling with a number of clubs for the tricky Ukranian winger, who impressed against Tottenham for Dnipro in the Europa League last season. Liverpool are also said to be chasing the quick winger, who can play on the left or right wing, while West Ham have already had a £9.5m bid rejected.

Getty Images

3/8 Miguel Lopes

The Sporting Lisbon defender spent last season on loan with French side Lyon, but the 27-year-old Portuguese international has been offered to Spurs on another loan spell with a view to a permanent deal

Getty Images

4/8 Loic Remy

QPR may have just been promoted, but the French striker, who spent last season on loan at Newcastle, is seeking a move elsewhere. He has been a long-term target of Spurs, and could be available for £8m

GETTY IMAGES

5/8 Javier Hernandez

There has been talk of Chicarito's unhappiness at being on the periphery of the Manchester United team. The Mexican could be a cut-price option to bolster Spurs' attack

Getty Images

6/8 Nathaniel Clyne

The 23-year-old is another impressive Saints' youngster that Pochettino knows very well. Would tally with Spurs' new emphasis on youth

Getty Images

7/8 David Marshall

The Cardiff goalkeeper made more saves (148) than any other goalkeeper in the Premier League last season, and would nudge Brad Friedel out of the way to be Hugo Lloris's No 2. Rivals Arsenal are reportedly weighing up a £15m bid

Getty Images

8/8 Toby Alderweireld

The Belgium international could be reunited with his former Ajax defensive parter Jan Vertonghen. Moved to Atletico last summer but has spoken of his unhappiness at the La Liga champions
"I think it's vitally important for the club to engage in programs with the community and to give back to the community as much as possible," says King, veteran of 321 appearances for the club before his retirement in 2012. "Through football and through the club, we have an opportunity to engage with young kids like no others can, and we tap into them and try and give them many opportunities through football, not just to play football but to find a path that they may have never been able to find. So in that respect it's really important."
"They're so important because it's not a miracle, but it feels like a miracle to see the smiles of the kids on a daily basis," adds Ginola, who is alongside King at the Bruce Grove Youth Centre working with the initiative, "especially during the holidays when you don't have to travel and enjoy themselves. It's a great program for them to come here and play some sport, play some football, maybe some badminton and listen to music.
"They're sharing and interacting together more. It makes it a better place to live for the kids and I'm very proud of that, to see that and I'm very proud of Spurs to offer such things and footballers should be more involved to do more. We've been very lucky and in the end, we've received a lot and I think it's time to give something back to the community."
The Supporters Club has already had proven success after raising £2.5m just from its subscription customers. Despite the nation going through a substantial time of economic difficulty, the money raised has come from BT Sport customers that have added either £1, £3 of £5 to their monthly bill. To borrow a phrase from a well known supermarket, never has 'every little helps' meant so much to the youngsters of the Haringey Borough Council.
Football has seen the money coming into the sport increase in such a dramatic rise that the game has been widely criticised for lining the pockets of football agents, with the recent £80m-plus transfer of Cristiano Ronaldo and Gareth Bale two prominent examples. BT Sport itself tabled the mammoth £897m bid that will see Champions league football grace its two dedicated sport channels from next season in the biggest TV rights deal of its kind. It is therefore important, says King, that initiatives like To Care Is To Do look at giving back to the community.
"The aim is to give back as much as possible," explains the former Spurs captain. "Obviously through the regeneration and the new stadium plans, we're providing opportunities for people in the area. It'll be a great thing for the area, it needs a lift after a difficult few years and it's about looking towards the positives now and trying to create as many opportunities as possible for the people within the borough to be proud about where they live and what it stands for."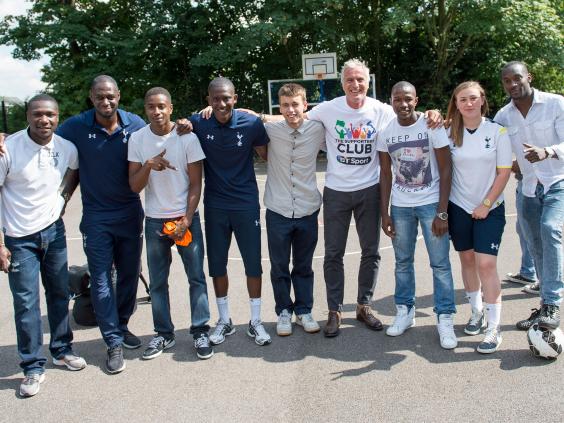 Ginola has taken on a role with BT Sport that has kept his involvement in the game in the public eye, but it's fair to say that the Frenchman takes pride in his work on the charitable side of the job, as he explains.
"It's important to do it for Spurs, but honestly this is something you can and should do for any club, for every single club in the Premier League," says the 47-year-old. "If they did I think we would live in a better world and this is what I saw today. I realised today that through sport, through activities, a kid can have a smile on their face and this is what you're expecting, this is what you're looking for and that was an amazing afternoon for that.
"If we can get all the cities across different countries to do that, it would produce a better world for sure.
"The community around White Hart Lane and some areas especially during the summer holidays, it gives kids something to do rather than staying on the streets. It takes them away from trouble. They are marching away from trouble, and for some of them I can see that it's really hard to be surrounded by rules, because obviously we have rules that you have to follow.
"When you arrive you say good morning or good afternoon and say goodbye when you leave, say please when you want something and say thank you when you receive it. It's the basic stuff to make better people, and sometimes if you don't get this at home it's better to be in an environment where you do get such things."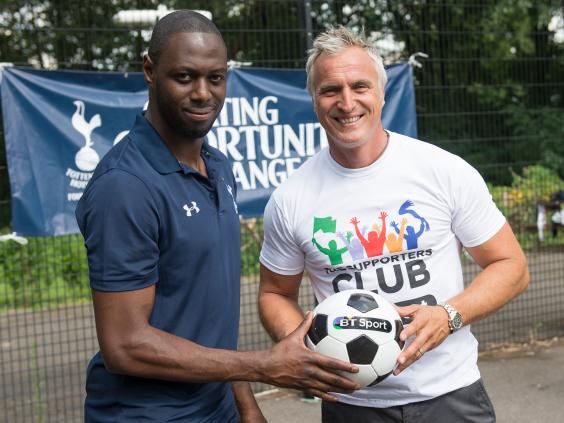 The pair were reunited through the program after playing together at White Hart Lane from 1999 – when King broke into the first team squad – until the end of the season when Ginola departed for pastures new at Aston Villa. They remain firm fan favourites among the Lilywhite faithful, and while King remains heavily involved with the club, they are keen to see Spurs flourish on the field as well as they are off it.
Under new manager Mauricio Pochettino, there's a sense of stability at Spurs that was all but absent last season following the seven new signings made in the summer before the somewhat hasty dismissal of Andre Villas-Boas. While Tim Sherwood looked to develop a number of youth players into the first team, it's Pochettino's ability to combine the established stars with the emerging talent  that he did so well at with Southampton that has both King and Ginola eager to see what he can do with a top-four challenging side.
But with the likes of Alexis Sanchez joining rivals Arsenal, Chelsea brining in a wealth of Spanish talent in Cesc Fabregas and Diego Costa, Manchester United increasing their squad rebuilding efforts and Liverpool adding a flurry of talent in a similar vain to Spurs last season, the competition to return Spurs to Europe's top table has never been fiercer. Pochettino has added former Swansea players Michel Vorm and young left-back Ben Davies, while English-born Erik Dier has joined from Portuguese side Sporting Lisbon.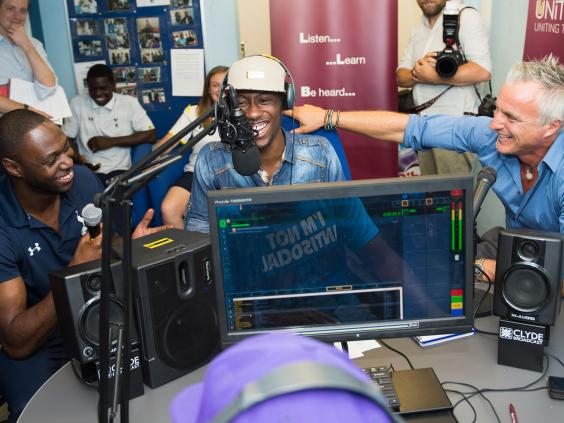 "A different manager has a different way and he's going to bring in different players," said King. "He's [Pochettino] obviously done a great job at Southampton and especially with the young players and the English players who thrived under him which is a good sign for the club. It shows the young players that you will get an opportunity to come through and show what you can do and make the first team.
"The players that we've brought in, especially the two defenders are young players and they're a view towards the future of the club and it's important to bring in players that will be around for a long time and grow with the club and improve into top class players. That's what I expect from the two young players.
"It will be tough. Every season it's tough, every season it seems to get tougher. No one would've expected Manchester United to finish seventh last season but it was the strength of the league. So not just Tottenham but all the teams will have to be performing really well to be within the top four and that's the challenge we all face. It'll be a long hard season and we'll see at the end of it who wins it and who are the top four teams but we're one of many teams that would like to try and get in there."
Ginola added: "Hopefully they're going to finish [in the] top four this season. It's going to be a tough season again, for sure. They've learnt from last season. They sold Gareth Bale, they bought a lot of players, some of them were good, some of them were not good enough and at the end of the day you realise that you don't have a return on the money you spend.
"You learn from your mistakes and this season is completely different, and Pochettino will be completely different about that and if he can transfer the work he did at Southampton into the Spurs perspective, it will be a very enjoyable outcome at the end of the season."
Both were keen to mention the pre-season form of forgotten striker Erik Lamela. The club-record signing endured a debut season to forget, but rather than exile the 22-year-old or look to sell him on to another club, Pochettino looks set to give his fellow Argentinean a chance to show why he was rated as one of the brightest talents in Serie A.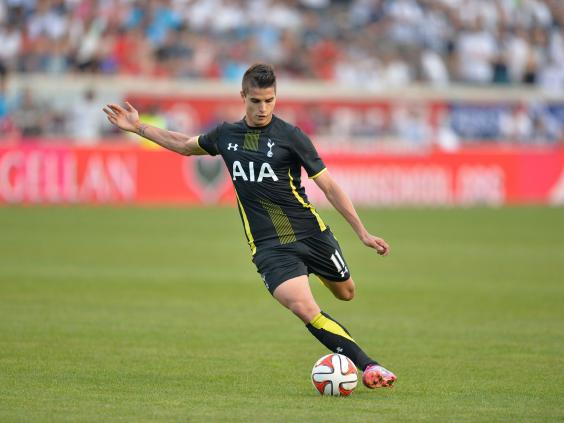 King explained: "Some of the players, now having a year under their belt will feel more comfortable, and some will have had their first full pre-season with the team, like Erik [Lamela] who looks very happy in pre-season playing really well and I think that helps getting in a pre-season and everything, knowing the players and feeling comfortable, and I still expect the players brought in last season to have a big impact this season, as well as the new faces coming in and whoever else we choose to bring in between now and the end of the transfer window. They'll be a positive impact on the squad."
"It's not only that, as you can bring talent in from abroad, added Ginola. "Lamela came in last season when he was bought by AVB and he had a lot of expectation on him, and he didn't deliver much. So you never know. It's something you can create as a manager in the dressing room. It doesn't matter how many talents you've got, it's are you going to make the talents work together as a team and be successful for the club."
If the club can finally gel together the club and produce the results at White Hart Lane that they're achieving around the stadium, they could well be in for a season to remember.
"Tottenham Hotspur Foundation (THF) has secured a grant from a new partnership between BT Sport's charitable initiative The Supporters Club and the Premier League. The grant will enable THF to launch a programme for looked-after children and care leavers, called, To Care Is To Do. The Supporters Club and the Premier League are forming a partnership to provide funding to club programmes focused on young people."