Amid all of the sad words about Ugo Ehiogu on Friday, and all the proud tributes towards a fine football figure and man, there was one happier image that really stood out.
It is a photo of the talented young centre-half in an Aston Villa jersey in 1996, aged just 21, with the League Cup trophy in his hand and a glorious smile on his face.
He is surrounded by both jubilant fans and teammates, many of whom would no doubt want to remember him exactly like this, even as they can't believe he's gone. It is one of the many positive ways he will be remembered.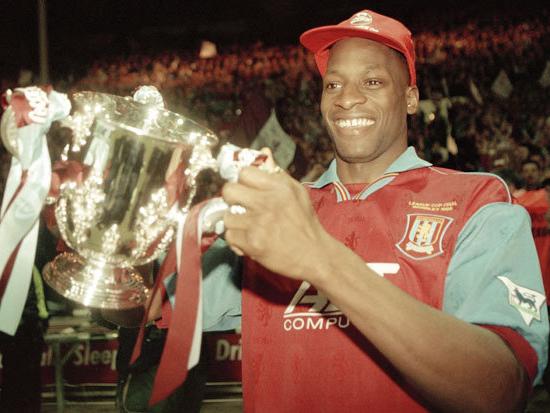 It is also the added poignancy to tragically premature passings like that of the Villa and Middlesbrough legend.
They render football totally unimportant, yet at the exact same time also remind us how important football can be in a different way; how it enriches lives; how it offers the individual moments that people cherish.
Ehiogu was highly respected as a very rounded family man who had interests far beyond the game, as illustrated by both his social interests and music management with his record label Dirty Hit, but moments like winning that League Cup are still the kind he lived his career for.
Ugo Ehiogu: In pictures
Ugo Ehiogu: In pictures
1/16

Ugo Ehiogu manager of Tottenham Hotspur U23 looks on

Getty Images

2/16

Aston Villa defender Ugo Ehiogu holding the trophy after their victory over Leeds United in the Coca Cola League Cup Final at Wembley stadium. Aston Villa won 3-0

Getty Images

3/16

Ugo Ehiogu of Aston Villa is surrounded by fans after the Coca Cola Cup semi-final against Arsenal at Villa Park in Birmingham

Allsport

4/16

Ian Wright of Arsenal is tackled by Ugo Ehiogu of Aston Villa during the FA Carling Premiership match at Highbury in London

Ben Radford /Allsport

5/16

Ugo Ehiogu challenges Alan Shearer during the Barclays Premiership match between Newcastle United and Middlesbrough at St. James' Park

Getty Images

6/16

Ugo Ehiogu of England during a trainng session at Bisham Abbey

Allsport

7/16

England's Ugo Ehiogu scores the third goal against Spain during their friendly international soccer match at Villa Park

Reuters

8/16

England's Ugo Ehiogu celebrates scoring against Spain during their international friendly match at Villa Park in Birmingham

Reuters

9/16

England's Ugo Ehiogu celebrates scoring against Spain with Andy Cole and Frank Lampard during their international friendly match at Villa Park in Birmingham

Rex

10/16

Barry Ferguson congratulates Ugo Ehiogu of Rangers at the end of the Scottish Premier League match between Celtic and Rangers at Celtic Park

Getty Images

11/16

Alan Hutton and Barhim Hemdani congratulate Ugo Ehiogu of Rangers at the end of the Scottish Premier League match between Celtic and Rangers at Celtic Park

Getty Images

12/16

Ugo Ehiogu with his 'Fans goal of the Season' award. Ally McCoist and Ross McDonald stand beside him

PA

13/16

Ben Shepherd, Ugo Ehiogu and Matt Le Tissier of the FA legends look on during the Army FA and FA Legends Match at Madejski Stadium

Getty Images

14/16

Matthew Wells, Assistant Coach and Ugo Ehiogu, coach of Tottenham XI looks on ahead of a pre-season friendly match between Stevenage and Tottenham XI

Getty Images

15/16

Coach Ugo Ehiogu gives instructions during the Barclays U21 Premier League match between Tottenham Hotspur U21 and Everton U21

Getty Images

16/16

Uncapped Ugo Ehiogu and Sol Campbell

PA
This is what Chelsea and especially Tottenham Hotspur are now playing for, because it is much the same for Saturday's FA Cup semi-final.
That match at Wembley between the two London clubs was justifiably being built up as the most consequential game of the season and, while its various storylines are obviously completely inconsequential now, moments of actual tragedy like this then lend the game a different type of importance; a more solemn and significant importance.
This is now a game for Ehiogu. That's what this match is now about, to just play a football match for a man who so loved football.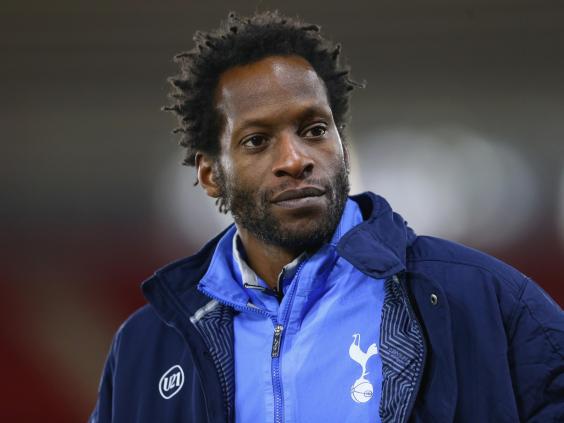 That is of course not to place any unfair pressure on the players - especially those from a grieving White Hart Lane - to put in a performance to mark the memory of the Spurs coach. That is not with this is about.
It is merely to recognise that, above anything else, this is an occasion to pay respect to Ehiogu; to offer at least some consolation to his grieving family by showing them how deeply loved loved he was.
This was something that Antonio Conte very respectfully reminded everyone on the eve of the semi-final. It would be difficult to find a man more obsessed with winning than the Italian but he very gracefully emphasised how none of it actually matters by beginning his pre-match press conference with a tribute to Ehiogu.
"I want to send my condolences to Ugo's family," the Chelsea manager began.
"When this type of situation happens, the football is not important. It's not easy to speak about this situation, because this situation hits everyone of us and, for sure, tomorrow there will be a strange atmosphere.
"It's a pity because he was very young, only 44, and a former player, and when these types of situations happen you start to think of a lot of things… We are very sad for this. We can remember him tomorrow and I think this is the minimum for us, for Tottenham and for the fans."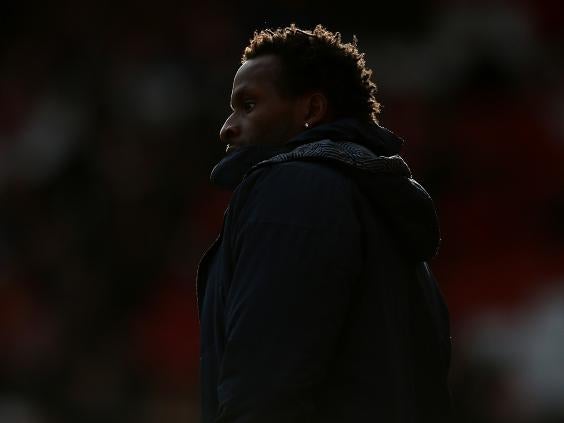 Mauricio Pochettino's press conference took place before the tragic news, although that's probably just as well, given it's a moment of such privacy for the club where Ehiogu worked.
It's difficult to know what they must be thinking at a time like this, and impossible not to have sympathy for the squad and staff preparing for a match in a situation like this.
They will no doubt want to win the trophy for him and, if they do, it will be a fitting tribute. If they don't, it won't matter because Saturday's occasion will be tribute enough.
What matters is the memory of Ehiogu, and just playing the game in the spirit he always did.
Reuse content