Former Tottenham transfer target Leandro Damiao is facing a ban of up to six matches after attempting to trick a referee into giving his side a penalty.
The Brazilian striker was caught on camera pulling his own shirt in the penalty area to try and win a penalty for his side Santos during their Brazilian league encounter with Criciuma on Sunday night.
A Brazilian sports tribunal confirmed on Thursday that Damiao, who was a target for Premier League side Spurs two years ago before suffering a slump in form, had been charged for attempting to lead the referee into awarding a penalty for shirt-pulling in the box.
Replays clearly show Damiao pulling his own shirt while he makes a run towards goal, but the rather embarrassing bit is that there is not a defender tracking him to make it look like he's having it pulled back.
Santos ent on to lose the match 3-0 and to add insult to injury, they will be without Damiao for the foreseeable future.
Watch the video below...
Damiao was asked about the incident afterwards but he denied trying to dupe the referee into awarding a penalty. Hilariously, the striker claimed his shirt had got stuck to his skin and he was merely trying to pull it free.
We've all tried that one, Leandro.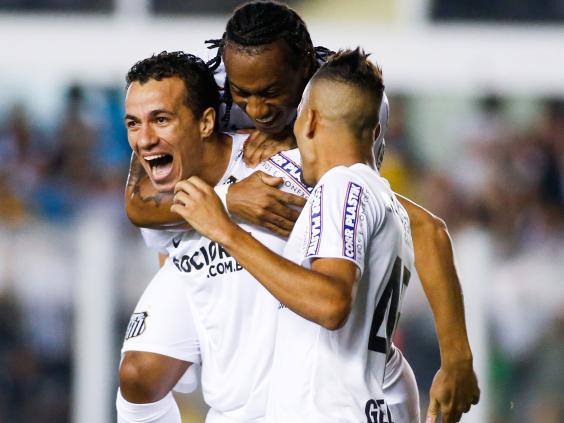 Damiao's drop in form has seen him fall out of the Brazil recking, having not been picked since the 2013 Confederations Cup in his homeland. However, he was unable to play in that tournament due to injury, although he did feature for the Selecao during the 2012 Olympic tournament.
Reuse content