Be still our beating hearts. Because 2015 will bring us none other than Thierry Henry to our televisions. What news to end the year; one which we began wondering how the BBC would handle the loss of Alan Hansen.
Now instead of pining for the gruff Scotsman, we are swooning at the prospect of Henry telling us in that dreamy accent of his why Liverpool's back three is once again a complete and utter shambles. Imagine the words "utter shambles" in a voice as velvety and French as a Bordeaux Barry White. Doesn't bear thinking about.
In fact, if you were to loop the phrase, stick a backing track behind it and throw on a bit of echo, you'd have an erotic hit not heard since the days of Serge Gainsbourg's "Je T'aime... Moi Non Plus".
As you may have gathered, having Henry as a pundit is quite exciting. And it is evidence of how far Sky Sports has taken the craft of punditry in the past year. Sky had already given us recently retired players as opinion givers, but 2014 has been when they really came into their own. Gary Neville's Monday Night Football has grown into must-watch TV for fans – quite a feat, given that some of the matches they talk about are already two days old by the time they fire up the fancy graphics screens.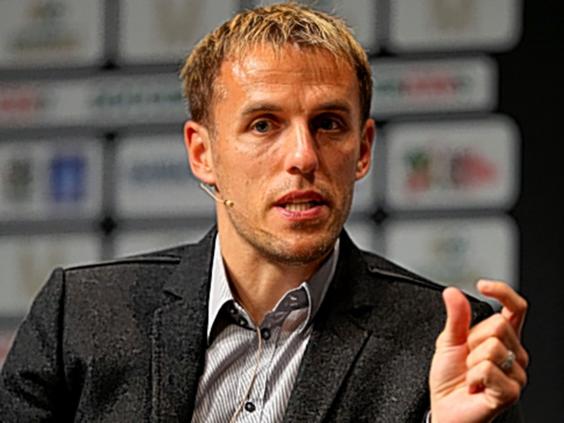 In this age of amateur smartphone commentators who have the ability to see key moments of games only moments after they happen, Neville and his cohorts are to be commended for being able to tell the viewer something new about a game that is more than 50 hours old.
And the deep, insightful punditry is something that the BBC could learn from. Because its solution to Hansen's exit from Match of the Day after the World Cup was to bring in… Robbie Savage.
Savage is enthusiastic and means well, but the way he prefaces so many comments with "for me" gives the impression that he rates his opinions extremely highly.
His senior partner on the MotD sofa, Alan Shearer, has been forced to raise his game since Hansen was put out to pasture – and to a certain extent he has done. For a start, he finally seems to have overcome his fear of saying something other than the bleeding obvious.
At least none of the BBC mob did what their ITV counterparts did at the World Cup and don their holiday threads and pontificate from a picnic table on the beach. Martin O'Neill and Glenn Hoddle trying to bring gravitas to the occasion in chino shorts… Well, we can laugh at it now, but then it was scary.
Then there was ITV's baffling decision to stick with their commentary pair of Clive Tyldesley and Andy Townsend for the tournament – and beyond. On England's opening game, Tyldesley helpfully informed us that they were in "Group D, for difficult". The statement did turn out to be prescient, but at the time we wondered whether he'd had a list: "A for amazing, B for bellicose..."
Townsend only just missed out on the award for the summariser most prone to invoking a face-palm because of Phil Neville's BBC debut at the World Cup. Remember that? "He's run down the flank," he droned as an England player ran down the flank. "He's kicked the ball there," he added as a player kicked the ball. He has improved since – if only because he couldn't have done much worse.
Outside of football, the Beeb has excelled this year in the art of talking about people being active. Take the Winter Olympics, for example. Aimee Fuller and Ed Leigh's commentary on Jenny Jones' bronze medal run on her snowboard still brings a smile. Who could forget Leigh saying, "That was a grab, I thought it was more of a tickle", as Fuller screamed "aaaooooaaaaargh" in the background? It was a fitting soundtrack to a sporting highlight – and, predictably, it drew billions of complaints from cheerless boneheads who would have preferred hearing about Jones' backside melon to fakie in received pronunciation. Killjoys.
In the Commonwealth Games, the likes of Steve Cram and Paula Radcliffe were excellent on the athletics track at telling us more than "he's going faster than that other bloke". The fact that the home nations won quite a bit meant their job wasn't the hardest, but four months after the bunting had come down in Glasgow the pair also proved they were unafraid of tackling the more difficult parts of the sport.
It was the European cross-country championships and Radcliffe and Cram were watching three Kenyans – one of whom had just returned from a drug ban – on their way to the podium spots in the men's event.
"This highlights the problems with our sport," Radcliffe said. Cram added that the IAAF needed to get its house in order with regard to doping bans and the transference of nationality. It made a dull race watchable.
Eurosport deserves a mention this year simply for its willingness to continue to employ Carlton Kirby and Mats Wilander.
The former's specialism is cycling and some of the things he comes out with are frankly surreal. Like during Jens Voigt's successful attempt in September to break the hour record on a bike, the German's time was 50.666 at one split. "Fifty point the devil!" Kirby shouted, presumably raising his hands in a "heavy metal horns" gesture.
Wilander, on the other hand, is the antidote to the saccharine chumminess that tennis can foster. If a player is playing badly, he'll say it. And if a player is playing well, he'll begrudgingly agree – but also tell us what he or she could do better. We could do with more of his sort on other sports.
In fact, if we can indulge ourselves and wish for a dream commentary line-up for next year, can we please have Wilander on board, along with Kirby, Leigh and Neville – Gary, not Phil? Radcliffe can join in for the tense moments.
Heck, all of them can talk together – as long as the quintet are corralled by Henry. Swoon.
Reuse content