Mario Balotelli sped off in his blacked out racing-red Ferrari and that was that. The Italian striker did not stop to say goodbye to his fans and there was no time for photographs or autographs with AC Milan supporters gathered outside the club's Milanello training centre early yesterday afternoon. He simply told Sky Sports Italia cameras it was his "last day" and walked away. The Rossoneri later confirmed they had reached an agreement to sell 'Super Mario' to Liverpool for £16m. It all happened very suddenly.
The 24-year-old's exit from the San Siro outfit could not have been in more stark contrast to his arrival just 18 months previous from Manchester City. He celebrated signing for the team he supported as a child by jumping up and down with hundreds of Milan faithful outside the Da Giannino restaurant in the city shortly after landing back in Italy. The mob set off flares as a grinning Balotelli joined in the chants. Gazzetta dello Sport ran with "Balo is back" on their frontpage, while Milan director of sport Adriano Galliani declared the mercurial forward had "come home." The atmosphere was bordering on euphoric.
Balotelli then proceeded to hit the ground running at his new home, netting a brace on his debut and 10 more times over the remaining 12 games to almost singlehandedly drag a struggling Milan side back into the Champions League places. He appeared to be revitalised by pressure of being the main man at his boyhood club after a difficult half a season at City following the famous title win in 2012.
The 2013-14 campaign was to prove a miserable one for Milan, however. The club hovered in midtable for the duration of the season, as instability in the boardroom and on the bench was rife. Balotelli still managed to return a respectable 14 goals in 30 appearances – which was incidentally his highest return in a single league season. It was his general lackadaisical demeanour on the field that troubled supporters, which even moments of pure genius such as his goals against Livorno and Bologna could not counter.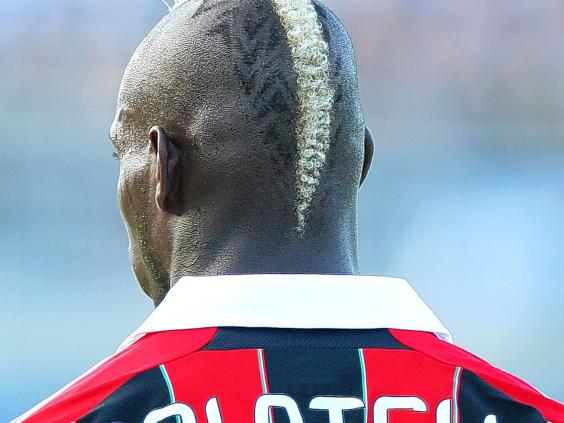 Milan decided Balotelli would move on for the right price after the World Cup, but Italy's disappointing showing in Brazil meant there were no suitors for the striker come July. Milan president Silvio Berlusconi even publicly lamented the fact his target man had put in such lacklustre displays for the national team as it meant his value in the transfer market had plummeted. That the Rossoneri were willing to sell Balotelli for essentially what they paid for him is evidence that Berlusconi was on the money.
Mario Balotelli: The funniest stories
Mario Balotelli: The funniest stories
1/17 Bully

When a youngster asked for an autograph outside Manchester City's training ground, Balotelli demanded to know why the boy was playing truant. After the child revealed he was being bullied, Balotelli drove the boy and his mother to the school in question so he could tackle the bully himself. He demanded to see the headmaster to make him aware of the issue and then mediated between the two boys to resolve the problem. A source said: 'Mario feels strongly about bullying.' Read the full story here.

2/17 Generosity

After gambling at Manchester's 235 Casino, Balotelli walked away with winnings of £25,000. Feeling generous, he gave a homeless man 'with ginger dreadlocks and a beard' £1,000. Click here for the full story.

GETTY IMAGES

3/17 Parking fines

During his time in Manchester, Balotelli racked up £10,000 in parking fines and had his white Maserati impounded 27 times. Once he was pulled over by the police who wanted to enquire why he had £5,000 in cash on his front seat. Balotelli reorted: 'Because I am rich.' Click here for the full story.

Getty Images

4/17 Bored

Balotelli was 'bored', so threw darts at Manchester City youth team players to pass the time. Click here for the full story.

Getty Images

5/17 Racism

Balotelli explained prior to Euro 2012 how he would deal with racists: 'I will not accept racism at all. It's unacceptable. If someone throws a banana at me in the street, I will go to jail, because I will kill them.'

Getty

6/17 Selfie

In a pre-season friendly for AC Milan, two fans ran onto the pitch to demand a selfie with the striker. Rather than shy away like most would in such a situation, Balotelli was more than happy to oblige.

Twitter/@NA_B52

7/17 Ironing

Mario isn't a one trick pony. He can also iron, dance and read - all at the same time. Click here to watch.

INSTAGRAM

8/17 Chicken

For reasons never fully explained, Balotelli once sported a chicken hat. Thankfully it was a trend that never caught on.

Getty Images; Sky News

9/17 Fireworks

A bright spark at the body that co-ordinates firework safety material enlisted Balotelli soon after it was reported that some had been set off in the bathroom of his Manchester mansion.

10/17 Why always me?

The day those stories emerged, Balotelli scored for City in the Manchester derby, giving him the perfect opportunity to reveal *that* t-shirt.

GETTY IMAGES

11/17 The Queen

The Queen may be wary of Balotelli's return to England. During the World Cup, he said he wanted a kiss from Her Royal Highness should Italy do England a favour by beating Costa Rica. Thankfully for everyone involved, they didn't.

TWITTER

12/17 Grass

During a Europa League defeat to Dynamo Kiev, Balotelli had to be substituted in the 57th minute with his face swelling up. It emerged afterwards that the Italian is allergic to some types of grass.

Getty Images

13/17 Interruptions

During an Inter Milan press conference to announce the appointment of Andrea Stramaccioni as interim-manager, Balotelli interrupted proceedings to say hello. He was enjoying a day-off from Manchester City at the time. Click here to watch.

14/17 Celebrations

Balotelli's naked torso was to be one of the defining images of Euro 2012 - but he's not overly keen on celebrating goals. 'I don't celebrate goals, I'm just doing my job,' he infamously said. 'Does a postman celebrate when he delivered the mail?'

Reuters

15/17 Pranks

Balotelli has always appeared to be well loved by his team-mates. Perhaps it's the pranks he plays, like this one on Edin Dzeko. Click here to watch.

16/17 Prison

Balotelli was reportedly questioned by police in Italy when he was found taking a look around the grounds of a women's prison in Brescia. Apparently he simply fancied having a look. Click here for the full story.

GETTY IMAGES

17/17 Mancini

Balotelli's relationship with former Manchester City boss Roberto Mancini was a complicated one. It has been described as a father-and-son type relationship - only the sort where they fight each other during training.

EAMONN & JAMES CLARKE
Liverpool boss Brendan Rodgers praised the striker when his side faced Milan during pre-season in the United States several weeks ago, but categorically denied any interest in bringing him to Anfield at the time. The opportunity to bring him in for a bargain £16m was evidently too good to turn down he looks to rebuild following the departure of Luis Suárez. Worst case scenario the Reds get their money back in a year's time as he cannot be expected to depreciate that significantly at 24, but the upside is they have a player who could even potentially replace the prized Uruguayan if everything goes perfectly.
The deal is harder to process from Milan's standpoint. They lose the focal point of their attack and have little time to bring in a replacement or be left with a 30-year-old Giampaolo Pazzini upfront, who converted a meagre two Serie A goals last season. Opinions are heavily divided on whether the transfer will prove to be to the club's benefit in the long term. Former Italy striker Christian Vieri even went as far to say selling the forward was "biggest coup in Milan's history" on twitter. While Vieri's viewpoint may be a tad extreme, Sky Italia pundit Mario Sconcerti summed up the player nicely: "Balotelli is a strange phenomenon. Champagne corks are popped when he arrives but also when he leaves a team."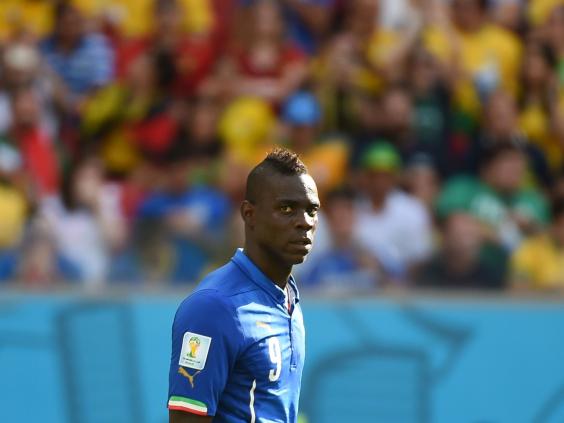 A return to England also makes little sense from Balotelli's perspective given how he has to once again relocate away from his family in Brescia to a place where he detests the food and the weather. However, he is undoubtedly moving to a better team, that unlike Milan, will not be build around him and where he will have to prove his worth. At 24, it is genuinely last chance saloon for the striker at the highest level and he will be well aware that half seasons of promise here and there are no longer substantial.      
Galliani is now expected to finalise a deal for Torino wide-man Alessio Cerci with his new funds now available, but initial reports following Balotelli's departure suggest he is aiming to land a direct replacement in Porto frontman Jackson Martínez in spite of his reported £32m buyout clause. New coach and legendary player Filippo Inzaghi will have licence to build a team he believes can restore the reputation of this fallen giant of world football and return the outfit to the Champions League.
Balotelli was pictured alongside Stephan El Shaarawy and M'Baye Niang on his first day of training at Milan in February 2013 with the attacking trio labeled the 'mowhawk trident' for their shared hairstyle. They were seen as a forward line Milan could foreseeable rely on for the next 10 years. While Niang has long since fallen by the wayside, Balotelli's warm embrace with El Shaarawy at Milanello yesterday as he bid farewell to his close friend was poignant. The pair never truly clicked on the pitch either at club or international level due to a series of mitigating factors, chief amongst them injury.
The fact is Balotelli leaves Milan with what feels like unfinished business. If he will ultimately return in the future is impossible to tell as this moment in time, but before then he has another spell in the Premier League to look forward to and yet another chance to finally prove his undoubted potential. 
Reuse content