He was a famous player for Barcelona, he is much-loved by the club's supporters, he coached their B-team, and then the first team to a famous Treble. But that's enough about Luis Enrique, what about Pep Guardiola? 
It's true that all those things also apply to the current Manchester City manager but as the high-priest of passing sweeps into the Catalan cathedral of football tonight his status as Barcelona's most successful coach ever is under threat from the man currently occupying the home technical area.
Luis Enrique has none of the mysticism of Guardiola whose influence was so great that a new word was added to the lexicon in these parts – a "Guardiolada" is basically a tactical innovation used for a big game and for the purposes of that match only. But Luis Enrique has a different sort of charm and is adored just the same, albeit for different reasons. Barcelona supporters fell for him in 1996 when he left Real Madrid to join them.
He was a Johan Cruyff signing but never got to play for the Dutchman who was replaced by Sir Bobby Robson for the 1996-97 season. Under Robson and in a team inspired by Ronaldo, Barcelona won everything bar the league (Copa del Rey, Cup Winners Cup and Spanish Super Cup) and Luis Enrique stood out for his work-rate, passion and versatility. 
He played as a forward, as a midfielder and even a marauding full-back under Louis Van Gaal who replaced Robson a season later. He left the club in 2004, Guardiola had walked away three years earlier but their paths would cross again when both became coaches.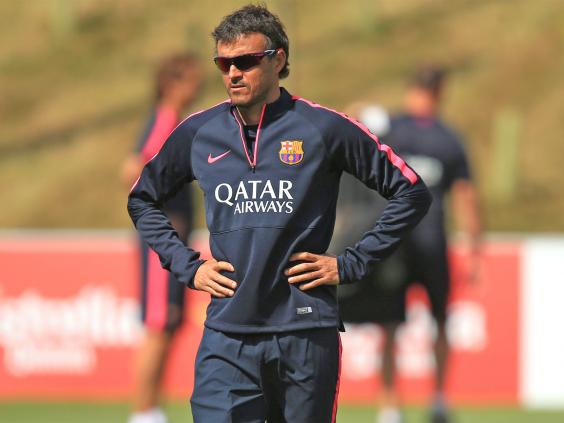 Guardiola won promotion to the Spanish Third Division in his first and only season in charge of Barça B and that was his ticket to the big job, bravely given him by president Joan Laporta on the advice of Cruyff. 
When Luis Enrique also coached the B team, and also won a promotion, many imagined a developing Barcelona boot-room vibe that would see him wait patiently in the wings to eventually follow in Guardiola's footsteps and take the first team. But instead he left Spain to take over at Roma showing the same spirit of adventure that, during his brief spells away from the game have taken him to New York, Florence and Frankfurt to compete in marathons, triathlons and even an Iron Man contest. 
His Italian job did not go anywhere near as well as Guardiola's three-Bundesliga titles adventure in Germany but then Luis Enrique took the plunge without having first won things at Barcelona. And he took on a dressing room run by club captain Daniele de Rossi and club legend Francesco Totti. He left the latter on the bench for a Europa League game that ended in defeat and that set the tone for his one, and only, underwhelming season.
He bounced back at Spanish club Celta Vigo. They played good football and punched above their weight. It was enough to get him the Barcelona job and Gerard Pique said on Tuesday that picking between Pep and Luis, from a player's point of view, is impossible. 
"They have both won the same amount of trophies [in their first two years]. They have both won Trebles and the relationship with both is good. Pep lifted the team after the Frank Rijkaard era, and Luis Enrique has done the same [after Tata Martinez]."
The "relationship with the players" part of that complimentary comparison might have been up for debate after his first five months in the job. He fell out with Leo Messi who stopped talking to his manager for a period, and he rubbed Neymar and Luis Suarez up the wrong way with a rotation policy that saw the team lose the first game of 2015 against David Moyes' Real Sociedad. But they won the Champions League final at the end of 2015 beating Guardiola's Bayern Munich along the way. Success heals all wounds.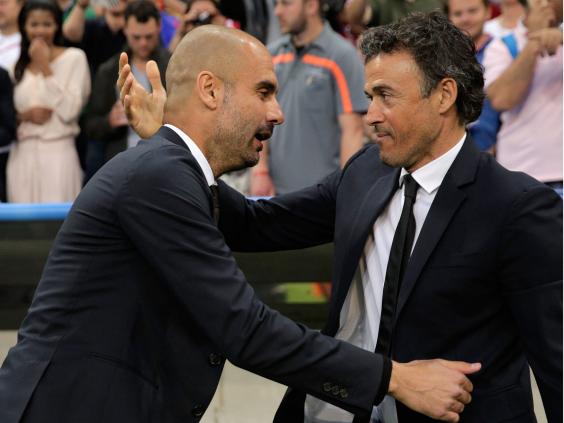 Luis Enrique's combative and in a more head-on way than Guardiola whose intensity tends to go hand in hand with a natural instinct to avoid confrontation. He is not the son of Cruyff in terms of tactical innovation but he has still managed to find a way to make the Neymar, Suarez, Messi front three work. That might have seemed like an open goal for any coach but could also have been three players wanting to play in exactly the same position and it has worked far better than most Barça fans imagined.
Neymar's first season saw him score 15 goals in 41 games under Martino. Since Luis Enrique took over he has scored 75 in 108. Together with Suarez and Messi they make up the most potent strikeforce in European football. "A coach has to work according to the players he has," Luis Enrique said on Tuesday. His Barça might greater resemble Pep's Barça if he still had Xavi Hernandez at his best. He doesn't, and as a consequence the emphasis has switched from midfield to attack. "I have never had to run as much as this in my career," said Andres Iniesta this week. Things are different, and yet in terms of success they are very much the same.
Guardiola will always be extra special to Barça's Catalan fans because not only is he a Catalan but he is an outspoken supporter of the region's push for complete independence from Spain. "There is more chance of him being voted president of Catalonia than club president," says El Mundo Deportivo columnist Cristina Cubero. 
There are other Barça fans without that Catalan independence bent who prefer Luis Enrique, having not completely forgiven Guardiola for leaving and joining another Champions League giant in Bayern. They would be the ones who sing the current manager's name with a regularity that never happened with Guardiola. But most supporters are happy that both men have coached the club. 
They are great friends – stood shoulder to shoulder in so many team photos from the late nineties – and are now rivals in the Champions League. 
"Don't compare me to Pep because …' said Luis Enrique at his presentation as Barcelona's new manager back in 2014. He never finished his sentence but the implication was: "I'll never match that". He is matching that and in 12 home Champions League games so far as Barça coach he is yet to do anything other than win. Enter Guardiola to try to change the stats.
Reuse content