A packed South Sefton magistrates courtroom in north Liverpool last month gave a sense of the stand-off that lies ahead between police and football clubs over the prospect of an increase in high-profile weekend evening games.
The place was packed to the rafters as the Merseyside force mounted a legal challenge to the 5.30pm kick-off time for the local derby, insisting it should kick off no later than 2pm. The argument was one we will be hearing much more of if the new live Friday night Premier League matches translate into extra derby fixtures when the demands on city-centre policing are at their peak.
The two sides were given 30 minutes by the judge to settle the case out of court. They did so. This time Everton agreed to bring in twice as many stewards for the game as they normally would for a Premier League fixture. But it felt like the state of things to come.
The dispute between forces and clubs over the cost of policing high-profile games is one in which no quarter has been given in recent years. Clubs claim forces have been charging more than they should – and cashing in on football – a view strengthened when Leeds United successfully took West Yorkshire Police (WYP) to court in 2012, claiming they had been overcharged by £2m for "special police services" between 2009 and 2012.
Against that backdrop, the Premier League's announcement that it will add 10 Friday night TV matches to a roster which already includes many Saturday evening fixtures has antagonised senior officers, who will tell you about the overall cuts to the police front-line service under the Coalition government, and stretched resources on weekend evenings when city centres can look like the Wild West. Forces are already at breaking point with the additional pressure that a derby game brings on a heaving Saturday night.
Since the judgement was handed down in the Leeds United v WYP case, clubs only meet the bill for policing inside grounds and the immediate vicinity. The Association of Chief Police Officers (ACPO) believes clubs should pay for all costs related to a game. "If Liverpool are playing at Old Trafford, nobody knows where the visiting fans are entering the city," said one senior officer.
At the heart of the issue is the question of whether the behaviour of a minority of supporters is actually as bad as officers say it is – or whether the old image of football hooligans is being used against those who watch the sport.
Football robustly challenges the police claim for full recovery of all its costs. The Football League has pointed to more than £1bn a year the sport is contributing to the Treasury, as well as the tax paid by supporters who are entitled, like all citizens, to police services as they go about their lawful business.
The League has also said that the principle of police covering costs applies to all major events from festivals to the Notting Hill Carnival.
By extension, it could be argued that bars and nightclubs are not being asked to pay for extra police – or Accident and Emergency resources, for that matter – when Friday and Saturday night city centres are full of revellers. So why should football?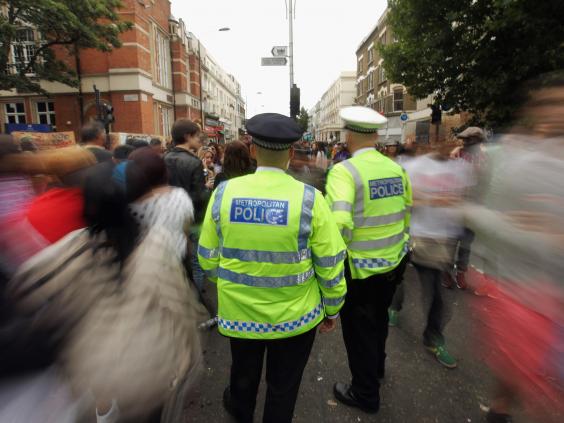 Clubs – and the Football Supporters' Federation – also point to a reduction in arrests and anti-social behaviour at games. Home Office figures show that the total number of football-related arrests in 2013-14 at domestic and international games involving clubs from England and Wales was 2,273 – a seven per cent drop on the previous season and the lowest on record, continuing the general downward trend. The Home Office cautions that they should be considered in the context that they reflect less police activity. The lack of arrests at the Merseyside derby – which the police went to court over – is also cited.
But senior officers say that the absence of trouble stemmed from the fact they provided an extra 120 officers in the first place. "You put coppers on. Therefore there is no disorder. People then say: 'Why did you put them on?'" said one senior officer.
Senior officers also say the Metropolitan Police had over 500 officers at last month's north London derby – with its 5.30pm Saturday kick-off. "There is disorder. There were three seats of separate disorder at the north London game but it is dealt with and low profile," says a source.
Research commissioned by ACPO two years ago found that in four out of five clubs studied there were "significantly elevated counts of crime" on match days in an area covering one kilometre from each ground. The Jill Dando Institute of Security and Crime Science at University College London compared crime statistics for five stadia from 2005-10.
Police are, as the Merseyside case demonstrates, ready to use the law, to prevent weekend evening Category C Increased Risk (CIR) games taking place or to secure the costs of extra overtime. Clubs require police to sign off their stadium safety certificates each year.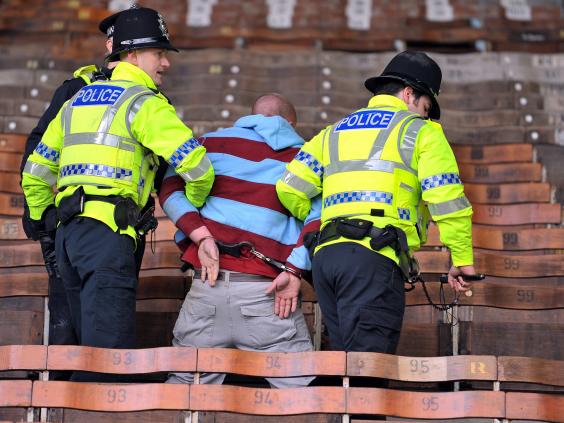 Without them games might not be permitted to take place at certain times. Police are also in a position to affect policy by sitting on local council safety advisory groups, which help councillors decide whether games' timetabling should be moved or alcohol bans imposed. It was after Liverpool City Council tried and failed to get last month's derby game shifted that Merseyside Police went to court.
The positions are entrenched. This is a dispute which we will be hearing a lot more of, as the new fruits of the £5.1bn Premier League TV deal kick in, with both Friday and Saturday fixtures. The only common argument among supporters and officers is that the Friday fixtures are unwelcome – both for those who want to attend matches and those who want to keep the peace in this country.
The number of matches rescheduled for TV will increase to 44 per cent under the new deal and the FSF argues trenchantly that the advent of the four-day Premier League football weekend has many detrimental effects: ruined plans for fans who have gambled on kick-off times being untouched, and booked trains well in advance to make them affordable; impossible away travel for many whose side face a long Friday or Monday night trip. There is also the generally detrimental effect on match atmosphere.
It is a global league now and the ever-shifting fixture schedule is the price being paid at ground level for seeing the world's best players on the field of play each weekend.
For those planning their Friday night viewing in front of their own TV or the pub's, the latest tranche of evening games just can't come soon enough. The rest are left to argue over the consequences.
Law and disorder: Clubs vs Police
Wigan Athletic, 2008
The then-Premier League club lost a High Court case against Greater Manchester Police over who paid for matchday policing. A subsequent 2010 appeal ruled in favour of Wigan, forcing GMP to pay £330,000 to the Lancashire club.
Leeds United, 2012
West Yorkshire Police lost a case, and subsequent appeal, against the cost of policing matches at Elland Road and the surrounding area. They were forced to repay £1.2m to the club after the High Court ruled the force overcharged for "special police services" between 2009 and 2012.
Merseyside derby, 2015
Merseyside Police submitted a legal challenge in an attempt to change the 5.30pm kick-off of last month's derby, fearing crowd trouble. The appeal was withdrawn an hour into proceedings as this time Everton agreed to bring in twice as many stewards for the game as they normally would for a Premier League fixture.
Reuse content