Sir Tom Finney – one of England's greatest footballers and the ultimate one-club man – has died. He was 91.
Known as "the Preston Plumber" after his father insisted he complete his apprenticeship before signing professional terms with his hometown club  Preston North End in 1946, Finney won 76 caps and had recently replaced former Wolverhampton Wanderers goalkeeper Bert Williams as the oldest living England international.
Born in an adjacent street to Preston's Deepdale ground in 1922, Finney had to wait until after the war to begin his professional career. Called up to the Royal Armoured Corps at the age of 20 in 1942, he fought in Montgomery's Eighth Army in Egypt and later in Italy in the final offensive to capture Argenta in April 1945 as a Stuart tank driver in 9th Lancers. Local leave in North Africa allowed him to play in army teams against local opposition and on one occasion he played against the future actor Omar Sharif.
Tom Finney: A life in pictures
Tom Finney: A life in pictures
1/7

Tom Finney was immortalised in this picture, as seen outside Deepdale

2/7 Tom Finney, in pictures

Smiling as he holds his trophy in London after being elected the Footballer of the Year by the Football Writers Association in 1954

3/7 Tom Finney, in pictures

Applauding prior to the Barclays Premiership match between Manchester United and Liverpool at Old Trafford in October 2006

4/7 Tom Finney, in pictures

He won 76 caps for England, scoring 30 goals

5/7

Helping then-Preston North End manager David Moyes lift the Division Two trophy after the Nationwide League Division Two match against Millwall at Deepdale in 2000

6/7 Tom Finney, in pictures

At Buckingham Palace, with his wife Elsie, to recieve his OBE in 1961

7/7

The Sir Tom Finney statue standing outside Deepdale Stadium, home of Preston North End
Back home and with normal competition resuming in 1946, he finally made his debut for  Preston in August 1946 and took juts 18 minutes to register his first goal. He soon established himself as a talented forward capable of playing in any position across the front line, making his England debut just four weeks later – the start of an international career that stretched until 1958.
Post-war demand for plumbers also ensured that he had a second income to supplement the £14 a week he received as a footballer and his new moniker stuck.
Indeed, such was his influence on the team that Preston were known to some as "the Plumber and his 10 drips". Finney was named Footballer of the Year in 1953–54, the year of his only appearance in the FA Cup Final when Preston lost 3-2 to West Bromwich Albion. He repeated the feat  in 1956–57 as Preston finished third behind Manchester United and Tottenham Hotspur, becoming the first player to win the award more than once.
Finney's partnership with Tommy Thompson became part of the furniture at Deepdale as the duo scored a combined 56 goals that season, incredibly increasing that figure to 60 the following year as North End were runners up behind Stan Cullis' Wolves.
He was eventually forced to  leave Preston in 1960 due to a persistent groin injury, having racked up 433 appearances and scored 187 goals. In his final season at Deepdale, Finney played alongside future Liverpool manager Bill Shankly, who remained a fan of the mercurial winger long after his retirement.
"Tom Finney would have been great in any team, in any match and in any age … even if he had been wearing an overcoat," the Scot once said. Shankly was also once asked about how a top star of the day compared to Finney: "Aye, he's as good as Tommy – but then Tommy's nearly 60 now."
Former England captain Bobby Moore also reflected on his modesty: "If you're as good as Tom Finney was, you don't have to tell anybody."
Having spent much of the war in Italy, Finney was part of the England side that famously beat the Azzurri – still world champions despite having won the title a decade earlier – 4-0 in Turin in 1948, when he and Sir Stanley Matthews combined to devastating effect.
"To dictate the pace and course of a game, a player has to be blessed with awesome qualities," reflected Matthews. "Those who have accomplished it on a regular basis can be counted on the fingers of one hand – Pele, Maradona, Best, Di Stefano, and Tom Finney."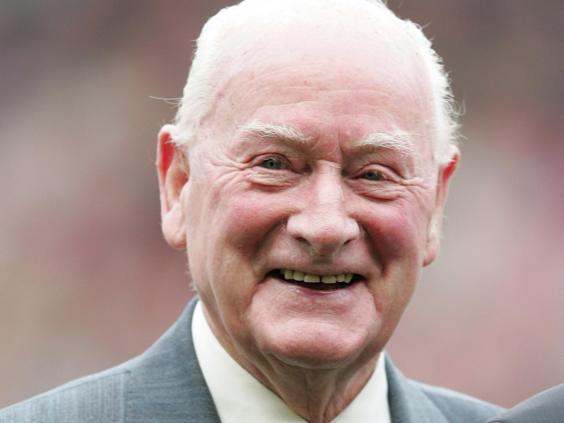 That performance prompted heavyweights Torino to make attempt to lure him to Italy but he turned down a reported £10,000 signing on fee to stay at Preston. Finney was also part of the squad which suffered the ignominy of losing to the USA at the 1950 World Cup, before featuring in both the 1954 and 1958 World Cup Finals. But having played in the same side as Sir Bobby Charlton when the Manchester United player made his international debut, a 4-2 defeat to Uruguay in the quarter-finals spelled the end of his international career. 
"Tom set me up for the first with a perfect cross. I didn't have to move, just knock it in the net," said Charlton in 2009. "He was one of the greatest footballers there has ever been; he was the type of player that people would travel a long way to see, I'm a good personal friend of Tom's and he is very well liked in the game. He was a fantastic player – one of the world's top players without question."
Having retired from all football two years later, Finney did come out of retirement in 1963 to play for Northern Irish side Distillery against Benfica in the European Cup. But it was his legacy at Deepdale that Finney's later years will be best remembered for as he became club president and was honoured when the club renamed their new stand in his honour in 1995.
In 2004, Finney unveiled the water feature sculpture "The Splash", by sculptor Peter Hodgkinson, outside The National Football Museum. The sculpture was inspired by the 1956 Sports Photograph of the Year which features himbeating two defenders at a waterlogged Stamford Bridge. Current Manchester United manager David Moyes, who took charge of Preston for his first appointment in English football in 1998, admitted he often turned to the great man for advice. 
"Sir Tom was a great help to me in the early stages of my management career," said Moyes. "He has an incredible passion for the game and he is somebody I have got great admiration for. There is no doubt he was one of the greatest players, but to me he is also a great man."
Finney remained devoted to Preston until his death and was also a supporter of countless good causes, particularly the Alzheimer's Society who gave him such support when his wife, Elsie, passed away in 2004. "My wife had Alzheimer's and it is very, very difficult when the person you know so well starts doing things that are unknown to her," he said.
"My wife was very particular about what she wore and what she did but she started doing things differently. Alzheimer's is terrible."
Tributes tonight flooded in from around the globe, with former England striker Gray Lineker describing him as "one of the greatest".
"Sir Tom Finney has left us. One of the greatest players this country has ever seen, and a true gentleman," Lineker wrote.
After confirming his death tonight, Preston are now expected to hold a minute's silence ahead of the League One meeting with Leyton Orient at Deepdale.
Reuse content