With just seconds remaining in Mexico's last 16 clash with the Netherlands, veteran defender Rafael Marquez launched into a clumsy tackle on Dutch winger Arjen Robben.
As Robben shimmied away from the centre-half, the Dutchman plummeted to the floor with his arms aloft and referee Pedro Proenca was so convinced by his theatrics that he pointed to the spot.
The game turned on that penalty incident and although Robben insists it was a foul, his reputation for diving, and the ease with which he went over in numerous other challenges in the game (including this one-and-a-half twists with pike in the second-half), means many have been quick to accuse him of cheating.
But, well, he wouldn't be the first footballer to benefit from a spot of footballing thespianism...
1. Jurgen Klinsmann, 1990
The German centre-forward had such a reputation for simulation by the time he moved to Tottenham in 1994 that he used a re-enactment of the move to celebrate his first goal for the club.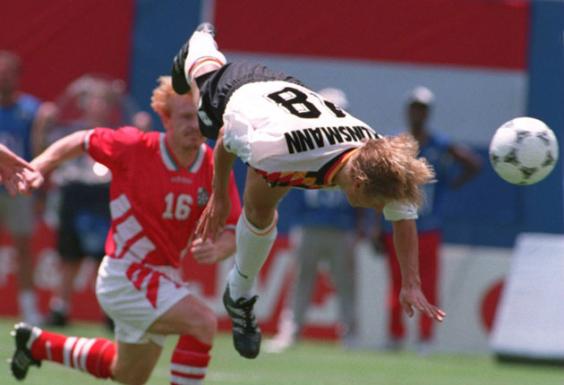 But Klinsmann's most high-profile dive came in the 1990 World Cup final against Argentina. His theatrics (or was it the ludicrously high tackle?) were enough to convince the referee to send off Argentine defender Pedro Monzon and West Germany went on to win the game 1-0.
2. Rivaldo, 2002
The Brazilian forward clutched his face and writhed around in agony after Turkish full-back Hakan Unsal kicked the ball at his... knee.
Afterwards Rivaldo said he had absolutely no regrets about his actions. Although that's perhaps unsurprising as Brazil went on to win the World Cup and the former Barcelona striker escaped with just a £5,180 fine.
3. Luis Suarez, 2012
For a man who normally has such a squeaky clean reputation, Luis Suarez's blatant dive against Stoke City was something of a surprise.
Fortunately enough, referee Lee Mason saw through the act and waved away Liverpool's claims for a penalty.
4. Albert Meier, 2005
As the ball trickled out of play in a German league game in 2005, Duisburg coach Norbert Meier was so incensed with Cologne midfielder Albert Meier that he leaned in for a headbutt.
Despite minimal contact between the respective foreheads, both men fell straight to the floor and rolled around in apparent agony.
Streit was sent off straight away but a post-match investigation saw Meier sacked by his club and banned for three months by the German FA.
5. Alberto Gilardino, 2007
After over-running the ball in a Champions League clash against Celtic, AC Milan forward Alberto Gilardino attempted to win a penalty by going down in the box.
The referee wasn't fooled however… maybe because there were no opposition players within about a five yard radius of the Italian.
6. Morten Gamst Pedersen, 2009
"We were 2-0 down. I feel something... and go down," were the words of Blackburn winger Morten Gamst Pedersen after he was lambasted for an unforgivable dive against Arsenal in 2009.
Quite what he felt is unclear.
7. Kyle Lafferty, 2009
Rangers forward Kyle Lafferty hit the deck as if he'd just been on the receiving end of a Glasgow kiss after squaring up to Aberdeen's Charlie Mulgrew even though, in reality, the pair had barely touched noses.
Mulgrew was sent off after the incident but justice was served to Lafferty with a fine from his club and a subsequent ban by the Scottish FA.
8. Gareth Bale, 2013
If Gareth Bale had something of a burgeoning reputation for diving in his final years at Tottenham then he has surely perfected the art during his spell at Real Madrid.
Although he often said he dived to avoid injury, there surely is no excuse for this blatant attempt to win a penalty against Sevilla.
9. Ashley Young, 2014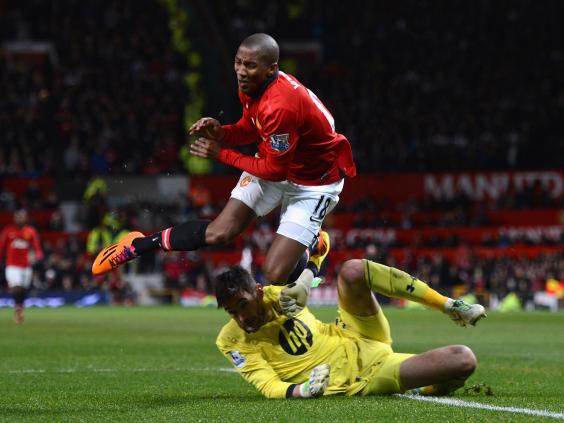 The Manchester United winger hit the ground with such force after a challenge from Tottenham keeper Hugo Lloris in January that he was ruled out with a shoulder injury for a number of weeks.
This came just a couple of months after Young was given a warning by manager David Moyes for his persistent simulation following a particularly shameful incident against Crystal Palace.
10. Hamit Altintop, 2011
Turkey were 1-0 down in a vital European Championship qualifier when midfielder Hamit Altintop supposedly felt contact in the box.
The referee was unconvinced by his theatric fall however and Altintop's side went on to lose 3-0, ultimately failing to qualify for Euro 2012.
Reuse content