Is there anything we of the age of Twitter, daily live blogs and soulless "click bait" love more than a racist?
The question is worth asking when, two games into their World Cup campaign, Germany has already been beset with three separate racism scandals.
The most recent one even involved that most prized jewel of social media's valiant soldiers of equality: a Nazi!
To recap: the gentleman who invaded the pitch in a state of undress during Germany's match with Ghana was immediately accused of having the logo of the SS hidden in the writing he had scrawled across his chest. Not only that, but he had the initials "HH" which, as one German paper knowingly tooted, is famously Neo-Nazi code for "Heil Hitler".
These fascists have regressed a little since the days of Enigma, it seems.
The man in question was neither, as was reported in the Guardian, "a German fan", nor a Nazi. He was a bartender from Poland, with the ridiculous plan of publicising his e-mail address in order to raise money for his flight home after the World Cup. So, in any case, reads his own account, and the report of various Brazilian media outlets.
It is pretty believable. The alleged SS logo is, on closer inspection, a double four. The same e-mail address written on his back shows that ostensibly to be the case. With that in mind, the "HH" becomes a little less incriminating. The whole script is indeed a gmail address.
This was the most laughable of all three racism scandals. The man in question was no doubt a touch eccentric. He no doubt regrets having not checked the democratic clarity of his handwriting prior to baring his chest for the world, but he was rather swiftly absolved. We could all have a good laugh at both his and the reactionary Twittersphere's expense.
Less amusing were the other two racism scandals to involve German football. The first came during Nigeria's 0-0 draw with Iran, when ARD commentator Steffen Simon – a man famed for his catastrophic propensity to offend – claimed that the Iranians were "Southerners, and therefore not very well organised".
It was a misjudged comment at best, a disgracefully lazy lapse into racism from an extremely smug individual at worst. Simon was roundly decried for "salon racism", and forced to offer an apology later in the game.
Germany's indignation when faced with Simon's offensive comments is worth remembering when it comes to the fallout over the third racism scandal.
Two fans were pictured during the same game between Germany and Ghana smiling at the camera. Both were crudely blacked up, both wearing t-shirts on which they had scribbled the word "Ghana".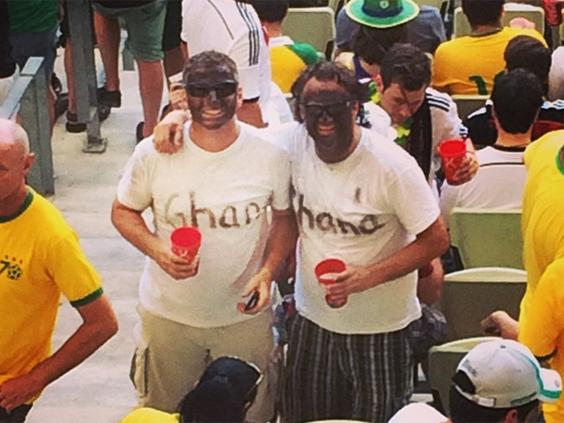 Those individuals were rightly condemned, and Fifa are said to be looking into the issue. Like our streaking friend, the accidental Nazi, though, the blacked up fans were reported to be German, when their nationality was both uncertain and irrelevant.
That put the German populist media on the defensive. Naturally. When your target audience – Germany fans – are being accused of racism, you defend them. They found out that the men were probably Swiss, and sat back, content that the German fans had been wrongly accused of racism. The rest of the German press barely reported it at all. It is a great shame, because, whether they are Swiss, German or from the mIsle of Man, their embarrassing little stunt is something which could have done with more thoughtful coverage.  
Blacking up is astonishingly uncontroversial in Germany. Awareness of its historical significance, its inherent connection with a grotesque and ingrained vein of racism, is not particularly high. For many, it is no different to donning a wig or a applying some lipstick. The staggeringly unfunny German impressionist Matze Knop blacks up almost every week to impersonate Bayern and Brazil defender Dante Bonfim.
That is not to excuse anyone who chooses to do it. There are enough Germans who do recognise that it is unacceptable to render those who refuse to a stubbornly backward bunch. But they are a bunch who will not be roundly condemned in the manner that Steffen Simon was, or in the manner that they would be in countries with a larger black community.
The deeper sociological reasons for Germany's apparent lack of concern with blacking up go beyond the capabilities of a mere football writer. What is clear to all and sundry, though, is that the issue needs greater debate. And more considered debate.
Naming and shaming those who indulge in lazy racism in a mere 140 characters is all well and good when, like with Steffen Simon, the offence is clear to everybody. Then, the outrage, and the immediate, democratic clip around the ear is, in fact, constructive.
But you can't clip a general viewpoint round the ear, however pig-headed it may seem. You can't simply scream racist at those fans and hope they will be dealt with accordingly. Until the perception of blacking up in the German media – and, no doubt, in that of many other countries – changes, then a more constructive and patient debate about this issue is needed.
There are more considered voices in Germany who had the opportunity to initiate such a debate this week, and most failed to do so. But so did those who merely cursed loudly about racist German fans. Racism is largely borne of ignorance. Let us then seek to understand and communicate, rather than accuse and condemn.
Reuse content