Brazil is a country well known for its good surf and one of the World Cup's potential stars has arrived in South America on the crest of a wave looking to successfully help defend the trophy he first lifted four years ago.
Real Madrid and Spain defender Sergio Ramos has won the lot. The 28-year-old added the Champions League to his bulging trophy cabinet last month and his stock, and confidence, could not be higher going into this summer's tournament. One World Cup, two European Championships, La Liga titles and Copa del Rey triumphs had all come before Los Merengues' dramatic 4-1 extra-time victory over Atletico Madrid in Lisbon. Few players will be as decorated as the uncompromising Sevilla-born centre-back when the tournament gets underway on Thursday.
Vicente Del Bosque's squad will be amongst the favourites to lift the famous trophy at Rio de Janeiro's Maracanã on Sunday, July 13, and in-turn become the first nation to win four major tournaments in a row. As incredible, and unique, as a second World Cup winner's medal would be for the former Sevilla man, the competition could also be crucial in helping him be amongst the front-runners for the sport's biggest individual prize come the end of the calendar year.
Plenty scoffed at the idea that Ramos could succeed his more illustrious teammate Cristiano Ronaldo and be in with a shout of winning this year's Ballon d'Or, but if he helps his country to glory in Brazil this summer he will have plenty of reasons to back up his claims. Ramos has been a giant at the Bernabeu this season and it could be argued that it was he, not the usual headline grabbing Gareth Bale or Ronaldo, that dragged Carlo Ancelotti's men to their long-awaited Decima. Del Bosque will be hoping that form carries on to the international stage.
The last defender to win the Ballon d'Or was Fabio Cannavaro and it came in the year he led Italy to World Cup glory in Germany in 2006. His club? Although going into the tournament on the back of a season with Juventus he spent the second half of the year with Madrid. An omen? Possibly. Only a smattering of defenders have won football's biggest individual gong but Ramos is well equipped to end the recent hegemony of Ronaldo and Lionel Messi.
He may well have scooped five trophies by the time the voting opens. The Copa del Rey and Champions League are already secure and there's the potential of the World Cup, European Super Cup and Spanish Super Cup. If anyone points to the defender being surrounded by world-class talent they'd be right, but Ramos has shone on an individual basis so far this year, too. The prize is an individual one and although he won't secure the same kind of impressive goal or assist tallies of players such as Ronaldo, Messi, Frank Ribery or Andres Iniesta, his performances have been superb, crucial and trophy winning.
"We've known for a long time that Ramos is the best defender in the world, I've never doubted that," said former Madrid defender Manuel Sanchis. "I already put him amongst the candidates for the Ballon d'Or. A player of his quality and performanace has to be considered." Considered they may well be, but Ramos faces a tough task against the usual suspects. Shortlisted by members of Fifa's Football Committee and a panel of experts from France Football, the award then turns somewhat into a popularity contest with players, coaches and media from around the globe voting on the eventual winners. Ramos may have already grabbed some big headlines, but they'll have to continue.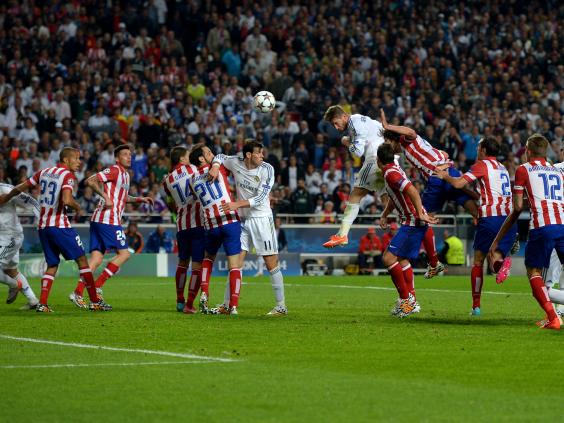 His stoppage-time leveller against Atletico in Lisbon will go down as one of the most important goals in Real Madrid's history. Diego Godin had looked set to give Los Colchoneros a famous double after clinching La Liga just a week before but with Diego Simeone's men on the verge of victory Ramos popped up at the right place and the right time to thump a powerful header beyond Thibaut Courtois from Luka Modric's corner. The rest, as they say, was history. Simeone's men were deflated and Ramos and his men eventually cruised to a flattering 4-1 win in extra time.
It wasn't the first time he'd appeared as Madrid's major goal threat, either. While all eyes were on Ronaldo and Bale for the headlines, Ramos had been taking centre stage. He'd done it in the semi-finals, too, with two carbon-copy headers putting Los Blancos on course for a thumping 4-0 victory at holders Bayern Munich. Madrid's centre-back was in the middle of a run that saw him notch six goals in seven crucial games at the end of the season. He'd grabbed his team by the scruff of their collective necks and hauled them to Lisbon and La Decima.
Although possibly not afforded the same freedom to pile forward with Spain as he is at the Bernabeu, Ramos will carry that threat into the World Cup. Xavi, Andres Iniesta, David Silva and Cesc Fabregas will be amongst the players to continue Spain's 'tika-taka' approach but Ramos's threat from set-pieces, as well as the introduction of powerhouse forward Diego Costa, will offer Del Bosque's side some variation in their attack. Ramos's forward-thinking change in approach came in Madrid's 4-0 victory over Osasuna in April, in which he scored the third after numerous ventures forward and five more goals followed in Madrid's remaining six matches of the season in all competitions.
It has not been all about his recent goal glut, however. While they grab the headlines, Ramos has been much more stubborn and consistent at the back alongside Pepe and Raphael Varane. He's been included in the last three Fifa/FIFPro World XI line-ups but this year, so far, he's been at his best. The calm head of Ancelotti has undoubtedly helped, something Del Bosque will be grateful for when the 28-year-old lines up alongside Barcelona's Gerard Pique at the back. Before the last European Championships Spain's squad was a divided one owing to the bad blood between players from Barca and Madrid but none of that has been forthcoming to the same extent this season.
There will still be questions about his temperament but for the most part that has also improved under Ancelotti. They say a leopard never changes its spots but Ramos has tried. The only blemish since the turn of the year was his dismissal in Madrid's 4-3 home defeat against the Catalans and an error in Madrid's 2-0 defeat at Celta Vigo came when La Liga already looked out of sight. Those losses of control have been fewer and farther between this campaign and Ancelotti will look to help  eradicate them for good next season.
It's not been a bad season for a player who looked like he could be for the chop a year ago. The rise of young French centre-back Varane was rumoured to spell the end of Ramos as a starter with Ancelotti understood to be concerned by his discipline. Pepe and Varane were seemingly set to be the Italian's centre-back pairing of choice but Varane's injury allowed Ramos a chance - and he's taken it. Becoming a father may also have helped him mature as a person and as a player. A much-needed grounding through family life.
Defenders rarely take the plaudits when it comes to the Ballon d'Or but if Ramos is going to break the mould it's going to be this year. If he produces the same performances for La Roja has he did for Los Blancos then Spain will be a tough nut to crack. They may shine in attack but they're stubborn at the back, too, and in Sergio Ramos they have arguably the in-form centre-back in world football. They could also have a potential Ballon d'Or winner in-wait.