Football's world governing body Fifa has been thrown into chaos after the lawyer who led its controversial investigation into the bidding for the 2018 and 2022 World Cup finals denounced the Fifa report into his findings.
Michael J Garcia, the American who spent 18 months on the investigation, said that Fifa's abbreviated 44-page report by the German judge Hans-Joachim Eckert "contains numerous materially incomplete and erroneous representations of the facts and conclusions detailed in the investigatory chamber's report".
Garcia will now appeal to Fifa against the report. However, the 14-strong Fifa appeals committee has close links to the governing body and the likelihood of it finding against Eckert's report is slim. It seems Garcia's only option would be to publish his investigation independently.
The development was part of a dramatic day on which Eckert's report, released at 9am, heavily criticised the English Football Association's 2018 bid team while exonerating Qatar's controversial 2022 bid. In response the FA chairman, Greg Dyke, attacked the contents of Eckert's report and called for publication of Garcia's full investigation.
Dyke said: "Questions still need to be answered. If you read that report it says all the bids were assessed. The one that was the highest risk was Qatar and they won, and it doesn't take us any further forward on why they won.
"I still don't understand why the 2022 World Cup was given to Qatar when it was quite clear from Fifa's own technical committee that said it would be 'high risk'. I don't understand it any more than I understood it then."
The report from Eckert, chairman of the adjudicatory chamber of the Fifa ethics committee, was dismissed as a "whitewash" by Damian Collins, the Conservative MP. After Garcia's intervention, Fifa finds itself no closer to a resolution to a toxic chapter in its turbulent history.
Key players in the Qatar World Cup bid controversy
Key players in the Qatar World Cup bid controversy
1/5 Mohammed bin Hammam

The Qatari was the Asian Football Confederation president at the time of the 2010 vote. The Sunday Times alleged that documents showed he made payments to officials as part of a campaign to win support for the 2022 World Cup bid. He insisted he had no "official or unofficial" role with the bid. Fifa imposed a second life ban on him in December 2012, after his decision to quit all his football roles. This came after the Fifa ethics committee investigation found him guilty of "repeated violations" of the ethics code on conflicts of interest, while he was AFC president and while a member of the Fifa Exco between 2008-2011.

AP

2/5 Jack Warner

The Trinidad & Tobago politician was forced to resign as a Fifa vice-president in 2011, after he and Bin Hammam were alleged to have paid bribes of £600,000 to Caribbean associations. He is also alleged to have helped Bin Hammam bribe Caribbean officials in return for support in his aim to oust Sepp Blatter.

Getty Images

3/5 Sepp Blatter

The long-standing Fifa president oversaw the bidding process to award Qatar the World Cup. Has since admitted awarding Qatar the cup was "a mistake". He set up an executive committee task force to look into the World Cup in Qatar being moved to the winter because of the extreme summer temperature.

Getty

4/5 Lord Triesman

Former FA chairman. Alleged that, in exchange for voting for England to host the World Cup, Warner asked for money to build an education centre in Trinidad and to buy World Cup television rights for Haiti, and that Paraguay's Nicolas Leoz asked for an honorary knighthood in exchange for their votes.

Getty Images

5/5 Michael Garcia

Former New York district attorney Michael Garcia was named Fifa's chief independent ethics investigator. He spent a year investigating the organisation, and delivered a 350-page report on the 2018 and 2022 bidding processes in September. Called for greater transparency and culture change in Fifa.

Getty Images
Despite corruption allegations having been made against Qatar, in particular by The Sunday Times, the report found nothing materially wrong with the Gulf state's bid to land the 2022 finals. Ultimately, the report cleared the eight bidding nations for the two tournaments of any major wrongdoing. The Spain-Portugal 2018 joint bid, thought not to have responded to Garcia's investigation, was not even mentioned.
In particular, the actions of Mohamed bin Hammam, once a Fifa vice-president, and formerly Qatar's most senior football official who is now banned for life by the governing body, were judged to be unconnected to his country's bid. The Sunday Times' allegations in June place Bin Hammam at the centre of a £3m slush fund to bribe football officials all over the world.
In response to the exoneration of Qatar, Dyke said: "The question about Qatar is all about whether Mr Bin Hammam was representing Qatar and the Qatari bid or whether he was just representing his own interests. They [Fifa] have come to the conclusion that he was representing his own interests. I still find that quite difficult to take."
Eckert's report acknowledged that the challenge of proving corruption was difficult, and the lack of "coercive" powers was limiting. He hints that more lies beyond the scope of the report's findings. For instance, he said that the bid team from Russia, who won the 2018 tournament, were unable to give detailed evidence because their computers had been destroyed.
Asked whether the FA had damaged the image of Fifa, Dyke said: "I think it's quite hard to damage the image of Fifa. What it tells you is that the people who cooperated the most got criticised and those who didn't cooperate at all didn't get anything, which seems odd by anybody's standards.
"Those who cooperated the most seemed to be the ones that gave them the information by which they were then criticised, like the FA. Others, who didn't cooperate, didn't get criticised at all. Well, there's a surprise."
There is little the English governing body can do over Fifa's stance, other than refuse to participate in future World Cups, an option unlikely to garner public support. There is still the possibility that English bid officials could face Fifa disciplinary charges.
Eckert's report made several criticisms of the England 2018 bid, which attracted just two votes from the 22 overall in the all-powerful Fifa executive committee [ExCo] – one coming from English member Geoff Thompson – and was eliminated in the first round of voting.
* The report accused the English of having "violated bidding rules" in relation to the Concacaf (Central, Caribbean and North America region) president and ExCo member, Jack Warner, from Trinidad & Tobago, who was "showering the England 2018 bid team with inappropriate requests". Warner has since retired to avoid Fifa disciplinary measures over previous corruption allegations.
* The FA acquiesced to Warner's request to help "a person of interest to him find a part-time job in the UK".
* The FA was "willing" to provide "favours and benefits" for Warner's Joe Public Football Club in Trinidad.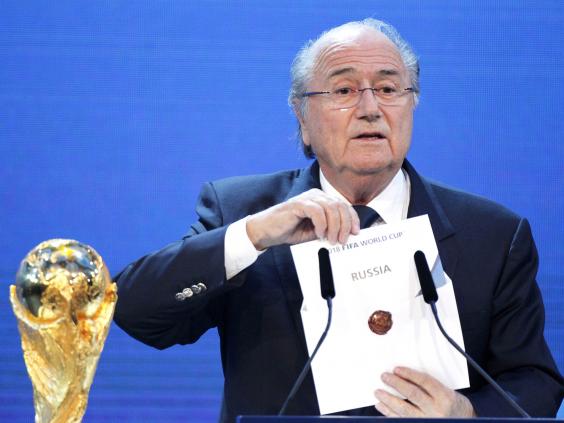 * The FA made "substantial assistance" to the UK training camp of a Trinidad & Tobago team during an Under-20s tournament in 2009.
* Warner used his "considerable influence to exact personal benefits in violation of the Fifa code of ethics". The report finds the FA showed "a willingness, time and again, to meet such expectation".
* The FA sponsored a Concacaf dinner for $55,000 "in an effort to curry favour" with Warner.
* The former FA chairman Lord Triesman testified on corruption under Parliamentary privilege but refused to cooperate with Fifa's ethics committee investigation.
Of the criticisms levelled at other nations, the Qatari official Bin Hammam is criticised only in terms of corrupt payments he is alleged to have made ahead of his attempt to be elected Fifa president in June 2011. The Sunday Times investigation into bribery of football officials to create support for Qatar's 2022 bid is not referred to at all. The Qatar bid team has always maintained Bin Hammam was a rogue element. The report judges him to be "distant" from the bid.
The other successful bid team, Russia, is criticised for making public "only a limited amount of documents" on the basis that leased computers used by the 2018 bid team had since been "destroyed". The Russians said they could not access "gmail" accounts.
Australia, whose 2022 bid was also eliminated in the first round, was criticised more than any other nation. Eckert said that money from the Australian Government intended for African nations had been redirected to countries with links to Fifa ExCo members. The report also alleges Football Federation Australia funds "co-mingled" with funds in Warner's personal accounts
The first whistle-blower cited was in relation to the Australian bid but after two meetings with investigators, the report concludes that the individual in question "undermined its [sic] own reliability". In the case of a Qatar whistle-blower it is said the individual was "motivated by revenge" and was "not reliable".
Meanwhile the Fifa president, Sepp Blatter, is praised by the report, which notes that the "one concrete allegation against [him] was demonstrably false". Blatter, it says, "deserves credit" for the cooperation of Fifa.
The report says that the line between proper and improper conduct "is a very fine one". It adds that the "main challenge with regard to corruption is proving it", that "to assume that envelopes full of cash are given in exchange for votes on a Fifa World Cup host is naive" and that corruption is "executed in much more sophisticated ways".
Rather, the report says that the "perception a vote must have been bought if the host selected is not the one that has been generally considered a favourite (a position that is quite common in the media), is mere speculation and far from anything a judicial body like the Fifa ethics committee is allowed to accept as proof".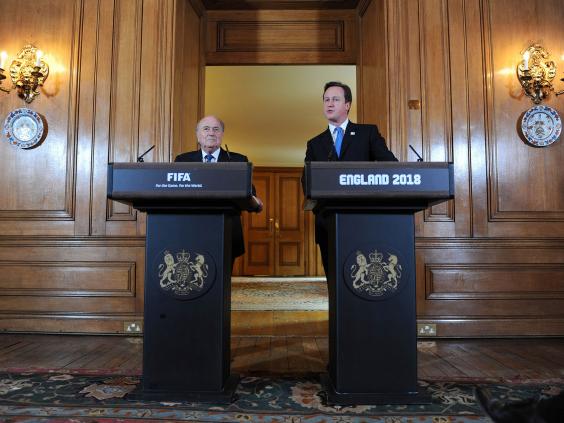 Eckert report: Who did what – and for whom
Australia 2022
Directed Government money to projects with links to Fifa ExCo members while FFA funds "co-mingled" with Jack Warner's personal account.
Belgium/Netherlands 2018
Barely more than a footnote.
England 2018
Accommodated Warner's "inappropriate requests". Lord Triesman criticised for refusing to repeat claims to Commons Select Committee.
Japan 2022
Might have gone over the top on gifts to ExCo wives.
Korea 2022
Could have created conflict of interest for ExCo by proposing to create a "global football fund" worth $777m.
Qatar 2022
Concerns over Mohamed bin Hammam, hosting Brazil versus Argentina in 2010 and sponsoring African congress.
Russia 2018
Computers used by bid team were destroyed and "gmail" addresses now inaccessible. Cleared on available evidence.
Spain/Portugal 2018
No mention but one bid was "particularly uncooperative".
US 2022
Suggestions of collusion with other bid committees behind their decision to drop out the running for the 2018 World Cup bid. No evidence forthcoming to suggest any wrongdoing and cleared.
Reuse content