You travel up Houghton Road to get to Hetton-le-Hole in County Durham and almost 1,000 people walked in the footsteps of Steph Houghton as five of England's returning Lionesses received bouquets and warmth and an indication of the impact their third place in the World Cup in Canada has made on the country.
Hetton, which gave the game Bob Paisley and Harry Potts, is also responsible for England captain Houghton. She grew up near here and started playing here.
On Sunday it hosted Sunderland versus Notts County – fourth v third in the Women's Super League – and an attendance of 995 was roughly double Sunderland's average home gate. It brought some evidence of that eagerly sought, much-talked-about World Cup "bounce".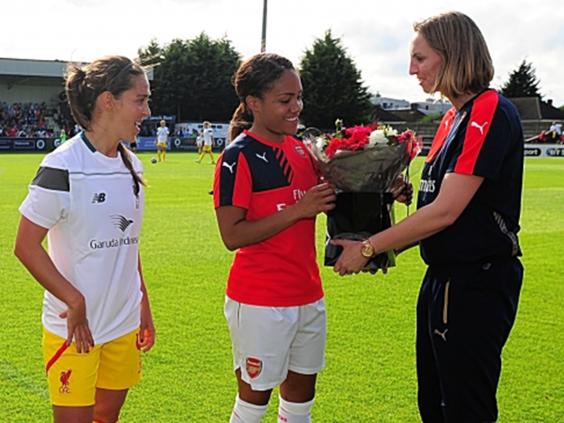 Further south, at Manchester City's Academy Stadium, there was a record crowd of more than 2,000 to see the home side beat Birmingham City 1-0 with a goal by England's Toni Duggan. While these might seem like tiny steps, this is a new era of women's football in England and, as such, it is a young sport.
A mix of age and gender, paying £5 or £2.50, the Hetton crowd made a happy racket as Laura Bassett and four other members of England's squad in Canada were given an ovation before kick-off, as well as flowers.
Bassett, the scorer of that horribly unfortunate own goal against Japan in the World Cup semi-final, was again on the down side of a 2-1 scoreline as County lost, but she was an authoritative presence on the pitch and afterwards spoke realistically of what all involved hope could be a small landmark of a day for the women's game.
"It's good to be back," Bassett said. "We got a wonderful reception and we want to thank all the people, staff and management at Sunderland for that.
"We had a special guard of honour, were presented with flowers. We felt everyone was making so much noise and were so proud of us. It was absolutely brilliant. We hope the crowd enjoyed themselves."
On grass, as opposed to the 3G surfaces England played on in Canada, the match began brightly and with some tempo, but in the second half the  heat and the fact that most players had not appeared for two months saw the pace slow. Then in injury-time, Sunderland's Beth Mead, a 20-year-old future England prospect, belted in a 20-yarder to turn 1-1 into 2-1 and lift Sunderland above County in the table.
Overall, the 90 minutes offered something to both critics and supporters of the women's game. "It was a bit crazy playing on grass," Bassett noted with a smile. She added of the occasion and attendance: "We knew that we weren't going to be going from 1,000 to 10,000. We wouldn't expect that.
"We hope that we can make a steady progression, that it's sustainable. It's up to us as players to put on a spectacle so that people come back. The FA Cup final is in three weeks' time and hopefully that will help attract bigger crowds. The FA Cup final has always been a special day in the women's calendar."
Notts County are in the final, which will  be held at Wembley for the first time. They will meet Chelsea, who are top of the league and who will be the next visitors to Sunderland on Saturday evening. That fixture, and those immediately after, will test the strength of the bounce.
Reuse content