Aaron Cresswell has a funny tale about the last time he played on his native Merseyside. It was West Ham United's FA Cup third-round tie at Goodison Park earlier this month and his Evertonian friends had a  surprise in store. "They  normally sit in the upper tier and they changed their seats to sit lower so they could give me a bit of stick," he explains. "When I was taking the throw-ins, I saw four or five of them sitting there shouting my nickname. I could hear them throughout the game, giving it a bit of banter."
The left-back eventually had the last laugh – converting a spot-kick in West Ham's replay penalty shoot-out win – and he is hoping his latest visit home has its own favourable outcome. For Cresswell, this afternoon's fixture against Liverpool is a date that must have been lodged in his mind since he arrived at Upton Park from Ipswich Town last summer to embark on an impressive first season in the Premier League: his first match at Anfield against his boyhood club.
After all, Cresswell did not just watch games on The Kop with his father and brother, and wear shirts with the names of Fowler and Owen on the back; he also spent a couple of years on Liverpool's books as a teenager. Hence there will be more than a few cheeky mates in the crowd on Saturday. "I think I could more or less sell the away end out, me and Kev [Nolan, his fellow Scouser]," he tells The Independent. "It is one the family are looking forward to. I played there years ago when I was a kid, but never in a competitive game so it will be a first for me and one I am looking forward to."
It is a fixture that has added significance owing to seventh-placed West Ham's prominence in the race for European places. The Londoners have not won at Anfield since 1963 – "Is that how long it is?" Cresswell asks – yet they were  3-1 winners against Brendan Rodgers' side in September and sit a point above them in the table. "We have beaten Liverpool at home and have had some fantastic results on the road this year and there is no reason why we can't go to Anfield and get a result," Cresswell says. "If we get a result there, it is massive."
The 25-year-old actually attended last season's encounter between the teams at Upton Park, illustrating his enduring soft spot for the club that delivered his first footballing setback. "I sat in the West Ham end – I took my friend along and we didn't speak a word," he says with a smile. Indeed, if team-mates Andy Carroll and Stewart Downing are returning to Anfield with a point to prove, Cresswell – sitting in the indoor hall at West Ham's Chadwell Heath training ground – looks back on his early rejection as a blessing. "I first went to Liverpool when I was 12 and left when I was 14 or 15. I was only there a couple of seasons. But I'd never change the way I got here today."
That way was via Tranmere Rovers, where he started as a trainee, and Ipswich, where he moved at 21. He remains particularly grateful for those formative years at Prenton Park on the other side of the Mersey from his family home in Halewood. "We had to get in early doors, clean the boots, clean the changing room, clean the halls, clean the gym, clean everything," Cresswell recalls. "We had to be very disciplined and the coach, Shaun Garnett, kept us grounded.
"If you are cleaning first-team [players'] boots, it keeps you in your place and level-headed. In the Premier League they have spent a lot of money bringing kids from overseas and it is totally different. I don't think Premier League [youth] teams clean the boots."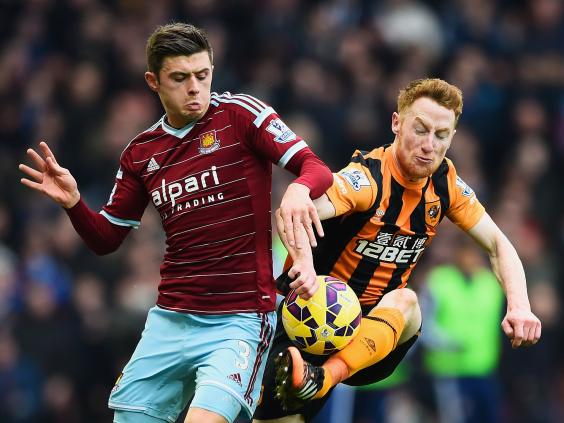 What he gained too – unlike far too many Premier League academy products – was experience. Martin Kelly, a contemporary at Liverpool who made it into the Reds' senior squad, had accumulated only 40 career league appearances before joining Crystal Palace last summer; Cresswell had 202 on moving to West Ham. "I developed with age and the more games you play, you get more experience," he says. "I played close to 150 games for Ipswich over the three years."
In fact, Cresswell missed only six league matches in those three campaigns and has been an ever-present for West Ham – indeed, he is one of just six Premier League outfield players to have played every minute of 2014-15. "I like to play as many games as I can and, touch wood, I haven't had any injuries as of yet," he says.
In person he looks greyhound-lean and his fitness is vital, given his job of  supplying width to a team  playing this season with a narrow midfield diamond. According to Prozone, he averages 8.13 final-third entries per match – the average for a Premier League left-back is 5.93 – and his confidence on the ball is underlined by the fact he has had the most touches of any West Ham player (1,466) and the most passes in the final third.
Together with right-back Carl Jenkinson, he also habitually heads the club's chart for most distance covered. "It  is a big part of the game these days," he says. "Me and Jenks like to get forward and try and get balls in the box and if  we don't get balls in, big Andy Carroll and [Diafra] Sakho and [Enner] Valencia  and the other boys up top won't be happy."
"Mr Dependable" is how West Ham's manager, Sam Allardyce, has described him and, when you consider Cresswell's £3.5m transfer fee and seamless adjustment, it makes you ask why managers do not recruit more often from the Football League. "There are plenty out there," says Cresswell, who suggests that the key difference between players in the top flight and below "is consistency".
He continues: "Of course, there are going to be good players in the Championship but the higher up you go, the harder it becomes. You come across world-class players most weeks and have to be on your game and be ready for it. I didn't really know what to expect – you are playing against top-four teams that have so many world-class players like Eden Hazard and you are not going to come across that in the Championship."
Having taken it all in his stride, Cresswell wants to end this memorable freshman season on a high with European qualification. "We are sitting seventh with 16 games to go, of course we want it. Why can't we make Europe? We have a tough run in the next six or seven games but we are going to see where we are with 10 games to go and, hopefully, we can have a right good push." A push, the evidence suggests, powered by their pocket dynamo from Liverpool.
MY OTHER LIFE...
My girlfriend Jessica and I have just bought a house in a village in Essex but we used to be in Canary Wharf and would get the Tube into London on our days off and see the sights. We went on the London Eye but I am a bit scared of heights, so I will give that one a miss next time!
Reuse content