Adam Lallana's Southampton career may have cme to an end, but the former captain has let the Saints fans know they will always have a place in his heart.
Lallana, 26, has joined Liverpool in a £25m move as he takes the next step forward in his career. Lallana was named in the Premier League Team of the Year last term and will get his first taste of European football under Brendan Rodgers.
But Lallana, who became the club captain in 2012 and helped lead Southampton from League One to eighth in the Premier League, has said a classy goodbye in a local newspaper.
Lallana had been at Southampton since he was just 12, making 250 senior appearances in eight years for the club.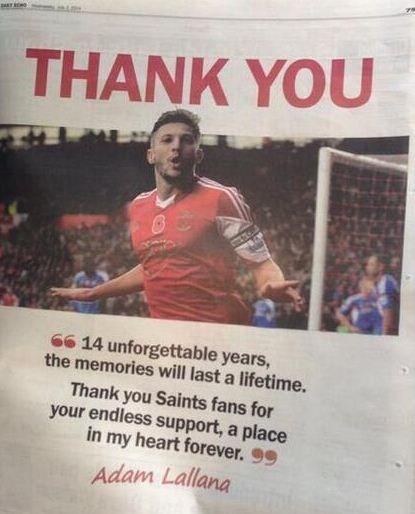 The advert said: "THANK YOU - 14 unforgettable years, the memories will last a lifetime.
"Thank you Saints fans for your endless support, a place in my heart forever."
Lallana will wear the No 20 shirt at Anfield next season.
Reuse content