Is there a footballer anywhere in the world today with a harder job on his hands than Adrian? The West Ham United goal-keeper – Adrian San Miguel del Castillo, to use his full name – is the man with the unenviable task of keeping out the most prolific strike pairing in English football, Liverpool's Luis Suarez and Daniel Sturridge.
Between them Suarez and Sturridge have already accumulated 49 League goals this season – more than 13 top-flight teams and as many as neighbours Everton – and their scoring feats mean that Liverpool visit Upton Park this afternoon with a first League title in 24 years within tantalising reach.
A victory would restore them to the Premier League summit ahead of next week's showdown with Manchester City, and the form of their strikers gives real hope to the red half of Merseyside. After all, in the two previous seasons in which a couple of Liverpool players hit 20 goals or more – Roger Hunt and Ian St John in 1963-64, and Jack Balmer and Albert Stubbins in 1946-47 – they ended up as champions.
The statistics are almost as remarkable as the recollection of that £35 million fee which Liverpool paid not so long ago for Andy Carroll, who lines up against his old team for the first time today.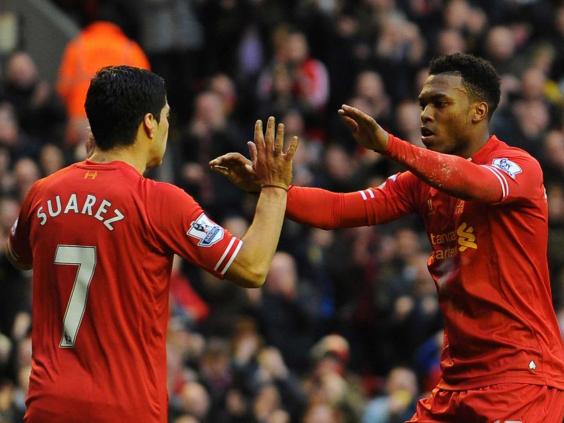 Consider this: with six games to play, Suarez has already surpassed Robbie Fowler's club record of 28 goals for a Premier League campaign; one more goal would make the Uruguayan their first 30-goals-in-a-season striker since Ian Rush in 1986-87; Liverpool last failed to score in a League match on the first weekend of November; and in their previous four away games they have scored 15 goals. It is enough to give a goalkeeper sleepless nights, but not Adrian. "Yes, of course I'll sleep," the Spaniard told The Independent on Sunday with a smile.
Adrian has the cheerful, outgoing nature of your typical sevillano, but speaking at West Ham's Chadwell Heath training ground on Friday he was fully aware of the challenge facing Sam Allardyce's men, who would reach the 40-point mark with victory. "I've seen a few of [Liverpool's] games on TV and they have real quality up front," he said. "They have really fast players and goalscorers like Suarez and Sturridge, and overall they have a great team and are in a great moment of form. They have some spectacular stats away from home, so we have to stay tight, the team have to defend well and build from there – we can't get too carried away, because if we switch off we can suffer."
Adrian's preparations for facing Liverpool's deadly duo have been no different from any other game. Yesterday he will have turned on his laptop at his home in Canary Wharf and watched a specially compiled DVD of Liverpool's attacking play.
"I watch it the day before the game so it's fresh in the mind," he explained. "It is dead-balls and things they do during a game – penalties, free-kicks, movements at corners. These are things we can study, but over the course of a game they do different things which are hard to analyse no matter how many games you watch."
Few do the different things better than the inspirational Suarez, whom Adrian likens to the great goalscorers he faced in Spanish football with his old club Real Betis – namely "[Cristiano] Ronaldo, [Lionel] Messi, [Radamel] Falcao – great forwards who can shoot with their right, with their left, dribble round you.
"They're not your normal strikers but the best in the world, and Suarez is like that – he can shoot from distance and with both feet, so we have to be completely focused and be aware of every movement they make."
Adrian certainly needs no warning about shots from distance: it was on his last outing in front of the TV cameras that Wayne Rooney sent the ball flying over his head and into the back of the net from 45 yards. It is a moment that has led to ribbing from friends back in Spain – "A few contacted me on WhatsApp, asking, 'How's Rooney?' – but he is happy to relive it from the stricken goalkeeper's perspective.
"I don't think I was too far forward, I was in a good position but the ball moved a bit strangely. He hit it with the outside of the foot so the ball moved towards my right first, and so I went to my right and started running but when I next looked it had changed direction. At that speed, running back, you don't have time to react. These are difficult things to prepare for as a goalkeeper, they don't happen normally – people aren't going to shoot at you from the halfway line. It's a goal that hurts because it was from so far out, but you have to credit the striker too, as it was a great strike."
The 27-year-old has been on the receiving end of worse in an eventful first season in England, notably a four-day period in early January when West Ham lost 5-0 at Nottingham Forest and 6-0 at Man City in successive cup defeats. "As a goalkeeper, to concede five and six was the worst thing," he says, but he showed the character to respond with five clean sheets in his next six games, including a confidence-boosting shut-out at Chelsea on a night the home team had 39 shots. That cemented his status as both Allardyce's first-choice keeper – ahead of Jussi Jaaskelainen – and an unlikely cult hero to West Ham's supporters.
"The relationship with the fans is great and something I am proud of – to hear the fans chanting 'Adrian, Adrian' makes me happy." Today, with Liverpool's SAS in town, he will need all the support he can get.
West Ham v Liverpool is on Sky Sports 1 today, kick-off 4pm
West Ham United Player Awards are on 6 May. More details at: whufc.com
Reuse content