As Alan Pardew prepares to enter the cauldron of St James' Park, the man he headbutted in March has spoken for the first time about that clash – but he is not among those calling for the Newcastle United manager to lose his job.
Hull City's David Meyler was trying to grab the ball from the Newcastle dugout at the KC Stadium when Pardew struck him with his head. The Newcastle manager, facing a major rebellion on Saturday over his continuing in that role, was banned for seven games and fined £160,000 by his employees at Newcastle and the Football Association.
Meyler, who visits Newcastle with Hull, said: "Of course I was surprised [when it happened]. I think everyone was. At the time, we were  3-1 down. When the ball went over that way, I just rushed to get it back because I wanted to try and get us back into the game. Obviously the rest is history, but it's all done and dusted; he apologised and that's it.
"The FA dealt with it in their own way and Newcastle did too. He served his ban and he was fined heavily. He will be annoyed with himself. I just had to worry about the game, losing 4-1, and then going away on international duty. He apologised straight away."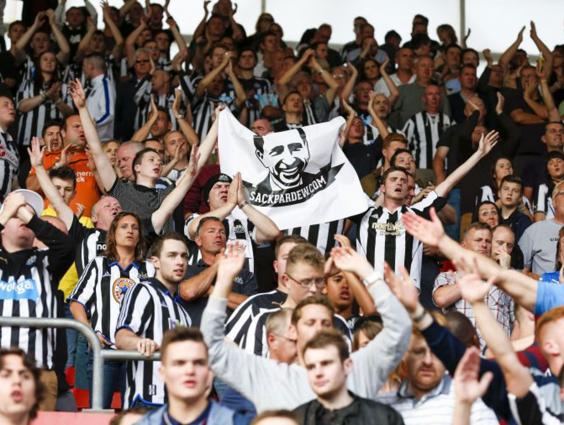 Meyler credits his upbringing in the brutal world of Gaelic football for keeping a lid on a situation that could have become far worse.
"I come from a big GAA background," he said. "I played a lot of hurling and Gaelic football growing up and you used to get belted as a kid all the time. That's just the way it was. I used to live and breathe that. You'd go home and your hands would be cut, your legs would be cut. That's the way it was. What's the point of dwelling on it?
"I was disappointed we'd lost the game to them 4-1. That [the headbutt] was the last thing on my mind. We'd beaten them earlier in the season and felt we could have beaten them at home. I was more worried about that than the incident itself.
"I flew home with my father and we never spoke about it once. We spoke about the game. You've got to move on. You can't keep thinking about it.
"I had to make sure I was prepared to represent Ireland. Everybody was ringing me, saying 'What happened, what happened?'.
"If we're trailing 1-0 and we need to go and get the ball, it doesn't matter which one of them has it, I will go and get the ball because I want to win.
"On Saturday we'll just shake hands and that's it. We both want to win the game. We beat them there last year 3-2, so please God, we'll beat them again."
Who could replace Alan Pardew as Newcastle manager?
Who could replace Alan Pardew as Newcastle manager?
1/7 Steve Bruce

Having got Hull City promoted back to the Premier League and then taking them to the FA Cup final last May, Bruce is steadily adding to his reputation as a manager. His previous role at Sunderland was always fraught due to his Geordie roots - but that certainly wouldn't be a problem at St James' Park. The former Manchester United defender didn't disgrace himself during spells in charge of Wigan and Birmingham either.

Getty Images

2/7 Neil Lennon

The former Leicester player was highly successful during his time at Celtic - his only managerial position to date. He won three league titles and caused a few upsets in the Champions League. Has been linked with Premier League roles for some time and is currently a free agent having stepped down at the end of the last season after four years in charge.

Getty Images

3/7 Steve McClaren

McClaren's career is difficult to judge. Performed a few miracles at Middlebrough then came the England job. Won the Eredivisie title with FC Twente, then had strange spells with Wolfsburg and Nottingham Forest. It seems the 53-year-old could be back on the way up judging by Derby's solid start to the season and owing to his North East roots, could be a good option for Newcastle.

Getty Images

4/7 Michael Laudrup

A more glamorous appointment that could appease the fans would be that of Laudrup. During his time at Swansea he did brilliantly, bringing in rough gems that he polished into a League Cup winning side. The style of play he instilled was impossible not to admire. The former Barcelona midfielder is currently in charge of Qatari side Lekhwiya.

AP

5/7 Joe Kinnear

Surely Mike Ashley wouldn't - would he? Kinnear was unpopular during his previous spell in charge of Newcastle before it came to an end due to health issues. He was then made Director of Football but a few embarrassing episodes, from getting players' names wrong to failing to visibly do anything soured his standing amongst the fans further.

GETTY IMAGES

6/7 Paolo Di Canio

The controversial Italian is just the type of character that would ensure a continuation of the Newcastle United soap opera. And that's why he shouldn't be discounted. Actually did quite well in charge of Swindon and managed to keep Sunderland afloat after being parachuted in. His controversial knee-sliding celebrations when the Black Cats won at St James' Park won't have done him any favours though, and neither will the reports of complete discontent by the end of his reign at the Stadium of Light.

GETTY IMAGES

7/7 Roberto Di Matteo

Seemingly linked with every job going, remarkably Di Matteo is still yet to dip his toe back into the choppy management waters since taking Chelsea to Champions League glory in 2012. His feat with the Blues whilst caretaker manager has ensured he is a popular choice whenever vacancies come up, whilst his spells at MK Dons and West Brom weren't too shabby either.

Getty Images
Pardew will face a demonstration of Newcastle supporters armed with 30,000 A4 cards inside St James' Park. But when Meyler – speaking ahead of the launch of the game Fifa 15 – was asked if he wanted to see the Newcastle manager sacked as a form of revenge, he said: "No."
He added: "Look, I'm a Hull City footballer, I only deal with us. We have to go there and try and win. It's going to be a tough game. They are a decent team at home. They are very organised.
"He's had it hard at the start. They haven't picked up points, but we've got to make sure we maintain our level or performance, try and kick on and get three points."
Saturday's game will also have added spice with Steve Bruce, the former Sunderland manager – and possible replacement for Pardew at Newcastle – in the away team's dugout, alongside Hatem Ben Arfa, the fans' favourite Pardew banished from Newcastle by sending him out on loan at the end of the transfer window.
But it is the presence of Meyler, who could also be in the dugout as a substitute for Hull, that further cranks up the pressure on the Newcastle manager, who has seen his team pick up just eight points from the 42 available in the 14 games since the headbutt incident.
Reuse content