Arsenal midfielder Alex Oxlade-Chamberlain has described the current Gunners first-team as "the best squad of players since I've been at the club".
Oxlade-Chamberlain, 21, will miss the north London derby against bitter rivals Tottenham on Saturday afternoon because of a groin problem.
Despite the injury problems that have plagued the Gunners all season, Arsenal have won five in a row and lost just once in their last 11 matches.
"Last year we won the FA Cup, and that's a step forward," he told Sport magazine. "We'd like to be higher up the league, but that's something we will get better at – and the rest of the season is a good place to start.
Arsenal's injury list
Arsenal's injury list
1/5 Mikel Arteta (midfield)

Like Diaby, the Spaniard is closing in on a return but the Swansea match will come to soon. The club captain last played in November.

Getty Images

2/5 Mathieu Debuchy (defender)

Returned in the FA Cup semi-final win over Reading but has since been ruled out with injury and Wenger confirmed he remains 'unavailable'.

GETTY IMAGES

3/5 Alex Oxlade-Chamberlain (midfield)

Suffered a hamstring injury against Manchester United in the FA Cup and hasn't played since as it has exacerbated a groin problem. Out at least until May and facing surgery in the summer.

4/5 Aaron Ramsey (midfield)

Aaron Ramsey caught a kick on his calf during the win over Hull and was later substituted. The Welshman was rated 50/50 for the Swansea match by Wenger, but it now appears that he is a major doubt for the clash at the Emirates.

Getty Images

5/5 Danny Welbeck (forward)

Danny Welbeck has not played since the goalless draw with Chelsea towards the end of April after suffering a knee injury. Wenger has confirmed that the injury is 'nothing major', and that he should return to full fitness before the end of the season.

GETTY IMAGES
"It's going to be a tough uphill climb – there's no hiding from the fact that Chelsea have a good lead on us and a few others. But I think we have the best squad of players since I've been at the club."
Oxlade-Chamberlain also said that his his favourite game for Arsenal was in the 1-1 draw at Bayern Munich last season, while the 6-0 defeat to Chelsea - where he handled on the line but Kieran Gibbs was shown the red card - was his worst.
Alexis Sanchez will also miss the derby because of injury, but Oxlade-Chamberlain says Arsenal's newest star has improved the rest of the team.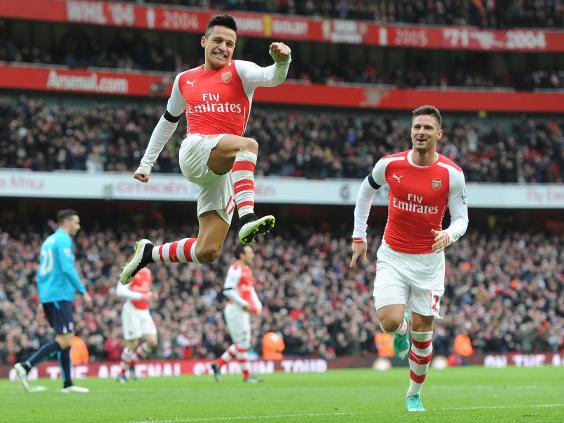 "Obviously his goals speak for themselves," added Sanchez. "But his work rate on and off the pitch – we've learned a lot from that as a group. It has a knock-on effect, and it brings the best out of you.
"He's a really good guy. If he could speak fluent English or if I could speak fluent Spanish, I'm sure we'd get on like an absolute house on fire. But we do alright as it is. There is a language barrier. But he's such a good guy and so expressive, and he doesn't mind giving it a go, so you almost get his character."
Reuse content