Alexandre Pato could finally make his Chelsea debut - a month after joining the club on loan from Corinthians.
The former Brazil international was officially named a Chelsea player on 29 January but is still to appear for the Blues with interim manager Guus Hiddink allowing the 26-year-old time to get back to full fitness having not played since the Brazilian season ended in November.
Pato is yet to even appear on the bench for Chelsea, but Hiddink has revealed he could play some part against Norwich City at Carrow Road on Tuesday night.
However, the Dutchman also said that while Pato is now fit enough to be considered another obstacle stands in his way - Bertrand Traore.
Southampton vs Chelsea - player ratings
Southampton vs Chelsea - player ratings
1/24 SOUTHAMPTON: Fraser Forster - 7 out of 10

Broke a club record for minutes without conceding a goal (reached 667 in the 34th minute) and the England No 2 looked generally assured. But one moment's hesitation cost Southampton the first goal, even if he wasn't fully to blame.

2016 Getty Images

2/24 Cedric Soares - 6 out of 10

Did an excellent job in the first-half containing Eden Hazard but as the game went on struggled more and more to contain the Belgian, especially with the added threat of Kenedy.

2016 Getty Images

3/24 Jose Fonte - 7 out of 10

Didn't really put a foot wrong all afternoon when he was tasked with dealing with Costa and organised his defence pretty well.

4/24 Virgil van Dijk - 3 out of 10

Started well, dealing physically with Costa, but got too involved with the striker. Threw himself to the ground on a couple of occasions and was more interested in trying - and failing - to wind the striker up. Misjudged the flight of the ball on the first goal and was beaten all ends up by Ivanovic for the winning goal.

5/24 Ryan Bertrand - 7 out of 10

Why, oh why, did Chelsea ever sell Ryan Bertrand. Playing as the third centre-back the Englishman was comfortable on the ball and assured in his role. So far ahead of Baba Rahman it's beyond humour.

6/24 Matt Targett - 7 out of 10

How is he only 20? The young left-back has a brilliant future in front of him, he's calm and assured on the ball, does his defensive work well and gets up and down the pitch. He'll fetch a lot of money if Southampton decide to sell. Willian rarely got the better of him.

2016 Getty Images

7/24 Jordy Clasie - 6 out of 10

Clasie by name, classy by nature. The Dutchman was excellent in possession and very disciplined in tracking Cesc Fabregas and limiting the Spaniard's impact. He did fade late on, however.

8/24 Oriol Romeu - 7 out of 10

If there was more patience at Stamford Bridge then Romeu may well have worked out as a very valuable squad player. As it is he's a very impressive Premier League midfielder who can do a bit of everything.

2016 Getty Images

9/24 Steven Davis - 6 out of 10

He may not be able to get forward as much as he used to, but the Northern Ireland captain provides a valuable service to Southampton, although the introduction of Kenedy proved too much to handle down their right.

2016 Getty Images

10/24 Charlie Austin - 5 out of 10

Doesn't look quite up to full speed just yet and was bullied a little bit by Ivanovic and Cahill. Worked hard and tried to use his body but didn't hold it up as much as Southampton might have liked before being withdrawn.

11/24 Shane Long - 8 out of 10

His goal was straight out of the Shane Long manual and his injury changed the make up of the game. The Irishman never gives defenders a moment's rest and he, of course, was first to pounce on Baba Rahman's awful error - complete with a fantastic chipped finish at the end of it. After coming off with injury Southampton were no longer able to press and harry high up the pitch, giving Chelsea a stronger footing.

2016 Getty Images

12/24 From the bench: Graziano Pelle - 4 out of 10

The difference between Long and Pelle was gargantuan. Southampton lost all attacking threat and were no longer able to defend from the front. Even when they tried to play balls into the Italian he wasn't able to hold it, piling the pressure back on to the home side.

2015 Getty Images

13/24 CHELSEA: Thibaut Courtois - 5 out of 10

Was never troubled in the first half, but will feel he may have reacted quicker to get to Long after hesitating.

14/24 Cesar Azpilicueta - 7 out of 10

Defended well in his new position at right back while regularly getting forward to help with attacks.

15/24 Branislav Ivanovic - 8 out of 10

Made a few key blocks to stop Austin from getting any shots in at goal, and used his ability to put in challenges, without being penalised, to good use time and time again. He may have done more to track Long's run, before coming up with a powerful winning goal.

2016 Getty Images

16/24 Gary Cahill - 6 out of 10

Worked well, again, alongside Ivanovic and made some key clearances to keep Southampton at bay. Was the subject of a penalty appeal for handball, but it didn't look to be one.

2016 Getty Images

17/24 Baba Rahman - 3 out of 10

After a start to the game that saw the left back impress going forward but give the ball away while trying to track back and defend, Baba will have done nothing to show Hiddink he can be Chelsea's first-choice defender in that position when he headed a long ball straight into the path of Long - resulting in the opening goal. Was hauled off at the break for Kenedy.

2016 Getty Images

18/24 John Obi Mikel - 7 out of 10

His importance to the team was easy to see once again at St Mary's as the midfielder protected the Blues' defence well with interceptions and blocks. He will feel disappointed he directed a header in front of goal just over.

2016 Getty Images

19/24 Cesc Fabregas - 8 out of 10

Linked up well with his attacking team-mates, but disappointed on one or two occasions when he sloppily gave the ball away. Despite needing to be more of a threat away from home, the Spaniard must be praised for equalising - his first away goal this season - although it looked like he meant it as a cross.

Getty Images

20/24 Pedro - N/A

Didn't have any impact on the game after coming off just seven minutes into the game due to an apparent hamstring injury - he was doubtful before the game and Guus Hiddink's gamble may have backfired

2016 Getty Images

21/24 Willian - 7 out of 10

Began the game in the middle, but was switched to the flank following Pedro's injury. The Brazilian showed a good work ethic - as ever - for the visitors and after a relatively quiet first half, the winger began to really stretch Southampton's defence in the second period. His runs were rewarded with an assist for Ivanovic's winner.

2016 Getty Images

22/24 Eden Hazard - 6 out of 10

Was switched from the left to the right following the entry of Oscar onto the pitch, and, despite initially failing to have the sort of impact that saw him light up Chelsea's attacking play like against Manchester City a week earlier, he got into the game as it went on and started the move that led to the equaliser.

23/24 Diego Costa - 6 out of 10

The striker tried hard to get at Southampton's defence but ultimately failed as he showed a lack of awareness at times of his team-mates and some inaccurate passing. After volleying a great, although awkward, chance wide the Spain forward began to let his frustration get the better of him and was booked for tripping up Van Dijk. However, he re-focused his efforts and then set up Fabregas for the equaliser.

2016 Getty Images

24/24 From the bench: Kenedy - 7 out of 10

His introduction helped change the course of the game as he was much more willing to attack than Baba Rahman had been. Along with Hazard, the Brazilian helped overload the left-hand side. Defended more stoutly that Baba as well.

2016 Getty Images
The Burkinabe forward, 20, has been hugely impressive in the last month, scoring in the last three games he has played, all as a substitute.
It would appear that Traore, right now, is ahead of both Pato, the forgotten Loic Remy and injured Radamel Falcao as second-choice to main man Diego Costa.
"He's eager, we have now healthy competition going on with the strikers, in a very good atmosphere," Hiddink said of Traore.
"Diego is the number one. The other ones have stepped up, especially I'm happy with the progress of Traore.
"Although he's a young guy and the others might have more status I'm not just looking at that - I'm looking to the young guys making progress."
Chelsea, now 11th in the Premier League table, have lost just one game since Hiddink took over but face a busy spell.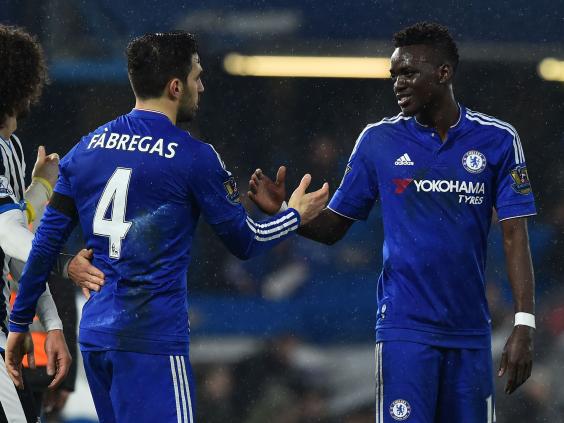 On Pato, Hiddink added: "[He's] not ready for 90, but he is now coming into the last stage where he is able to play part of the game.
"Once more I underline we consider also the chances for the young guys. Let's hope so in the near future, we have games coming up.
"At the moment to be fair to everyone and the youngsters, yeah they're a bit ahead. I like fair competition, in all fairness amongst themselves.
"Falcao is now touching the grass, in treatment but also on the pitch. Not with the group, but individually training."
John Terry will definitely miss the trip to Norwich, although Chelsea hope to have him fully fit for the Champions League second leg against Paris Saint-Germain on 9 March.
Pedro, Kurt Zouma and Falcao are also definitely out of the trip to Carrow Road.
Reuse content