1. Jason Puncheon
Crystal Palace
Jason Puncheon scored the winning goals for Crystal Palace this season against Stoke City, Hull City, Aston Villa and two of the three in the 3-0 win over Cardiff City – which adds up to 12 points before you even factor in his first in the 3-2 away win at Goodison in April.
It makes the former Southampton man one of the signings of the season, in terms of the impact he has had on his club. Take away 12 points from Palace's current total of 44 and they would be relegated. Of course, it was not all about him but scoring goals has been Palace's problem this season – only Norwich have fewer – and Puncheon has come up trumps time and again.
He is an accomplished footballer, with quick feet and the eye for goal that has made the difference so many times in Tony Pulis's team's charge up the Premier League. A great deal has rightly been made of the robustness of the Palace defence, but turning draws into wins has been Puncheon's speciality and, going into the last game of the season, he is the club's leading goalscorer with seven.
He joined Palace on loan from Southampton in the summer, the 12th club of his career, and signed a permanent deal to stay in January. At 27 he is one of those players who has showed glimpses of promise throughout his career but only now is starting to establish himself as a bona fide Premier League-quality player.
The penalty miss against Tottenham Hotspur in January might have affected a less experienced player but Puncheon came back to score the winner against Stoke the following week. Since signing permanently he has kept the new arrival, Tom Ince, out of the side. Puncheon's trademark is the run down the right wing before cutting in to shoot with his left foot, and it has worked a treat on more than once occasion.
There was that small matter of the Football Association fine for his rant against Neil Warnock, but what is a few harsh words on Twitter in English football these days? Puncheon is a Croydon boy and was a Palace fan as a lad and he has done his club a great service this season.
There is an argument that Mile Jedinak, the Palace captain, or Julian Speroni, the goalkeeper who won the club's player of the year award, should be ahead of Puncheon. But in many ways he typifies Palace's season. The midfielder has fought back against the odds more than once. He is an English player who has played his way up through the Football League in the traditional style.
Clubs such as Cardiff and Fulham lavished a lot of money in January on foreign signings, and those players have simply not delivered. Palace got it just right with Puncheon, who can go off for the summer very satisfied with his season's work.
Sam Wallace, Chief Football Correspondent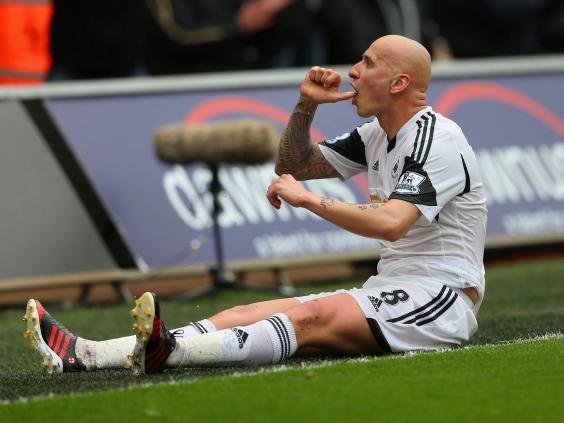 2. Jonjo Shelvey
Swansea City
Young English players, as Greg Dyke highlighted this week, are being stockpiled and benched at our top clubs. Dyke's controversial B team proposal would give them playing time, but so would moving to a lesser club. The problem is not many players have the courage to do so.
Jonjo Shelvey is an exception. Liverpool have given young players chances, but Shelvey, perhaps because he was often played out of position, had not taken his and, come last summer, had not played 90 minutes in the Premier League since Boxing Day. He could have sat on the bench, picked up a fat pay packet, and waited for his fortune to change. Or he could have been proactive, He chose the latter, joining Swansea City.
It was not the easiest of starts; his first goal, against his old club in September, was marred by him also being responsible for the two Liverpool scored. But Shelvey settled and – despite a couple of dips in form, perhaps affected by the turmoil at the club towards the end of Michael Laudrup's reign, but also by a lingering hamstring strain – has had a fine season. Fine enough for Newcastle United to be sniffing around, and for new manager Gary Monk to warn them off.
Five yellow cards and no red ones in 41 appearances suggest he is now gaining control over his temperament, and six goals underlines his growing value. The best of them, the volley against Aston Villa that set Swans on the way to the win that secured their top-flight status, is a contender for goal of the year.
Still only 22, and once-capped by England, Shelvey has the potential to work his way back to a top-six club, and now he has the platform to show it.
Glenn Moore, Football Editor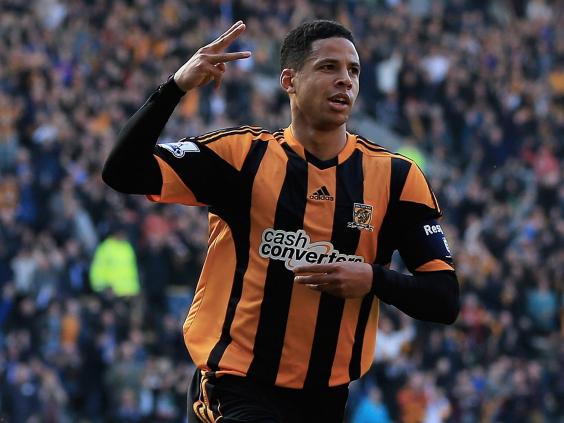 3. Curtis Davies
Hull City
Perhaps you needed to be there, at Hull City's training ground, to feel the conviction Curtis Davies held about why players like him deserved at least a look-in on Roy Hodgson's squad for Brazil. There was nothing self-serving about the way he told me, in November, that "there are very good players playing there for England but nothing, I think, head and shoulders above me. It's not like the Rio Ferdinands, John Terrys and Sol Campbells of old". Davies, who is 28 and doesn't need to play the PR game any more, was right.
There had been uncertainty that he could aid Hull's survival, after Steve Bruce went back to Birmingham City for him last summer. But while the stand-out players by a mile in the early part of Hull's season were Tom Huddlestone and Jake Livermore, Davies was quietly assured. He brought more consistency than the ex-Tottenham boys, too, and it was a foregone conclusion that he would collect Hull's player of the year award. It is hard to avoid the impression that Bruce's presence has helped Davies technically and one of the impressive aspects of his contribution has been the adaptability between his part in Bruce's three-man back line and the 4-4-2.
His pace – a virtue hardly in abundance among prospective England centre-backs – has always been one of his qualities but in the past that has proved a mixed blessing. He will admit that he has seemed too concerned about covering for his defensive partner, rather than concentrating on his own game.
He is tall, powerful and uncompromising in the air but his psychology also seems to be in a different place from his three Aston Villa years, where his form ultimately bore no comparison to this season – and where Martin O'Neill transfer-listed him. Perhaps the psychological component also stems from the fact that this redemptive second shot at the Premier League had seemed beyond him. His 18 months of not playing, with Achilles and shoulder injuries, suggested that his best days were behind him.
Some would say he is not an entirely modern centre-half. "We can all pretend we're Beckenbauer and try to play lovely passes out and dribble, but there's times when it just needs to be kicked into Row Z," he said. But fashionability is not everything. Everton's 19-year-old John Stones has understandably not always looked as assured as he is modern. The prospect of Stones going to Brazil ahead of Davies as a possible replacement for Phil Jones would be a substantial oversight of one of the season's stand-out defenders. Davies observed when we met that "if, God forbid, there are injuries, and [Roy Hodgson] hasn't really looked at anyone else … maybe he won't know what they have to offer". Those were prophetic words.
Ian Herbert, Football Correspondent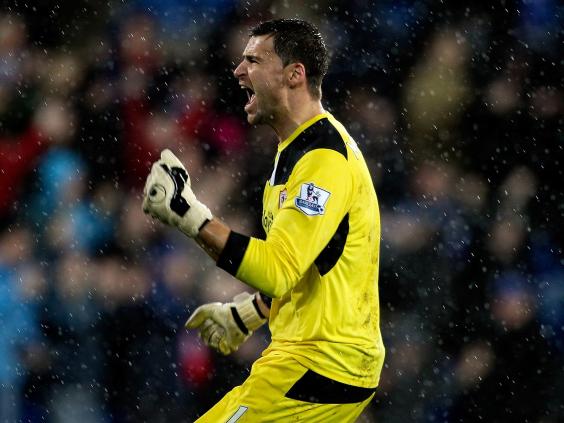 4. David Marshall
Cardiff City
David Marshall has picked the ball out of his net more than any other goalkeeper in the Premier League this season. It is, many south of the border might suggest, nothing more than the historical lot of the Scottish goalkeeper. Yet Marshall, the unassuming, unflappable Glaswegian, can lay justifiable claim to being the best goalkeeper in England (and Wales) right now.
The Cardiff City keeper lost out to Petr Cech in the Professional Footballer's Association team of the season. It was against Cech's side at Stamford Bridge in October that Marshall had his only below-par performance this season; for his other 35 games he has not only been as consistent as any player in any position in the league but also produced a string of saves that have saved his team points. Without Marshall Cardiff would have had rather more time to plan for their season back in the Championship.
Against Sunderland two Sundays ago he took his number of saves for the campaign beyond 150. That is more than any other goalkeeper, and it is not just the number it is the relentless quality he had displayed in what is his first season in the Premier League. At Newcastle on Saturday he added another outstanding stop to his season's Roy of the Rovers-esque scrap book, forcing Mathieu Debuchy's header on to the bar. There were others too, against Aston Villa, West Bromwich, Tottenham, Southampton and Stoke.
"His reactions this year have been sensational," says James Holman, Cardiff's goalkeeping coach during Malky Mackay's tenure. "Some of the saves he has made … it's not like one or two saves every now and again – it's almost every week he is making saves that are brilliant."
Marshall has come a long way from the teenager who kept goal for Celtic. That he had potential was demonstrated in his keeping of a clean sheet in a European tie in the Nou Camp a decade ago. But there were doubters – not least Gordon Strachan. When Strachan arrived at Parkhead he briskly ditched Marshall after he conceded nine goals in the new manager's first two games, and Marshall headed for Norwich.
"You could see he hadn't really had a lot of attention," says Holman, then Norwich's goalkeeping coach. "Physically he had work to do. He lacked a lot of strength, particularly his core strength. He didn't have a huge amount of control over his limbs and technically he needed to sharpen up as well."
Holman describes Marshall as an "absolute gem" since he came south, how he grasped what he had to do and set about doing it. Last season he was the outstanding keeper in the Championship and he has made the step up with equal assurance. Marshall was 28 when he played his first game in the Premier League, a settled and mature footballer.
It is more than that though, there is not a goalkeeper in the league who can match his season. Marshall has been over-worked – here is quantity and quality. "I can't really see anybody else who's produced the sort of saves he does week in, week out," said Kevin McNaughton, his Cardiff team-mate.
Cardiff are heading back to the Championship. Marshall may not return with them, though he signed a new four-year deal in February. With Hugo Lloris's future at Tottenham in doubt, north London is one possible destination and Holman suggests Marshall would belong at any of the Premier League's leading clubs.
"There is a difference of expectation at a Chelsea or Manchester United but I don't see that being a problem," says Holman, who now runs Prodeflect, marketing goalkeeping training devices he used with Marshall.
"He has had issues with concentration in the past but they have been eliminated in the past two seasons. That's not down to coaching it's down to him, his maturity."
Robin Scott-Elliot, Sports News Correspondent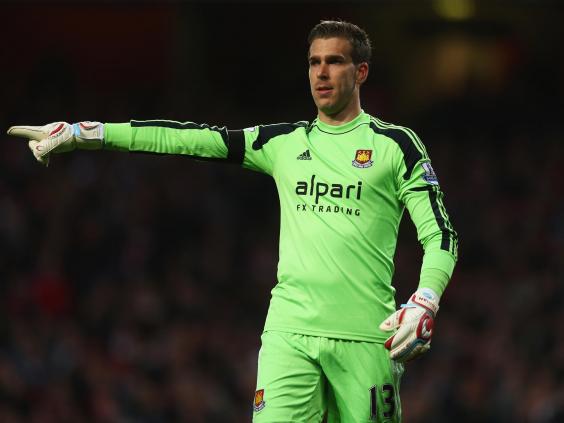 5. Adrian
West Ham United
Improvement has not been obvious at West Ham United this year, except in one position. Adrian San Miguel, the Spanish goalkeeper signed on a free transfer last summer, has made the role his own in the second half of the season, securing the run of clean sheets that has ultimately kept West Ham in the Premier League.
West Ham's approach to the game is based on clean sheets and after a solid start with veteran goalkeeper Jussi Jaaskelainen – 12 years older than Adrian and far less agile – they were starting to falter. Adrian had only been playing Capital One Cup games to bed in, following his arrival from Real Betis, but at the turn of the year Sam Allardyce decided to throw him into the team.
There were some difficult moments – he conceded 11 goals in four days in early January – but a clean sheet in the 2-0 win at Cardiff City set him up for the run that turned West Ham's season around.
Jose Mourinho bemoaned West Ham's "19th century football" in the 0-0 at Stamford Bridge in January, but it was a brilliant defensive display to keep Chelsea out. Adrian made save after brilliant save – denying Oscar, John Terry and Samuel Eto'o.
Four straight wins – and three clean sheets – immediately followed, built around the charisma and athleticism of the Spanish goalkeeper. Difficult but crucial wins over Norwich City and Hull City relied almost entirely on Adrian's array of saves.
In a team that has become almost too familiar for some fans, Adrian has been warmly embraced by the Upton Park faithful, with whom he already has a real rapport. He will be a guaranteed fixture in the side for some time.
Jack Pitt-Brooke, Football Writer