What a way to mark your debut, make yourself an instant club hero, and banish all talk of the multi-million-pound transfer fee for quite some time.
Now, the only thing that should be discussed is 19-year-old Anthony Martial's match-winning brilliance. The youngster seized his chance,  making Martin Skrtel seize up.
Martial might have got slightly fortunate in how absent-minded the defender looked in letting him go, but the reality is he also made his own luck, and made sure he benefited from it.
He also settled the biggest game in English football just when it was at its most tense. With United suddenly on the edge after Christian Benteke's own wonder goal had brought it back to 2-1, Martial pushed Liverpool back to the limit.
The forward picked up the ball on the edge of box, turned Skrtel inside out before so calmly sliding the ball past Simon Mignolet. It was supreme composure from someone so young, so raw and so new to all of this. It was also a sign of someone ready to take command.
In doing that, Martial could also solve a bit of an issue for Louis van Gaal. Despite the club's status as one of the wealthiest in the world, despite spending more than a quarter of a billion since van Gaal took over and despite all of their rich attacking history, yesterday they stuck a big midfielder up front as soon as their main striker got injured.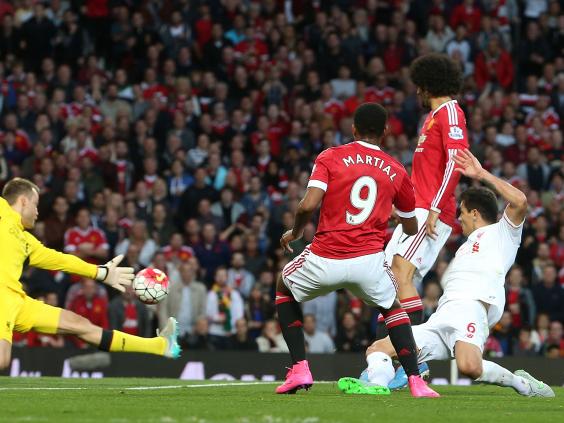 The greater curiosity of this is that Marouane Fellaini's general game is so untypical of van Gaal. The United manager has been constantly preaching the preciousness of "controlled" possession, but here he was starting a game with a player who almost demands a more more forceful and direct approach.
That is perhaps one reason why United could barely create a chance in the first half, and the only opportunity of the entire opening 45 minutes came from a poor Simon Mignolet pass. The ball fell to Fellaini but it seemed to sum up the situation when he blazed it over the bar.
The thing about much of this was that Fellaini as a forward might work well if he had runners off him. Any goal was going to come from a set piece rather than open play.
Once Daley Blind had dispatched that beautifully worked free-kick to make it 1-0, United and Fellaini were released a bit. Then, eventually, Martial was released. He revelled in it.
Reuse content