Former Manchester United captain Gary Neville has hailed the impact of the club's newest star, Anthony Martial.
The club were vociferously criticised on transfer deadline day when they paid £36million, which could rise to £58m, for the almost unknown teenage striker who had only scored 11 professional goals.
But since coming on against Liverpool and scoring a brilliant solo goal on his debut, the French striker has been a star for the club and already has four goals in only five matches.
It is not just the goals that have impressed Neville, though. The former right-back says that his general play has been so impressive that even if he is not scoring goals, he will still be an asset to the side.
"He's made a big difference," Neville told Sky Sports. "He's transformed the front end of the team.
"When he signed we knew he was going to be an exciting signing but we didn't think he would settle in so quickly.
"I watched him on Saturday and what actually shocked me in the game was the elements of the game I did not expect.
"He was playing against John O'Shea and Younes Kaboul, both 6ft 2in, both strong lads, both physical. I was expecting him to get pushed off the ball.
"John O'Shea was giving him a right nudge in the back, [but Martial] pinned him, turned in one movement, held him off and went past him.
"I was expecting Manchester United to have signed a winger-forward, but what they have actually signed looks like a No 9; someone who can lead the line, and, if he's not scoring goals and not running in behind, provide a point for attacks - and I never expected that.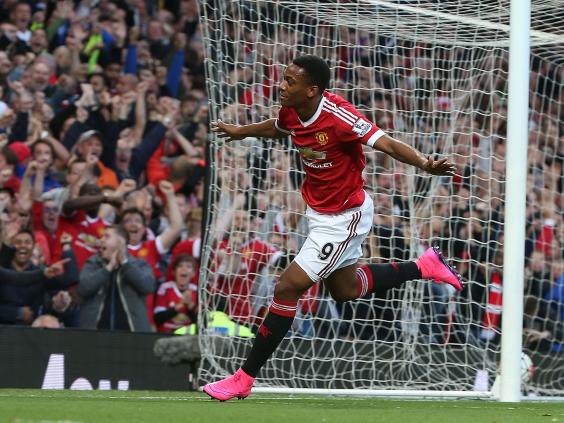 "In the first three weeks he couldn't have made any greater impact upon me in terms of how he's settled in, the goals he's scored, the threat he's provided, the transformation of the team, but also the fact that he can physically handle himself, push big men out of the way, hold the ball and turn in one movement.
"That's the bit that has shocked me and surprised me. It's early days and he's still got a lot to do but I think it's something he should be positive about and United should be positive about."