According to the television advertisement, it was the vitamin supplement Phyllosan that "fortifies the over-40s". The makers should consider relaunching it as "Phillipsan".
Not that Kevin Phillips, who entered his fifth decade a fortnight ago, looks in need of stimulation as he takes part in practice at the end of a Friday morning session at Crystal Palace's Beckenham training ground. Played into the penalty area by a series of through passes from the coaches, he swivels and shoots, time after time: right foot – goal; left foot – goal. Then gets on the end of crosses from the right – goal; and the left – goal.
A 20th season of doing what comes naturally begins next weekend and could end with Phillips as a record breaker. By appearing and/or scoring in any of Palace's last three games of the season, starting at home to Manchester City on 26 April, he would have outlasted Teddy Sheringham as the oldest outfield player to have taken part or scored in a Premier League game.
The scoring part appeals to him most: "I was with Teddy for a few days in the summer playing golf and I did mention it to him. He said, 'good luck to you'. There was no animosity, he was delighted I'm still playing. I still feel I can score goals at this level. I've made a career of being in the right place at the right time and that's no different the older you get. My brain still feels sharp, I still feel I can read the game well and try to get into those positions. It's going to be a lot more difficult, I'm not denying that. But we need to create chances and if I'm on the pitch I'd back myself to get a few goals for Palace."
There were seven of them in 18 appearances, mostly as a substitute, after signing on loan from Blackpool in January; the last and most dramatic being from the penalty spot to beat his first professional club Watford in the play-off final at Wembley. Once that flew in and Ian Holloway, his manager at Blackpool and now Palace, confirmed that a contract was on the table, retirement became easy to resist.
"I considered it this summer but the lure of the Premier League made it too difficult to retire. If we hadn't have gone up it might well have been a different story but I certainly wouldn't have carried on if I didn't think I could do a job. It more than likely [retiring] will be at the end of this season. We saw some top-class players retire at the end of last season while still at the top and hopefully Palace will still be in the Premier League and if I hang my boots up it will be a great way to finish."
Most bookmakers and pundits have the team that won the Championship play-offs destined for immediate relegation. Palace have never lasted more than a season in the Premier League and their recruitment this time has so far been modest in a marketplace that Holloway last week called "a nightmare". Having lost Wilfried Zaha to Manchester United and with Glenn Murray out injured until the new year, he has secured Peterborough's leading scorer Dwight Gayle and hopes that Marouane Chamakh will arrive on loan from Arsenal.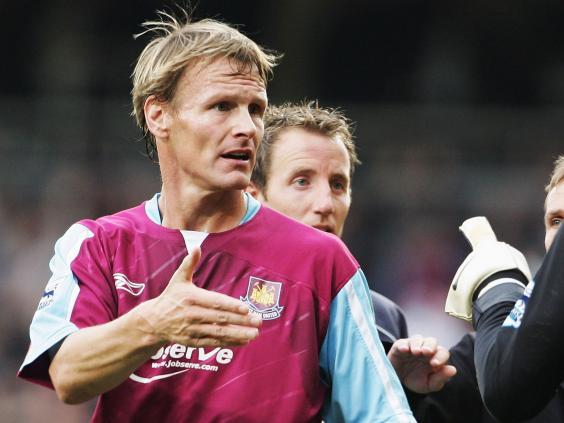 That would improve the options along with Phillips, who says of the pessimism elsewhere: "You don't worry about that, or you are going to get relegated. From my experience that might go in our favour because the times I've been promoted from the Championship [with Sunderland and Birmingham] we've stayed up. It's becoming more common that teams who get promoted stay up and as long as we prepare right, which we will, we might catch a few teams out. When I look at our first fixtures, I think we can get a few points on the board early, which is crucial."
Respect for Holloway persuaded Phillips to swap the commute from his Midlands home to Blackpool for an even longer one to south London – he refuses to move his four schoolchildren again – but the manager who had the greatest influence on his career was Ian Allinson at Baldock Town. Converted to full-back by Southampton, then cast out as being too small ("don't get me started on that"), Phillips was at right-back until Baldock ran into an injury crisis before a game against Burnham Beeches; without which "I wouldn't be sitting here talking to you now".
Allinson asked if he had ever played up front, was immediately rewarded with two goals and the club eventually collected £10,000 from Watford for his services. Some 20 managers later, Phillips wants one last hurrah before attempting to join their ranks. "The experiences I've had don't necessarily make you a good manager but I'm a firm believer in man-management. I think that's an area I'd be strong at."
Phillips goals (all competitions)
Watford (1994-97)
65 games, 25 goals
Sunderland (1997-2003)
238 games, 130 goals
Southampton (2003-05)
72 games, 27 goals
Aston Villa (2005-06)
27 games, 5 goals
West Brom (2006-08)
82 games, 46 goals
Birmingham City (2008-11)
82 games, 22 goals
Blackpool (2011-13)
64 games, 19 goals
Crystal Palace (2013-)
16 games, 7 goals.
Total 648 games, 281 goals
England 8 games, 0 goals
Oldest Premier League outfield players
Teddy Sheringham (West Ham), 40 years, 272 days (also Oldest Scorer) 40 years, 270 days
Gordon Strachan (Coventry), 40 years, 53 days
Kevin Phillips (Crystal Palace), 40 years, 17 days
Dean Windass (Hull), 39 years, 270 days.