Missing backs leave big gap
When Arsenal took the field in the soaking rain, their fans could be forgiven for a rather different form of anxiety. Their two reliable centre-backs, Per Mertesacker and Laurent Koscielny, the two foundations of their recent stability, their two FA Cup wins, their lockdown of the top four, were both absent.
Mertesacker and Koscielny have been automatic selections for years and, aside from Koscielny's Achilles problem last season, always available.
The last time Arsenal had gone into a league game without either of them was three and a half years ago, back in April 2012. That was a thriller here at the Emirates, against Roberto Martinez's Wigan Athletic, fighting to avoid relegation. Thomas Vermaelen and Johan Djourou played at centre-back. But Wigan scored twice in the first eight minutes – through Jordi Gomez and Franco di Santo – and won 2-1 to stay up. That was a very different era for Arsenal, back when they were almost a byword for defensive calamity and mishap. Last night was a reminder of how it used to be.
Chambers remains off pace
This has been a difficult year for Calum Chambers, after the big-money buzz of 2014. He was taken out of the Arsenal first-team firing line by Arsène Wenger and lost his place at right-back to Hector Bellerin, two months younger than even Chambers.
Wenger, clearly, was reluctant about using Chambers over the run-in last season, and this was his first start since 21 March, more than five months ago. It was unlikely to be easy, against Liverpool and Christian Benteke, but even then Chambers struggled to keep his head above water.
Chambers played Benteke onside as Philippe Coutinho hit the bar early on. He carelessly gave the ball away to Coutinho soon after. He looked nervous with the ball at his feet and lost with the ball in the air. He was even outpaced by Emre Can.
Chambers emerged for the second half, where he managed to avoid any fresh mishaps. But his earlier struggles were all too clear.
Arsenal 0 Liverpool 0 player ratings
Arsenal 0 Liverpool 0 player ratings
1/22 Petr Cech

His best game in an Arsenal shirt. His heroics somehow denied Christian Benteke in the first half when the Liverpool man looked certain to score from close range. 8

GETTY IMAGES

2/22 Hector Bellerin

Has made the right-back position his own. 7

GETTY IMAGES

3/22 Calum Chambers

Looked all over the place in the first half but did improve after the break. 6

GETTY IMAGES

4/22 Gabriel

Had a difficult evening against Christian Benteke as Arsenal missed Per Mertesacker and Laurent Koscielny. Headed over in the dying seconds. 5

GETTY IMAGES

5/22 Nacho Monreal

Arsenal never looked comfortable at the back and Monreal was caught out a few times. 6

GETTY IMAGES

6/22 Francis Coquelin

Plays an important role shielding the back four but not a player who is going to unlock a defence in a tight match like this. 6

GETTY IMAGES

7/22 Santi Cazorla

Looked most likely to unlock the Liverpool defence. 8

GETTY IMAGES

8/22 Aaron Ramsey

Had a goal wrongly disallowed in the first half when replays suggested he was onside and had a curling effort saved by Simon Mignolet in the second half. 7

GETTY IMAGES

9/22 Mesut Ozil

Quiet. Did not have enough influence on the game. 5

GETTY IMAGES

10/22 Alexis Sanchez

Missed Arsenal's the best chance of the game when he hit the post from close range in the second half. 6

GETTY IMAGES

11/22 Olivier Giroud

A peripheral figure before being replaced by Theo Walcott with 20 minutes to go. 5

GETTY IMAGES

12/22 Simon Mignolet

Saved brilliantly form Olivier Giroud and then denied Aaron Ramsey's curling effort with Arsenal pushing for a winner in the second half. Booked for time wasting as Liverpool settled for a point. 8

GETTY IMAGES

13/22 Nathaniel Clyne

Looked dangerous when he went forward down the right and was solid going to the other way. 7

GETTY IMAGES

14/22 Martin Skrtel

Put in a brilliant defensive display as Liverpool frustrated Arsenal. 8

GETTY IMAGES

15/22 Dejan Lovren

Has had his fair share of criticism but did well here. 7

GETTY IMAGES

16/22 Joe Gomez

The former Charlton defender has made an excellent start to life in the Premier League and impressed again. Looks a real talent. 8

17/22 James Milner

Captained Liverpool in the absence of Jordan Henderson and did well. 7

GETTY IMAGES

18/22 Emre Can

Struggled in midfield and was booked. 5

GETTY IMAGES

19/22 Lucas Leiva

Did well considering it was his first game of the season but tired as the game wore on before being replaced midway through the second half. 6

GETTY IMAGES

20/22 Roberto Firmino

A quiet night for the £21m signing from Hoffenheim on his first Liverpool start. 6

GETTY IMAGES

21/22 Philippe Coutinho

Came closest for Liverpool when his curling shot hit the post. 7

GETTY IMAGES

22/22 Christian Benteke

Caused Arsenal problems with his physical presence all evening. 7

GETTY IMAGES
Giroud lacks finishing edge
Olivier Giroud is a hard worker and was a bargain at £10m from Montpellier. But he is not and never will be the type of modern, mobile No 9 needed to beat the best opposition. This has been abundantly clear for some time and, by the end of last season, Wenger had sensed it too.
But Wenger has reverted to Giroud since and last night he paid a familiar price. Giroud missed his two best second-half chances, again failing to show the clinical edge required in tight games like this. He was replaced by Theo Walcott to cheers from the fans. Giroud will surely show his worth again, against modest opposition, but this was a reminder of his limits.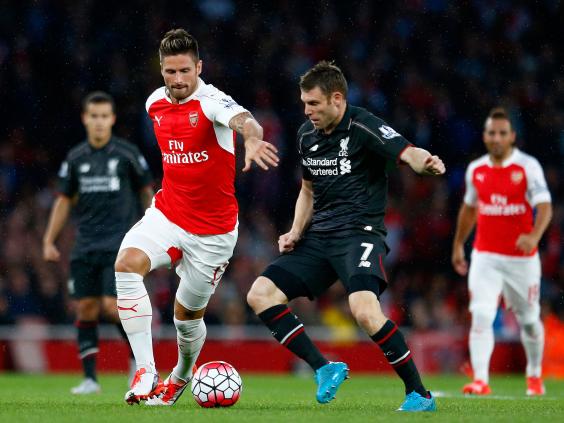 Rodgers nearer top combo
Liverpool started the season  with two ponderous, unimaginative performances which yielded two goals and two wins. Here, against opponents far superior to Stoke or Bournemouth, they played their best football of the season, but with no reward.
Brendan Rodgers found a powerful balance in his team. Emre Can and Lucas Leiva protected the back four. James Milner shuttled forward alongside them, giving drive and impetus from deep. Philippe Coutinho and Roberto Firmino, flanked Christian Benteke, providing imagination and technical skill. Between them they created enough chances in the first half to win this game.
Rodgers spends every autumn trying to discover his best combination and only when he finds it does his team hit form. This may not be it, but it was his best try yet.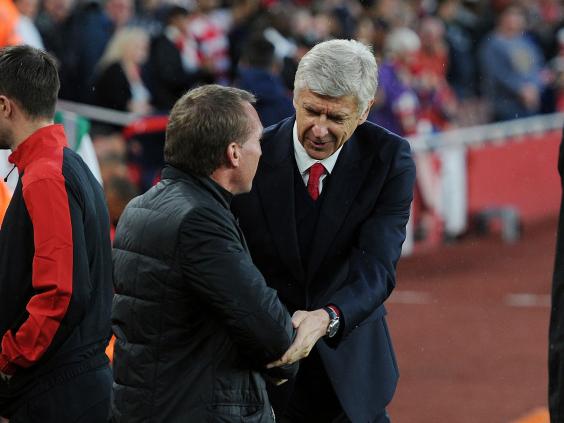 Emirates form will cost title
"Normally over 19 games you can sometimes be unlucky once or twice," said Wenger last week, reflecting on Arsenal's home struggles. "Most of the time if you really dominate the games you will win."
This was the fifth of Arsenal's last six home league games in which they have failed to score. This is a trend, not a fluke, and it speaks of a team who struggle to break down packed defences. Arsenal played with no width yesterday and not enough drive or pace. Titles are built on home wins and Arsenal will not stack up enough.