Arsenal manager Arsene Wenger expressed his delight at Alex Oxlade-Chamberlain's performance from the centre of midfield during the Gunners 2-0 home win over Crystal Palace on Sunday, in which he scored both of the goals to send the club back to the top of the Premier League.
It was Oxlade-Chamberlain's first start in the Premier League since the opening day of the season, when he suffered a knee injury in the 3-1 defeat by Aston Villa at the Emirates Stadium.
Playing in the middle was a change for the 20-year-old, who usually features on the wing, but Wenger claimed that playing as a central midfielder will be his normal position as his career progresses.
"I believe Chamberlain can play out wide or centrally. Certainly in a few years he will be a central midfielder," Wenger said.
"He has that surge of power which is so vital in the game today. He is also a good finisher and hopefully these two goals will give him some confidence as he is not always sure he is a good goalscorer.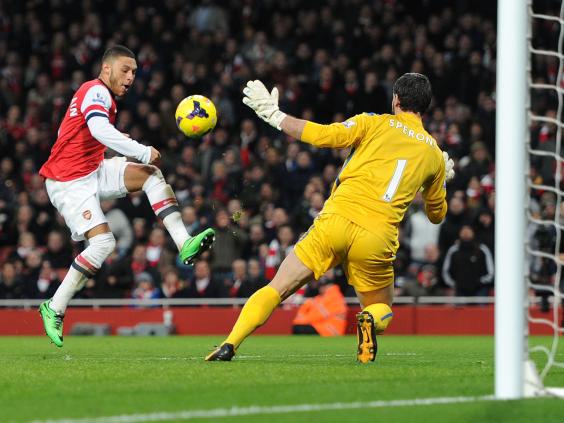 "Chamberlain was out for a long, long time and we needed to be patient to get him back to full fitness. He had a great game and scored two great goals."
Oxlade-Chamberlain himself added: "To  get in midfield was also nice, and it's good that the manager has faith in me there.
"It's also nice playing in midfield alongside the players we have, like Mikel [Arteta] and Mesut [Ozil].
On his double, Oxlade-Chamberlain said: "It is always an amazing feeling to score a goal. I've been off the pitch for a while so it was nice to come back and help the team."
Arsenal 2 Crystal Palace 0 - in pictures
Arsenal 2 Crystal Palace 0 - in pictures
1/8 The pre-match handshakes

2/8 Olivier Giroud on the ball

3/8 Tony Pulis orders his players around

4/8 Bacary Sagna goes down

5/8 Ozil and Chamakh compete for the ball

6/8 Oxlade-Chamberlain opens the scoring

7/8 Oxlade-Chamberlain celebrates scoring

8/8 Oxlade-Chamberlain scores the second goal
Reuse content