Crystal Palace were nearly perfect for 47 minutes at the Emirates until one mistake undermined everything they had been striving to achieve.
All it took, at the start of the second half, was for former Arsenal man Marouane  Chamakh to momentarily  forget his defensive duties and neglect to track Alex Oxlade-Chamberlain into the box towards goal.
The frustration, for  Chamakh and for Palace, was that his first-half performance was crucial and representative of their excellent start, their immaculate application of the instructions manager Tony Pulis had given them.
That Palace have improved under Pulis is beyond doubt. Even after Sunday's defeat, they have still won six of their last 13 league games – having won just one of their first 11. Still one point outside of the relegation zone, nothing is certain but they are far likelier to stay up than they were under Ian Holloway.
Aside from those crucial wins, there were impressive performances in defeat – a 2-1 loss at Stamford Bridge and a 1-0 defeat at Manchester City that looks better every time another team is shredded there. It was the only time in the league this season that City have been so restricted.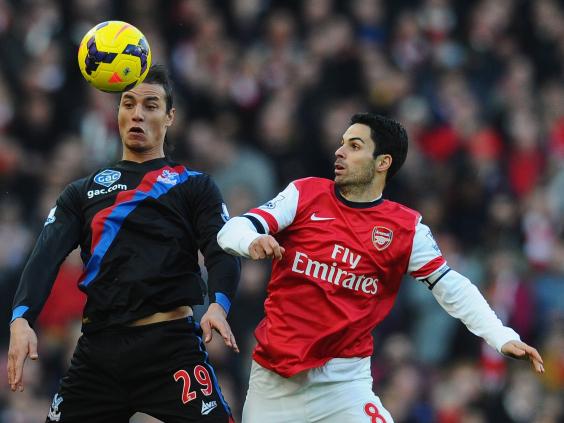 Despite Chamberlain's  second late goal, this display certainly belongs to that same category of commendability. Some sides come to the  Emirates and fold but Palace did not, providing – for the first half at least – the model lesson in playing here.
It was a display based around system and shape, rather than individuals. Of Palace's four deadline-day signings – excepting Jason Puncheon, who was already there – only unused substitute goalkeeper Wayne Hennessey was in the match-day squad.
After West Ham's display at Chelsea last week, defensive tactics have a new label – "19th century football" – but this was a precise, considered plan. The back four were perfectly arranged while the midfield was similarly well-drilled. There was almost no room in between the two banks for Arsenal to exploit, leaving Santi Cazorla and Mesut Özil lost in the first half, often resorting to desperately  hopeful diagonal balls.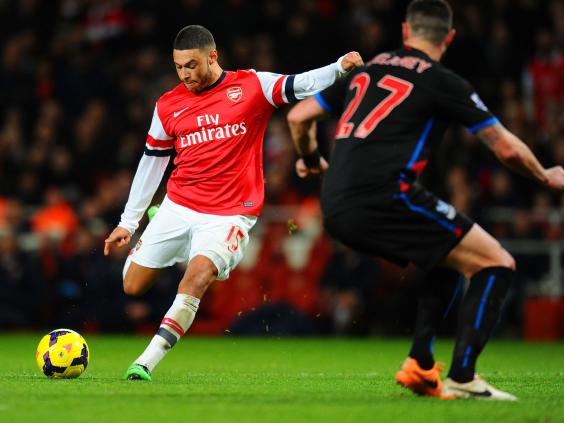 Of course, Arsenal play an ambitious 4-2-3-1, and with Cazorla coming in from the right, they tried to swamp midfield. The response was to have Chamakh – nominally Cameron Jerome's strike  partner – drop when Arsenal had the ball.
This might have surprised some but it worked perfectly. Chamakh, when he is on song, is diligent and intelligent. Arsène Wenger described him last week as "a good football player" and his first-half  display underlined that.
The extent of Arsenal's threat in the first-half were two chipped Özil  free-kicks, the first of which Laurent Koscielny flicked on, forcing a good save from Julian Speroni. But beyond those there was very little. The only space was out wide and with Cazorla and Lukas Podolski coming in from the flanks, Arsenal had no real wingers.
For Pulis, the frustration must have been that they got halfway to what would have been a crucial point. But this was a demanding approach, requiring mental focus and physical fitness from his  players. In the 47th minute, Chamakh made one brief  mistake and Chamberlain put Arsenal ahead.
Palace needed to attack and they came very close to an equaliser. Puncheon, moved onto the left wing in the second half, crossed for Yannick Bolasie, who nodded the ball on to Jerome at the far post. His header was powerful but Wojciech Szczesny kept it out with his legs.
As impressive as Palace's collective performance was, more individual quality might just have found them a goal. Tom Ince could provide that during the run-in. Application and discipline, though, could count for most.
Watch Tony Pulis explain why his side suffered defeat below:
Arsenal 2 Crystal Palace 0 - in pictures
Arsenal 2 Crystal Palace 0 - in pictures
1/8 The pre-match handshakes

2/8 Olivier Giroud on the ball

3/8 Tony Pulis orders his players around

4/8 Bacary Sagna goes down

5/8 Ozil and Chamakh compete for the ball

6/8 Oxlade-Chamberlain opens the scoring

7/8 Oxlade-Chamberlain celebrates scoring

8/8 Oxlade-Chamberlain scores the second goal
Reuse content