The last goal of Alex Oxlade-Chamberlain's career before today was the one he drove past Julio Cesar in June for England against Brazil at the Maracana Stadium, an achievement to which only a very select group of English footballers can lay claim.
Back then, with two full seasons behind him in Arsenal's first team and the status as one of Roy Hodgson's young prospects for the new post-Euro 2012 era, life looked pretty good for the man they call "the Ox". The Ox was on Theo Walcott's case for a place in the Arsenal team and there was not another teenage footballer quite so in demand from the sponsors; he even narrated the Football Association's 150-year anniversary video.
That week in Brazil, he had been fast-tracked up the hierarchy of Nike endorsees to the extent that he was invited to stay on in Rio for a few days after the game to take part in a commercial with some of their stellar names. One imagines that the Ox did not take too much persuading on that score, and who can blame him? But it all came crashing down with the posterior cruciate ligament injury that he sustained in the first game of the league season against Aston Villa.
Since then it was less of the Rio experience, more, one imagines, of the rehab, physio treatment and lonely days glimpsing the training pitches from the gym window. Not much fun for the Ox, all considered, but for a sunny character who has always acquitted himself well with fame, it will have made those two goals yesterday, scored on his first start since August, all the more special.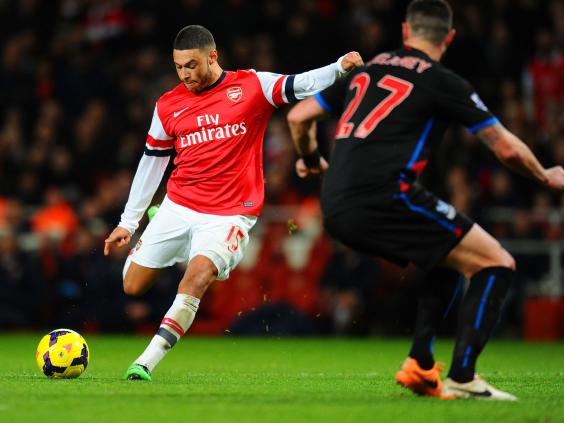 He scored them in spite of being selected by Arsène Wenger to play alongside Mikel Arteta as one of the two holding midfielders, a position to which the Arsenal manager seems keen to adapt this pocket-rocket winger. They came from his bursts forward from midfield and demonstrated that the 20-year-old finishes well when the opportunity presents itself. Hodgson will take note when it comes to selecting next month's squad to face Denmark.
Oxlade-Chamberlain is back and a happy consequence for Arsenal is that they return to the top of the Premier League, for 24 hours at least until Manchester City face Chelsea on Monday night. If City do win to re-take first place from Arsenal, the consolation comes from the fact Chelsea will be five points adrift of second place in third. After the draw against Southampton last Tuesday this was a welcome return for Arsenal to the business of ticking off the wins, one at which they have proved surprisingly efficient.
A win was just the ticket, after the transfer window closed on Friday night without a single signing capable of playing within the next four weeks. Wenger's admission after the game that he would not have bought Kim Kallstrom on loan on Friday had he known of the player's microfracture to his back "two to three days earlier" was not quite the glowing terms of welcome that the Sweden international will have hoped for.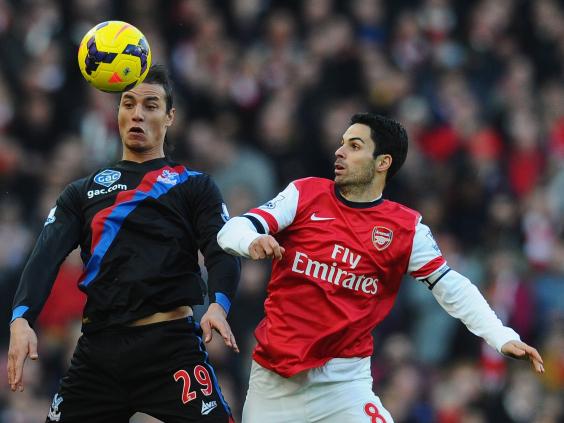 It was classic Wenger, strangely unwilling to try to put a positive gloss in events. You have to admire the Arsenal manager's honesty, if not his forward planning. His argument was that as free loan signings went - and Spartak Moscow will pay Kallstrom's wages until he is fit - there were no other options available. That is the aspect which many will find hard to understand, especially given that Wenger's attitude to emergency signings has softened in recent years.
With Aaron Ramsey out for the next six weeks, Jack Wilshere injured again and Mathieu Flamini suspended, there was bound to be some adapting and Arsenal finally struck soon after half-time. Until then, Tony Pulis' side had done a very good job of keeping their opponents at bay. In fact Nacho Monreal's foul on Joel Ward seven minutes from half-time looked, in every aspect, like a penalty.
Marouane Chamakh, back at his former club, was played behind Cameron Jerome in a 4-4-1-1 formation and did a good job of making a nuisance of himself. However, it was the Moroccan who failed to track the run of Oxlade-Chamberlain for the first goal allowing him to run onto Santi Cazorla's chip over the Palace back-line and lob Julian Speroni.
There was always likely to be one chance afforded to Palace and it came immediately after Arsenal's first goal. Jason Puncheon crossed from the left, Yannick Bolasie's header made it as far as the back post where Jerome had a chance to put his header past Wojciech Szczesny. Instead, it went straight at the Arsenal goalkeeper, who nonetheless spread himself well to save, and the moment passed.
Other than half a chance for Barry Bannan, there was not much else to speak of in the way of Palace chances. Later Pulis conceded that goals were an issue. Glenn Murray is nearing fitness again and it was obvious from what the Palace manager said that he sets great store in Thomas Ince being able to score him a few. Along with Joe Ledley, Ince and Scott Dann were signed too late in the window to play yesterday.
Oxlade-Chamberlain's second goal came when he played the ball into Olivier Giroud and then ran off the French striker to take the pass back and plant a right-footed shot past Speroni. Giroud himself barely had a sight of goal all afternoon and he will realise that this hard shift will have to continue to the end of the season, with no cover in the attacking positions signed last month. Wenger was able to give him a well-earned rest in the latter stages of the game.
Wenger will face the usual criticism over the Kallstrom signing, although given what we know about him there is a certain logic to Arsenal's decision. It is hard enough to persuade Wenger to make short-term signings, even more difficult, when he has made his peace with one, to convince him at the last minute to change horses mid-stream.
On the positive side, his defence looked as composed as ever. Now it is over to Manchester City and while one expects them to be back at the table by the end of today, all Arsenal can do now is keep putting the pressure on.
Arsenal (4-2-3-1): Szczesny 6; Sagna 6, Mertesacker 7, Koscielny 7, Monreal 6; Oxlade-Chamberlain 7, Arteta 6; Cazorla 6, Ozil 6 (Gibbs, 85), Podolski 4 (Rosicky, 72); Giroud 6 (Bendtner, 85).
Substitutes not used: Fabianski (gk), Jenkinson, Gnabry, Zelalem.
Crystal Palace (4-4-1-1): Speroni 6; Ward 5, Gabbidon 6, Delaney 6, Parr 6; Puncheon 5, Dikgacoi 5, Jedinak 6, Bolasie 5; Chamakh 6 (Gayle, 84); Jerome 5 (Bannan 5, 58).
Substitutes not used: Mariappa, McCarthy, Wilbraham, Hennessey (gk), Guedioura.
Booked: Arsenal Mertesacker Crystal Palace Chamakh, Delaney
Referee: J Moss
Man of the match: Oxlade-Chamberlain
Rating: 6
Attendance: 60,005
Arsenal 2 Crystal Palace 0 - in pictures
Arsenal 2 Crystal Palace 0 - in pictures
1/8 The pre-match handshakes

2/8 Olivier Giroud on the ball

3/8 Tony Pulis orders his players around

4/8 Bacary Sagna goes down

5/8 Ozil and Chamakh compete for the ball

6/8 Oxlade-Chamberlain opens the scoring

7/8 Oxlade-Chamberlain celebrates scoring

8/8 Oxlade-Chamberlain scores the second goal
Watch Arsene Wenger admitting he was happy with the manner of Arsenal's win below:
Reuse content