It was certainly a gamble for Arsenal to start Nicklas Bendtner, but it could not have been more emphatically rewarded.
Bendtner had not scored in the league for Arsenal since 2010, had not started for them in it since March 2011, had played just one game this season - poorly - and yet here he was thrown in against a miserly Hull City side, to give Olivier Giroud a rest.
It could very plausibly have gone wrong, Arsenal could have been blunted, could have been frustrated, unable to break down Steve Bruce's massed ranks.
In fact, it went perfectly. It took just 93 seconds for Bendtner to score the goal that put Arsenal ahead, rewarded Wenger's punt, and ensured this would be another very comfortable evening at the Emirates. Two quick passes, from Tomas Rosicky and Aaron Ramsey, sent Carl Jenkinson away down the right and he crossed perfectly from the by-line. With a simple nod of the head, Bendtner did the rest.
Wenger admitted after that he had taken a risk, but he is a gambler on a hot streak right now - this was Arsenal's 11th league win of the season. "It is always [a gamble] with a guy who has not played for a long time," Wenger explained. "His last performance was not convincing against Chelsea but he worked hard in training and deserved his chance.  We know when he has the mind of the game he has the qualities. He had a good game."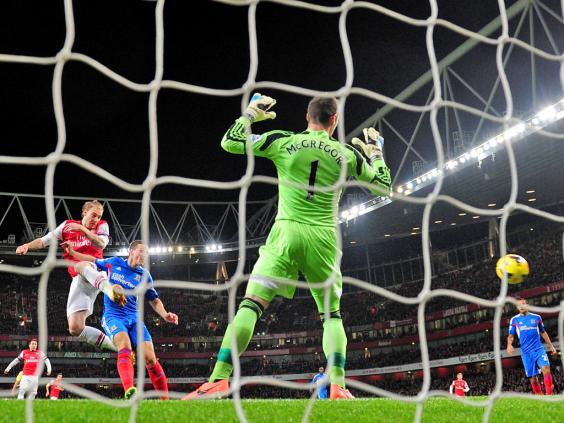 Steve Bruce knows all about Bendtner, having managed him at Birmingham City and Sunderland, and hopes that his talent has not all gone to waste. "As a football player, for someone of the size of him and what he's got, I hope sooner or later he knuckles down and makes a go of his career. He's got everything if he wants it but there's always a but."
Hull City had come to frustrate Arsenal and once they were behind they were trying to manage an impossible balance between reaching for an equaliser and not allowing themselves to suffer the ugly fate of many other teams here this season. Bruce tried to defend in numbers as well as maintaining a physical presence up front - and Hull did not play poorly - but at no point did it look as if they might take anything back with them.
"We couldn't get near them," admitted Bruce afterwards. "We watched them dance around us. They were breath-taking at times, I have to say. Why can't they win the league? Everyone's stuttering along so the only team who isn't is this lot."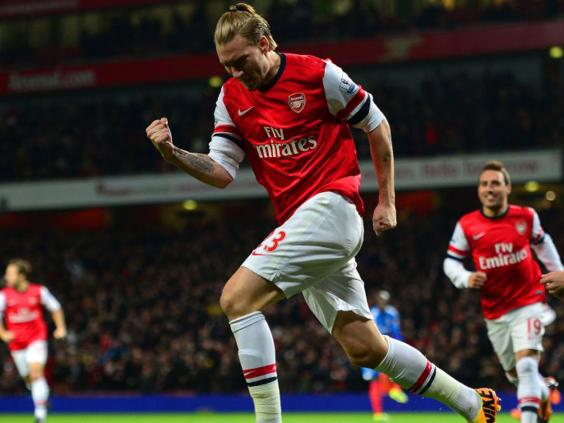 The 20 minutes after taking the lead was arguably Arsenal's best spell of the whole season, at least since their 2-0 win over Napoli here in the Champions League. They ought to have scored six or seven goals. Santi Cazorla volleyed wide, Laurent Koscielny headed straight at Allan McGregor, who then stretched behind him to save from Cazorla. Koscielny headed over the bar, Bendtner failed to turn in an easy rebound and Aaron Ramsey - who nearly won a penalty - had two shots from distance well saved.
Arsenal had not yet killed the game, and Hull managed to fight their way to some breathing space by half-time. The game should have been over but it was not.
The second half began as if Arsene Wenger had made precisely that point to his players during the interval. Within two minutes of the re-start, they had scored the second goal. Ozil gave Ramsey the ball on the edge of the box, and he waited until he saw a gap - between Ahmed Elmohamady and Alex Bruce - through which he rolled the ball. Ozil, of course, understood precisely, ghosted into the space and finished at the near post. That was the end of the contest, such as it was.
The telepathy between Ozil and Ramsey is mutual and five minutes later the roles were reversed, only for McGregor to realise just in time, dart out, and block the shot. Bendtner's header from the subsequent corner was blocked on the line.
That was one of Bendtner's final contributions - he is not yet fully match-fit - and Theo Walcott came on to play the final 15 minutes up front. So did Jack Wilshere and, eventually, Mikel Arteta as Arsenal secured the secure their three points. It was never in very much doubt although Everton, who will bring a rather more ambitious approach to the game, should provide a different test on Sunday.
Man of the match Özil.
Match rating 6/10.
Referee A Marriner (W Midlands).
Attendance 60,017.
Reuse content