It was from the top of the league, and with their heads held high, that the Leicester City players went to applaud their 3,000 fans at the final whistle. They had delivered another impressive collective performance – 10 of their starters were immaculate – which but for a few minor details, and one major one, might have earned them a win even more impressive, and more important, than they had achieved at Manchester City nine days ago.
Leicester came to the Emirates with precisely the same game plan they had used at the Etihad. They defended deep, absorbed pressure, luring their opponents on to them so they could hit them on the break. It was simple football, perfectly executed, and they deserved their half-time lead.
Arsène Wenger admitted that Arsenal had been "in shock" at the interval, and they certainly looked vulnerable to the second Leicester sucker punch, the goal on the break that had killed Manchester City the previous weekend.
Then, in five second-half minutes, the game changed. Danny Simpson committed two silly fouls and was sent off. Claudio Ranieri had to withdraw Riyad Mahrez for Marcin Wasilewski, not exactly like for like, and the momentum, and the space, was with Arsenal.
Those two fouls were desperately out of character with a side built on selfless, intelligent defending. Leicester are a clever team who play the percentages. This was their first red card of the season, and it cost them.
It would be easy enough to say the pressure of the situation, the lure of an eight-point lead over Arsenal, was what drove Simpson to make such a bad error. It was a mistake, a concentration lapse, and footballers at all levels make them, regardless of the context. But Leicester are now playing for such high stakes that any error will be magnified and re-examined, held up as the difference between winning the title and not.
Simpson, it must be said, did not make the only lapse in discipline. Wasilewski, his sub-par replacement, gave away a needless free-kick on Nacho Monreal in added time from which Danny Welbeck headed the winner. But if Simpson had not been sent off, Ranieri would not have needed Wasilewski in the first place.
The overall display from Leicester, then, had much to say for itself. Wenger said that they had proved they are not top of the table "by coincidence". They showed once again that they have a very effective way of playing, even if it is not how we are used to seeing Premier League champions approach the game.
Leicester are still two points clear of Arsenal, and they still have the easiest run-in. With no Premier League games next weekend, they resume their title push on 27 February, hosting Norwich City and then West Bromwich Albion. How they fare against teams who dig in and sit back, with no attempt to take the initiative, remains to be seen. If they fade away over the final straight, that lack of nous on the front foot might be the reason why.
But in this sort of game, against this sort of opponent, they played perfectly while they still had 11 men on the pitch. And while this is a star-less team, and a reminder that football is a team game, their spirit and style were encapsulated perfectly by the central midfielder N'Golo Kanté.
This was one of the performances of the season from Kanté, at least as good as when he drew the Jose Mourinho era to a close by shutting Chelsea down at the King Power Stadium just before Christmas. Kanté dominated midfield, in partnership with Danny Drinkwater, winning every loose ball and stealing many straight from the toes of his opponents.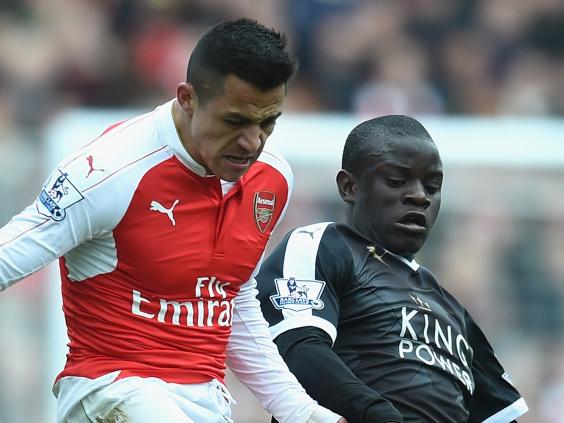 Aaron Ramsey, Mesut Özil and Alexis Sanchez all learnt their lesson after showing him too much of the ball. When Drinkwater was too busy doing up his bootlaces in the centre circle, Kanté stormed back to win a crucial tackle on Sanchez.
Kanté has been called a destroyer but there is far more to his game than just breaking up play. He is exceptionally sharp with the ball and has a burst of pace, meaning that he can start attacks as well as just stopping them. The penalty which Jamie Vardy scored in the first half came from when Kanté burst away from Laurent Koscielny in the middle of the pitch, catching the Arsenal defender off-guard with acceleration few expected.
Arsenal vs Leicester player ratings
Arsenal vs Leicester player ratings
1/24 Petr Cech - 7 out of 10

Rarely called upon for much of the game, but was not found wanting when he was forced to dive low to keep out Vardy's header early on. When needed he was reliably brisk off his line.

Getty Images

2/24 Hector Bellerin - 6 out of 10

Those fearful of the pace of Leicester seemed to have forgotten the excellence of Bellerin, who was often the man to track Vardy. He was rarely caught out, though the danger of Leicester did curb his more attacking tendencies.

3/24 Per Mertesacker - 7 out of 10

The captain found himself a major talking point ahead of kick-off but, as was the case against Bayern Munich and Manchester City, he raised his game for the occasion. Read the game superbly, cutting much of the supply to Leicester's frontline.

Getty Images

4/24 Laurent Koscielny - 5 out of 10

A horrific challenge on Kante moments before Leicester's goal ought to have brought a red. For all the talk of pressure on Mertesacker in the build-up it was to be the Frenchman who let Wenger down. Brought off at the break with a dead leg.

Getty Images

5/24 Nacho Monreal - 6 out of 10

Had done such a good job in holding back Mahrez that it seemed particularly cruel he should be the one to give away the penalty. He had been the first defender in months to get a grip of one of Leicester's star man and it was the only blot in an excellent display.

2016 Getty Images

6/24 Francis Coquelin - 7 out of 10

The whole structure of the Arsenal side looked better than it has been in two months with Coquelin in the side. He won the ball, set counters and kept possession time and again. A shame for him that his opposite number shone so bright.

7/24 Aaron Ramsey - 7 out of 10

With a reliable anchorman alongside him Ramsey revelled in the opportunities to push play forward. Particularly in the opening stages he set the tone for Arsenal's attacks, with precise passing and smart movement.

8/24 Alex Oxlade-Chamberlain - 6 out of 10

On his 100th appearance for the club he still remains an enigma. Bright in the opening 10 minutes he then slipped into bad habits, giving the ball away and running into blind alleys.

2016 Getty Images

9/24 Mesut Ozil - 6 out of 10

Found himself swarmed by multiple Leicester players whenever he picked up the ball and, with the energetic Drinkwater and Kante tracking him, struggled to find space to deliver a pass.

2016 The Arsenal Football Club Plc

10/24 Alexis Sanchez - 6 out of 10

A hive of energy throughout, but the cutting edge is still lacking. As time slipped away from Arsenal they turned to their star man, but he could not find the net and wasted several presentable chances.

2016 Getty Images

11/24 Olivier Giroud - 6 out of 10

Embraced the physical duel with Morgan and Huth, providing a valuable outball for Ramsey and Coquelin when they won the ball around the area. However his lack of finesse when presented with half-chances cost Arsenal.

2016 Getty Images

12/24 Theo Walcott - 7 out of 10

Of late Walcott's cameos off the bench have suggested a man out of contention but he changed the course of the game with his ability to get in behind. Took his goal superbly.

2016 Getty Images

13/24 Danny Welbeck - 6 out of 10

Had his chances even in the brief ten minutes he had on the field. An impressive late flick on Ozil's delivery secured a victory for Arsenal and the most wonderful of stories for Welbeck, playing his first game in 10 months

Getty

14/24 Kasper Schmeichel - 6 out of 10

Fantastic in the dying minutes, making a string of vital saves from Giroud and company. Before then he had been Leicester's master of the dark arts, slowing play and giving his side time to breath.

15/24 Danny Simpson - 5 out of 10

Will not be the last defender to find Sanchez too much to deal with and would have been entitled to hope for more support from Mahrez. He should, though, have known better than to grapple with Giroud when already booked.

16/24 Wes Morgan - 7 out of 10

An immovable rock as Leicester looked to weather the Arsenal storm. When a cross came into the area you could all but guarantee the captain would be there, an inch or two ahead of Giroud, to whip it away.

17/24 Robert Huth - 7 out of 10

Dominant in the air but also smart enough to allow Giroud to win the ball when he dropped deep. His willingness to hurl himself in front of any ball was an exemplar that every Leicester player followed.

2016 Getty Images

18/24 Christian Fuchs - 6 out of 10

After struggling early on his duel with Oxlade-Chamberlain and Bellerin on Leicester's left was one of the game's most absorbing moments, and one where Fuchs kept coming out on top in the later stages.

2016 Getty Images

19/24 Riyad Mahrez - 5 out of 10

Struggled to impose himself on the game, with Monreal and Coquelin doubling him whenever the ball came his way. Bar a flurry at the start of the second period he lacked the space to operate and could not complain when taken off.

20/24 Danny Drinkwater - 7 out of 10

Provided everything Ranieri could want from his midfield in a match like this, pressing the ball but also showing an unerring eye for the pass that would release a team-mate.

2016 Getty Images

21/24 N'Golo Kante- 8 out of 10

Had likely covered every blade of grass within the opening 10 minutes and continued to do so. In mere moments he went from winning the ball back off Sanchez in defence to flashing a curling effort from left-wing that brought out a fine save.

2016 Getty Images

22/24 Marc Albrighton - 6 out of 10

Offered invaluable support to Fuchs out wide, though he was rarely seen going forward. Never made a mistake and did great work in the later minutes to repel Arsenal.

2016 Getty Images

23/24 Shinji Okazaki - 5 out of 10

Pressed, harried and chased as much as anyone in the Leicester side, but rarely to any significant effect as Arsenal monopolised the ball. His one real chance saw him caught offside before blazing over the bar and he was the logical player to make way early.

2016 Getty Images

24/24 Jamie Vardy

His mere presence was as effective a weapon as Leicester had in the first half. He had contributed little until he won the penalty but from then on he was a livewire, offering enough in behind to give Leicester a threat even with ten men.

2016 Getty Images
In the battle between Kanté and Francis Coquelin, there was only one winner. The two players were born just six weeks apart but they play similar roles and if the France manager, Didier Deschamps, was watching this match, it will have been immediately clear to him which of the two uncapped midfielders he should take to Euro 2016. The two moments, just before the break, when Kanté skipped away from Coquelin in the middle of the pitch proved that. Coquelin was withdrawn after 61 minutes, as Arsenal started to chase the game.
It barely needed to be asked whether Arsenal would be a better side if they had Kanté in midfield. Wenger knows him very well, having been alerted by a close friend when he was still a youngster playing in the Paris suburb of Boulogne-Billancourt. But Kanté went to Caen, from where Leicester signed him ahead of Arsenal last summer.
There was a time when Arsenal used to get first pick of the best young players in France but that is clearly not the case now. Their Premier League rivals have caught up in this field, just as they have in diet, conditioning and speed of play.
That is why this is such a tight title race, with so little to choose between the top four teams. Yesterday Leicester came to the Emirates, played perfectly for an hour, made one mistake and lost to the last kick. That is the pressure, those are the stakes. Leicester remain on top, but with a very long way left to go.
Reuse content