Manchester City's Gael Clichy has warned Arsenal fans to be careful what they wish for, insisting that Arsene Wenger might just be the "perfect man" for the club if they invest behind him, and said that his former boss does not deserve the nature of recent criticism.
Having left Arsenal in 2011, Clichy returned on Sunday for City's 2-2 draw, that saw another fan protest against Wenger's management before the game. The full-back, however, spoke out in defence of the 67-year-old.
"It is hard, yes, because the manager does not really deserve what he is getting," Clichy said. "I can understand because football is free for everybody to have opinions so you cannot stop that. And you cannot only think about the past because it is also about the present. But I don't think many managers could have done what he has in the last 10 years – you know the story better than me. You always want something new when you are used to something and what you get is probably most of the time not better than what you have so you have to be careful what you wish for.
Arsenal vs Manchester City player ratings
Arsenal vs Manchester City player ratings
1/22 David Ospina, 5 out of 10

Should have done better with City's second goal, with Aguero shooting across the keeper and into the bottom corner of the net.

AFP/Getty

2/22 Hector Bellerin, 6

Rarely beaten for pace but horrendously exposed by Leroy Sane for Manchester City's opening goal.

Getty

3/22 Shkodran Mustafi, 6

Terrific header to level the scores. Exceptionally lax in possession, however, and looked shaky alongside Gabriel.

Arsenal FC via Getty

4/22 Laurent Koscielny, 6

Not one of the Frenchman's better performances – he failed to make a single tackle although did make a number of key interceptions. Withdrawn at half-time with an Achilles problem.

Getty

5/22 Nacho Monreal, 5

At fault for City's second goal and was repeatedly guilty of affording Sergio Aguero too much space.

Arsenal FC via Getty

6/22 Francois Coquelin, 5

This isn't the first-time he's struggled playing alongside Xhaka. Jumped into some dubious tackles and offered little on the counter-attack.

AFP/Getty

7/22 Granit Xhaka, 5

Frequently overran in the middle and, once again, recklessly jumped into several tackles.

Getty

8/22 Theo Walcott, 6

Wasted more than one chance in the first-half but persevered to score for the home-team, out-muscling Clichy to poke home.

Getty

9/22 Mesut Ozil, 6

Registered his 50th assist for Arsenal when Mustafi nodded home his corner. But still a long way from his best. His attitude leaves a lot to be desired.

AFP/Getty

10/22 Alexis Sanchez, 6

Deployed out wide with Welbeck preferred in the central role. Typically busy but, like Ozil, spent a lot of time with his hands on his hips instead of helping out his defence.

Getty

11/22 Danny Welbeck, 6

Worked hard but struggled to create any clear cut opportunities.

AFP/Getty

12/22 Willy Caballero, 6

Largely solid, and saved Ozil's low shot well, but could he have done better with Mustafi's header?

Getty

13/22 Jesus Navas. 5

A surprise to see him in Guardiola's starting line-up, especially at right-back. Looked vulnerable but Arsenal largely failed to exploit him.

AFP/Getty

14/22 John Stones, 6

Made a crucial interception and fared better than Otamendi alongside him.

AFP/Getty

15/22 Nicolás Otamendi, 6

Looked shaky at the back, especially late on after Olivier Giroud had been introduced.

Getty

16/22 Gael Clichy, 6

Desperately at fault for Arsenal's first-goal, when he stepped up and inadvertently played three Arsenal forwards on side.

AFP/Getty

17/22 Fernandinho, 6

Played further forward than expected and had a solid game. Tested Ospina in the second-half with a rasping drive from outside the box.

Getty

18/22 Kevin de Bruyne, 7

Completely sliced open the Arsenal defence with a wonderful through-ball, which Sane raced onto to score. Unlucky not to score himself, twice striking the woodwork.

AFP/Getty

19/22 Raheem Sterling, 6

Withdrawn at half-time. Presumably because of injury, because he started the game well and looked lively out wide.

AFP/Getty

20/22 David Silva, 7

Superb in possession and one of City's busiest players, frequently springing forward and stretching the Arsenal defence.

Getty

21/22 Leroy Sane, 7

The young German's fabulous goal-scoring form continues. A constant threat down the left.

Getty

22/22 Sergio Aguero, 7

A far better performance from the Argentinian. Terrorised the Arsenal defence with a number of surging runs and took his goal with confidence.

Getty
"I'm not going to get into any detail but I do believe he's the right man. He has been the right man for so many years and I am listening to what people are saying. If the club is spending more money and they have the players they need, then perhaps Wenger is the perfect man. If you take him off and you bring someone else with the same structure, would he be better? Would he do better? I'm not sure. It's not for me to say if it's in the right hands or not but I do believe what he has done in the past is amazing."
Clichy admitted that City players couldn't help notice a more tense atmosphere at the Emirates.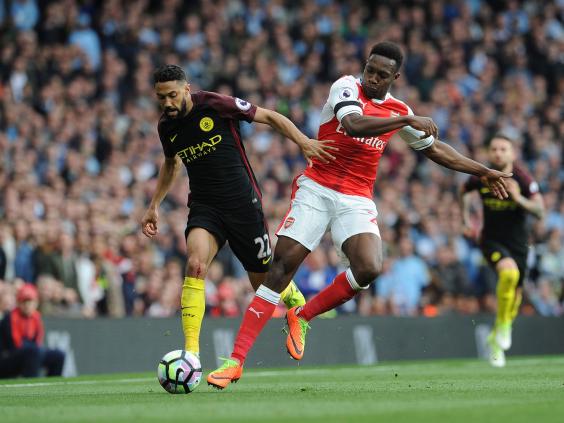 "It is always difficult when teams are in this kind of form. Most of the time you can hear what people are saying. They are looking for revenge: they want to show the fans, they want to show the manager… I think we did well. The atmosphere is what it is.
"Of course, I was here before. I really hope everything can be sorted but it is not only because of the atmosphere we felt we could have done better, it is because of the way it is when you play for a big club like City. You have to try to win and go for all the big points – home or away. We are more focused on how we had to play to get the points than thinking they are not in the best moment."

Reuse content