Pep Guardiola has taken aim at rival Arsene Wenger by claiming if Arsenal had performed better throughout the season and secured their top-four status by now, then the Frenchman would have no need to complain about a perceived lack of effort by other teams.
This follows Wenger's disgruntled reaction to West Ham's recent 4-0 defeat by Liverpool, a result which severely dented Arsenal's hopes of a top-four finish.
Wenger accused those mid-table sides safe from relegation as "being on holiday" and fears West Brom, currently eighth and with nothing left to play for this season, will play out a similar role at Manchester City tonight.
Arsenal have the same season every year
Arsenal have the same season every year
1/8 Surprise early defeat

A surprise early defeat, such as 2013/14's to Aston Villa or 2015/16's to West Ham United, makes July's Emirates Cup win seem like a distant memory.

Getty

2/8 Impressive win against top club

A promising win against a title rival, like last season's 3-0 victory over Manchester United or this season's win over Chelsea, has the Emirates hoping for the best again.

Getty

3/8 Injuries start to mount up

However, a long queue starts to form outside the treatment room. Key players, as well as regular absentees, tend to be the victims.

Getty

4/8 November curse strikes again

Arsene Wenger's side then begin to unravel in November, with the curse kicking in after an away defeat against one of the top flight's lesser lights. It's around now that the already-faint hopes of a title challenge start to fade.

Getty

5/8 Champions League elimination

The most predictable part of it all comes in February, with Champions League elimination, usually to Bayern Munich, Barcelona or Monaco, if they are really unlucky.

Getty

6/8 Title hopes finally killed off

A heavy, signature defeat to a fellow top six side puts paid to any lingering hopes of a title challenge in late February or March. 2013/14's 6-0 reverse at Chelsea, Arsene Wenger's 1,000th game in charge, is perhaps the most memorable example.

Getty

7/8 Strong rally to finish

The pressure is off, time to turn the style on. A rally at the tail end of the season does wonders for Arsenal's league standing, but little to combat allegations of flakiness.

Getty

8/8 Top-four finish

Arsene has his 'trophy'. Champions League football is coming to the Emirates again next year. What more could the fans want?

Getty
Guardiola has hit out against the Arsenal manager's words, arguing that he does not "understand" how the 67-year-old can speak for other teams.
He also suggested that Wenger would not be preoccupied with such matters were Arsenal not so dependent on the results of others as they continue to chase a place in the Champions League.
"I don't understand how the managers speak for the other clubs and the other teams," he said.
"Ask to Arsene not to me. The people who are hired are focused in their teams, they do what they have to do. 
"I never saw one player in my life go to the pitch and don't try to win the game and when the target is done, it's done, but so if you don't want that, win more games yourself, or qualify before or win the champions league, and after we don't have the problems for the other ones."
When asked whether he felt Wenger's comments sought to provoke West Brom and Watford, City's remaining opponents, into raising their game, Guardiola dismissed his rival's logic.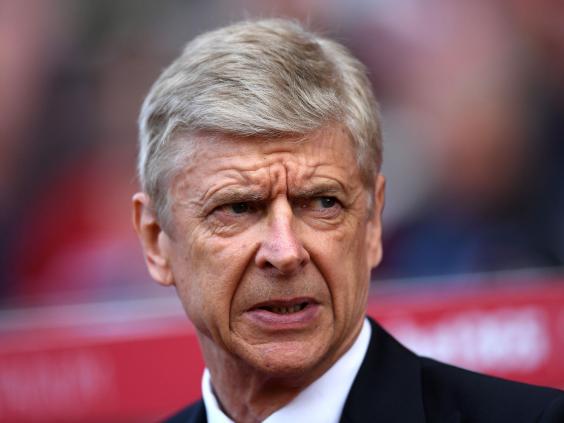 "Yeah, but he [Wenger] plays against Everton and Sunderland, no? Both teams are done, no? One is relegated and one is in the Europa League, so it's the same situation, so you don't want to complain, do it better during in the season and you will not have this problem. 
"I would like to be Chelsea right now. If I were Chelsea, they don't have to qualify for the champions league, so it's for our fault or it could be better, not because of the opponents." 
Guardiola added: "West Brom are professionals, they're going to play to win the game.
"They play the way they want to play, so if teams of Tony Pulis want to play that way, perfect. We have to adapt to that, so every manager and every team makes whatever he wants."
Reuse content