Arsenal Supporters Trust (AST) has said the side's remaining eight games of the current campaign could be used to 'celebrate' Arsene Wenger's time at the club – but only if he announces his planned departure for the end of the season.
After Arsenal's humiliating 3-0 defeat at Crystal Palace on Monday night, AST board member Akhil Vyas confirmed that an overwhelming majority of the trust remain in favour of Wenger stepping down as manager.
This follows the AST's announcement last month that 78 per cent of the 1,000-strong trust want to see the Frenchman leave at the end of the season. 
Arsenal have the same season every year
Arsenal have the same season every year
1/8 Surprise early defeat

A surprise early defeat, such as 2013/14's to Aston Villa or 2015/16's to West Ham United, makes July's Emirates Cup win seem like a distant memory.

Getty

2/8 Impressive win against top club

A promising win against a title rival, like last season's 3-0 victory over Manchester United or this season's win over Chelsea, has the Emirates hoping for the best again.

Getty

3/8 Injuries start to mount up

However, a long queue starts to form outside the treatment room. Key players, as well as regular absentees, tend to be the victims.

Getty

4/8 November curse strikes again

Arsene Wenger's side then begin to unravel in November, with the curse kicking in after an away defeat against one of the top flight's lesser lights. It's around now that the already-faint hopes of a title challenge start to fade.

Getty

5/8 Champions League elimination

The most predictable part of it all comes in February, with Champions League elimination, usually to Bayern Munich, Barcelona or Monaco, if they are really unlucky.

Getty

6/8 Title hopes finally killed off

A heavy, signature defeat to a fellow top six side puts paid to any lingering hopes of a title challenge in late February or March. 2013/14's 6-0 reverse at Chelsea, Arsene Wenger's 1,000th game in charge, is perhaps the most memorable example.

Getty

7/8 Strong rally to finish

The pressure is off, time to turn the style on. A rally at the tail end of the season does wonders for Arsenal's league standing, but little to combat allegations of flakiness.

Getty

8/8 Top-four finish

Arsene has his 'trophy'. Champions League football is coming to the Emirates again next year. What more could the fans want?

Getty
Although anti-Wenger sentiment continues to reach new heights among the Arsenal fan base, following the club's worse run of results in more than 20 years, Vyas suggested that the trust would be happy for Wenger to see out the Gunner's last eight games of the term.
Vyas argued that if the 67-year-old confirmed that he would be leaving the Emirates, the fans could come together in the coming weeks to celebrate all that he had achieved at the club.
"Well going back two days to the away end at Selhurst Park, it was very hostile," Vyas told Sky Sports. "That was probably the first time I've seen the fans go for the players. It's usually been the manager that's taken the brunt, sometimes the owner and the board, but the players really got it.
"Some sort of announcement could really add clarity, and if they announced that this was Arsene Wenger's last season, then suddenly that hostility might go and people would get behind the team a lot more.
"The last eight games, regardless of results, would just be a celebration for a fantastic career to this football club but not knowing is causing problems and issues for fans, as it is maybe for players.
"We've recently announced our results from an Arsenal Supporters Trust survey from all our members on the future of Arsene Wenger, and 78 per cent have decided that it is time for Arsene to leave the football club in the summer.
"Only about three per cent called for him to leave right now, so 78 per cent think it's time. We had comments as well and we did get it independently looked at by a company who identified respect for Arsene Wenger.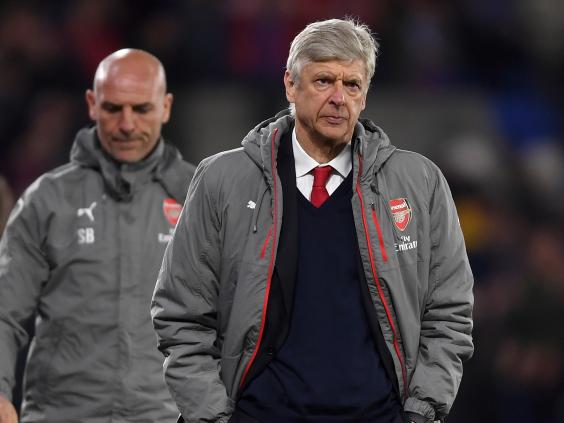 "So from the 78 per cent a lot of them think it's time but a lot are very grateful for what he's done and I think that's the feeling around the fan-base from what I've seen home and away."
Arsenal have recorded just one league win across the past two months and now face the possibility of missing out on a top-four finish for the first time in more than 20 years.
Despite mounting calls for him to step down, Wenger has refused to indicate whether or not he will be staying at the club.
Reports suggest Arsenal are now putting off a decision on the Frenchman's future until the end of the season when they will reassess the situation.
Reuse content