Arsenal can only blame themselves
Yes, Mike Dean and Diego Costa played a huge part in Arsenal losing to Chelsea on Saturday. But the Gunners should look closer to home when trying to work out what went wrong at Stamford Bridge.
Diego Costa is a wind-up merchant, probably the angriest man the Premier League has ever seen and an expert in getting under the skin of his opponents; he clearly shouldn't be allowed to get away with everything that he does and Mike Dean, or one of his assistants, should have picked up that Costa had struck Laurent Koscielny twice in the face and scratched Gabriel Paulista.
Having said all that, Gabriel is 99 per cent to blame for his sending off. Fair play for getting involved to help his team-mate but the way he continued to react gave Costa exactly what he wanted. If the centre-back is a it more clever and doesn't allow himself to be wound up then he stays on the pitch. Chelsea were on top at that point in the game but who knows what would have happened if Arsenal had their full complement.
Chelsea 2 Arsenal 0 player ratings
Chelsea 2 Arsenal 0 player ratings
1/22 Asmir Begovic, Chelsea

Saved Walcott's 28th-minute effort and provided a strong presence in goal throughout the game. 7

Getty Images

2/22 Branislav Ivanovic, Chelsea

Put in an improved showing after being rested against Maccabi Tel Aviv. The right-back was tested by Sanchez's pace regularly but often did enough to track back and stop the Arsenal winger from causing too much damage although it earned him a yellow card. 6

Getty Images

3/22 Kurt Zouma, Chelsea

The Frenchman was superb at the heart of Chelsea's defence and again, like against Maccabi, worked well with Cahill. After firing a speculative shot high in the 36th minute, Zouma scored the opener with a fine header at the near post. 8

Getty Images

4/22 Gary Cahill, Chelsea

Provided leadership at the back and was never afraid of coming out to clear his lines - indeed it was Cahill who worked well with Zouma to snuff out Sanchez's 59th-minute run as Arsenal looked for the equaliser. 8

Getty Images

5/22 Cesar Azpilicueta, Chelsea

Was never really troubled by Ramsey and looked comfortable back in his left-back position after being utilised at right-back against Maccabi. 7

Getty Images

6/22 Cesc Fabregas, Chelsea

Looked invigorated against his former side after scoring a goal in the Champions League on Wednesday, and delivered the free-kick that Zouma scored from. The midfielder also showed how important he can be in setting up attacks with a superb lofty ball to Pedro just after the half-hour mark. 7

Getty Images

7/22 Nemanja Matic, Chelsea

Protected Chelsea's back line well and provided a good defensive body in the middle of the park although he made a few sloppy passes in the match. 6

Getty Images

8/22 Oscar, Chelsea

The Brazilian enjoyed another good game from his central position and worked the lines well to help build up Chelsea's attacks. 6

Getty Images

9/22 Pedro, Chelsea

Came back into the starting line-up after recovering from a minor thigh strain and, while the winger wasn't as effective as he has been in previous outings, he tried his best to score with several shots at goal. 5

Getty Images

10/22 Eden Hazard, Chelsea

Had an early penalty appeal turned down, but the Belgian's pace gave Bellerin work to do on the left before his powerful shot in the 90th minute deflected off Chambers and into the back of the net to make it 2-0. 7

11/22 Diego Costa, Chelsea

The striker was undoubtedly the main controversial figure of the clash. While he was Chelsea's main threat up front as he regularly pulled Arsenal's defenders out of position with his runs, he should have been sent off for striking Koscielny's face and then chesting him down to the pitch after being confronted by the Frenchman. Costa later provoked Gabriel enough to see him be sent off, which turned the game around. However, put in a good showing for the home side. 6

Getty Images

12/22 Petr Cech, Arsenal

The goalkeeper looked at ease despite playing at his former stomping ground and made several saves to keep his side in the contest until Zouma scored. May feel he could have done more to try and stop the Chelsea defender's header. 6

Getty Images

13/22 Hector Bellerin, Arsenal

The right-back had a busy afternoon trying to contain the threat of Hazard but often used his speed to stop the Belgian from wreaking havoc. However, he could have given away a second-half penalty for his challenge on Costa just inside the area. 6

Getty Images

14/22 Laurent Koscielny, Arsenal

The defender lost Zouma in the build-up to the opener, but admirably did not react to Costa striking his face. 6

Getty Images

15/22 Gabriel, Arsenal

Was needlessly sent off just before the break for swinging his leg at Costa after a confrontation with the striker, which reduced Arsenal to 10 men and turned the game on its head. The defender could have done better not to react to Costa's goading but defended well otherwise. 4

Getty Images

16/22 Nacho Monreal, Arsenal

The left-back snuffed out some early Chelsea chances, first doing enough to stop Costa as he attacked and then pressurising Pedro into hesitating with only Cech to beat. But he found it harder to defend as well as he had in the first half when Arsenal went down to 10 and then nine men. 7

Getty Images

17/22 Francis Coquelin, Arsenal

Played an important role in clearing the danger just in front of Arsenal's defence in the first half but came off. 7

Getty Images

18/22 Aaron Ramsey, Arsenal

Never really troubled Azpilicueta on the right flank, and his best moment to score came when he was set up by Ozil just before the break - but he hesitated which led to Arsenal's fine counter-attack collapsing. 5

GETTY IMAGES

19/22 Santi Cazorla, Arsenal

Was shown his second yellow card of the afternoon and subsequently sent off for a reckless tackle on Fabregas in the 79th minute which reduced Arsenal to nine men after having been cautioned for an earlier foul on Pedro. 4

Getty Images

20/22 Mesut Ozil, Arsenal

Made a fine run to set up Ramsey on the counter but, other than that, could not work his way past Chelsea's stubborn defence. Was taken off in the 75th minute. 5

Getty Images

21/22 Alexis Sanchez, Arsenal

He tested Ivanovic with his pacey runs down the left flank several times during the game, but was marked well when going on the attack. Substituted in the 74th minute. 5

Getty Images

22/22 Theo Walcott, Arsenal

Wenger started the 26-year-old up front as the lone striker and although he was a threat early on – indeed he forced Begovic into a save in the 28th minute with his low shot – he could not get the better of Zouma and Cahill to score. 6

Getty Images
(On Costa, expect referees to keep an even closer eye on him in future games for this kind of stuff. His free ride will likely be over very soon.)
Then came the Kurt Zouma goal, an absolutely comedy of errors. For some reason 5ft 10in left-back Nacho Monreal is left to mark the 6ft 3in Chelsea defender, a mismatch. Further still, Chelsea have two other players unmarked at the back post. Monreal then criminally switches off to allow his man a free header.
But there was more to come. After Chelsea had introduced Ramires for Costa with 20 minutes to go Arsenal began to gain more of a hold on the ball and had a couple of chances, Alexis Sanchez pouncing on a mix-up between Zouma and Gary Cahill and Theo Walcott cutting inside to fire over the bar.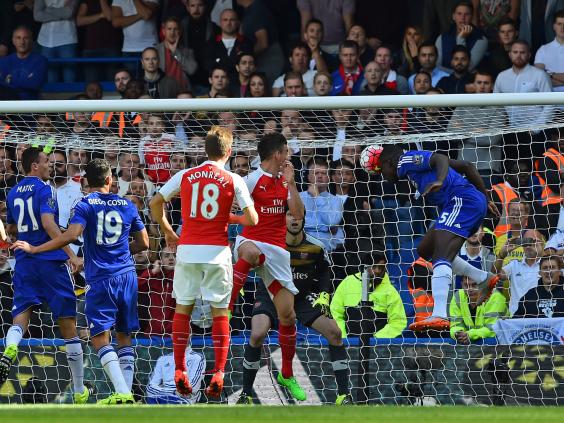 Then Santi Cazorla was, rightly, sent off for a second yellow card, diving in on Fabregas.  You're not going to come back from two goals down at Stamford Bridge with two fewer men.
Arsene Wenger can blame the referee and is partially correct, but his team had a big hand in their defeat.
Anthony Martial - bargain of the summer?
Well not quite. As hyperbolic as the criticism for Manchester United after they spent £36million, possibly rising to £58m, for a relatively unknown Frenchman was, so is the praise already hailing him as the signing of the summer.
As with any knee-jerk reaction, the truth lies somewhere between the two.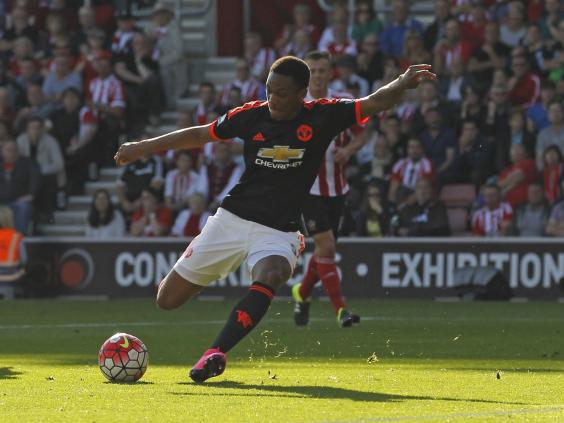 The teenager has been exceptional in his 205 minutes for the club; three fine goals have shown he is not ruffled when presented with a chance and his general play shows he is confident in possession, a threat with his pace and clever with his movement.
A £36m price-tag is still a huge fee and despite all the 'Martial pays back fee' headlines. Remember, that is more than Arsenal paid for Alexis Sanchez and than Chelsea paid for Diego Costa - they each scored more than 20 goals last season.
Liverpool will not get far with this defence
The Reds have been waiting for Daniel Sturridge to return for the longest time and he finally came back against Norwich City. Despite some ring rust after five months out, the England striker was pretty much as good as could be expected, linking up reasonably well with Christian Benteke (before he went off with injury) and then Danny Ings despite never having played with either before.
Sturridge will get better and Liverpool have too many good attacking players to struggle to score; they did have 23 shots at the Norwich goal in the end.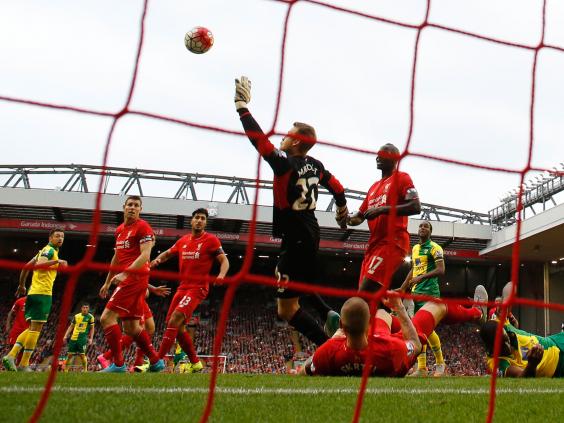 It's in the back four and in goal where they have real problems. Simon Mignolet pulled off a good save to deny Matt Jarvis but he was ultimately to blame for Liverpool dropping two points. The Belgian has had a turbulent time on Mersyside, with his forming going through peaks and troughs, but the bottom line is that he's not good enough for a team who ultimately have ambitions to get in the Champions League and win the division.
Brendan Rodgers picked the same back four - Nathaniel Clyne, Martin Skrtel, Dejan Lovren and Jose Gomez - for the first five matches of the season. They started well, keeping three clean sheets in a row, before dreadful performances against West Ham and then Manchester United.
For the Norwich game Rodgers dropped Lovren for Mamadou Sakho, another perennial disappointment, and Gomez for Can, playing two players out of position with Clyne sliding over to left-back.
It's been a continued theme that Rodgers doesn't know his best team and, especially, doesn't know his sturdiest defence. The pressure keeps mounting on the manager and he must find a solution soon.
Personality trumps price at City
Every team has three or four key players that are absolutely crucial to their success. Despite spending more than any other club to assemble their squad, Manchester City are no different. Two of their main men were missing, Vincent Kompany and David Silva, and it hit them hard, despite Manuel Pellegrini fielding £80m worth of replacements.
Kevin De Bruyne and Nicolas Otamendi were the men who played instead, and both played well, but it was clear City were missing their spiritual leaders on the pitch. Kompany is the heart and soul of the side, the vocal leader and organiser for this collection of well-paid stars. Silva is the main creator, the man City players look to and most trust to pull a rabbit out of a hat in desperate times. Sergio Aguero gets the goals and Yaya Toure drives the team, but the missing pair are still vital cogs in the City machine.
West Ham's Jekyll and Hyde show
Wins against Arsenal, Liverpool, Newcastle and Manchester City, defeats at home to Leicester and Bournemouth. Will the real West Ham United please stand up?
Slaven Bilic has produced a team based on a strong defence, work rate and quick, decisive passing when there is the chance to counter-attack.
Those principles go some way to explaining the home defeats to Bournemouth and Leicester City, who both allowed West Ham to take the initiative at Upton Park, whereas the trio of away wins came when the home team was expected to set the attacking tone.
The win over Newcastle last week proved that West Ham can win when they are expected to push the tempo, and another home match against Norwich next weekend will provide further evidence as to whether the Hammers are serious or just a team that can win on their day.
Either way, Bilic is creating an impressive team that doesn't have any obvious or major weaknesses in any part of the team; squad depth may be their only issue if they continue at this pace.
Callum Wilson here to stay
Sebastian Coates and Younes Kaboul are two of the least mobile centre-backs in the Premier League and both will be having nightmares about the Bournemouth striker in the coming days.
Kaboul especially never got to grips with the quick 23-year-old, who had him on toast the entire afternoon at Dean Court. Wilson, who has gone from League One to the Championship the Premier League in successive seasons looks completely at home in the top flight.
He already has five goals this season and his movement and calmness in front of goal mean he should get many more. Even if Eddie Howe's team fail to stay in the Premier League beyond this season, there will be no shortage of suitors for Wilson's services.
The quick blue Fox jumps over the lazy dog
That's close enough... Away from famous pangram's, there seem to be two reasons that Leicester keep coming back late in matches, comebacks that have given the team six points from losing positions in their last four matches.
The first is that manager Claudio Ranieri has continued Nigel Pearson's work in instilling within the Leicester team a tremendous sense of  self-belief and determination. The second is that Leicester have one of the quickest, fittest teams in the division.
Last week it was revealed that the top three fastest players in the Premier League this season all belonged to Leicester - Jamie Vardy, Jeffrey Schlupp and Marc Albrighton - while another (Wes Morgan) was also in the top 10, more than any other club. Riyad Mahrez and Nathan Dyer are hardly slouches either.
Stoke made a bad error for the second goal, but don't discount the mental and physical impact fast players running at you for an entire game can have.
The Independent has launched a new football app! Live scores, in-game stats, breaking news, videos and push notifications are just some of the many features. Use the links below to download and get more from Indy Football...
iPhone
http://ind.pn/iphonefootball
iPad
http://ind.pn/ipadfootball
Android
http://ind.pn/androidfootball
Reuse content