Arsene Wenger has retained his faith in misfiring midfielder Mesut Özil after claiming he had a "very good first season" following his £42.5m move from Real Madrid, and added that Arsenal will see the best of him in the years to come.
Özil is currently recovering from a knee injury that stemmed from a "crack" that he felt during the 2-0 defeat to Chelsea last month, and he will miss a large chunk of the season with Wenger confirming that he won't be back in action until January at the earliest.
Astonishingly, Wenger claimed that Özil returned from the World Cup with an injury having won the tournament with Germany, but after missing the opening Premier League clash of the season he featured for Arsenal in every game until the Chelsea defeat.
Arsenal's injury list
Arsenal's injury list
1/5 Mikel Arteta (midfield)

Like Diaby, the Spaniard is closing in on a return but the Swansea match will come to soon. The club captain last played in November.

Getty Images

2/5 Mathieu Debuchy (defender)

Returned in the FA Cup semi-final win over Reading but has since been ruled out with injury and Wenger confirmed he remains 'unavailable'.

GETTY IMAGES

3/5 Alex Oxlade-Chamberlain (midfield)

Suffered a hamstring injury against Manchester United in the FA Cup and hasn't played since as it has exacerbated a groin problem. Out at least until May and facing surgery in the summer.

4/5 Aaron Ramsey (midfield)

Aaron Ramsey caught a kick on his calf during the win over Hull and was later substituted. The Welshman was rated 50/50 for the Swansea match by Wenger, but it now appears that he is a major doubt for the clash at the Emirates.

Getty Images

5/5 Danny Welbeck (forward)

Danny Welbeck has not played since the goalless draw with Chelsea towards the end of April after suffering a knee injury. Wenger has confirmed that the injury is 'nothing major', and that he should return to full fitness before the end of the season.

GETTY IMAGES
Speaking to beIN Sport on Sunday, Wenger said: "He [Ozil] will not be back until January. He came back from the World Cup with an injury.
"He had a very good first season with us. I think we will see the best of Ozil in the seasons to come."
Injuries have once again blighted the Gunners and their particular thinness in defence, with only six recognised defenders in the first-team squad once the transfer window closed at the start of September.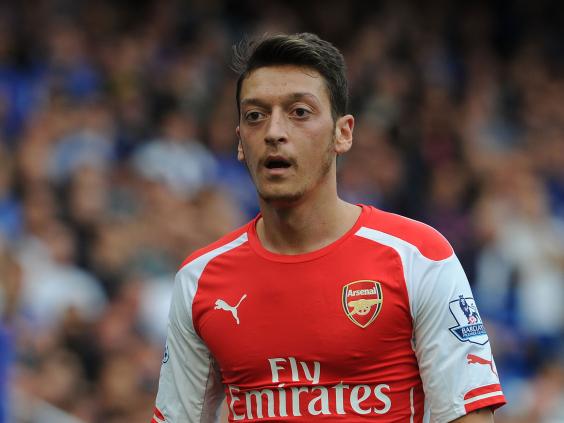 Wenger's options were immediately restricted by injuries to Mathieu Debuchy and Laurent Koscileny, while Nacho Monreal and Calum Chambers have struggled for form having been played out of position and Per Mertesacker has been far from his best.
However, Wenger was quizzed further on the absence of Abou Diaby. The 28-year-old has suffered an incredible 40 injuries since joining the Gunners in 2006, but Wenger appeared to take offence when the French midfielder was accused of being "injury prone".
"He (Diaby) is a player that I have an enormous amount of respect for," explained Wenger.
"Every time he comes back, he has to start from zero with another injury. He was a victim of competition.
"A footballer needs his ankle. He was destroyed by a bad tackle [by Dan Smith in May 2006 that saw Diaby suffer a fractured ankle] at Sunderland six or seven years ago which altered his ankle.
"He is not a fragile player. He was the victim of an assassin's tackle that went unpunished."
Reuse content