For a manager determined to keep re-inventing himself, Arsene Wenger is not afraid of going back to the old answers. He knows that his team struggles in the big away games, that they hardly ever go to the hardest grounds with the right approach.
With Arsenal's season and Wenger's own future on the line, Saturday's trip to Anfield might be time for a radical re-think. Or maybe not. Looking back at his side's failures in these games, especially the 1-0 up 2-1 down defeats at Everton and Manchester City, Wenger said that his side were not "proactive" enough. When they had the lead they failed to keep going and it cost them in the end.
It is the classically Wenger optimistic view. Another view is that Arsenal's best result in these games over recent years was their 2-0 defeat of Manchester City in January 2015, an uncharacteristically canny mugging, playing smart reactive football. That is one of their three wins in 23 away games at the 'big six' over the past five seasons, a desperately poor record. The other two, a 2-0 win at Liverpool and 1-0 at Tottenham, were both founded on solid defence and clinicism on the break.
Wenger did not give the impression that he would be going back in that direction on Saturday evening. Yes, he wants to be "defensively solid", but most importantly, he wants his team to press on if they take the lead, not to go back into their shells. As is often the case with Arsenal, it all comes down to confidence and belief.
"What is most important for me now," Wenger said, at his press conference on Thursday, "is the attitude to just go for it, go and take [it]. It is always a mindset." So how does he change that, in the few days before the match? "By making them conscious of it."
Arsenal candidates to replace Arsene Wenger
Arsenal candidates to replace Arsene Wenger
1/6 Diego Simeone

Age: 46
Current club: Atletico Madrid
Honours: Argentine Primera Division x2 (Estudiantes de La Plata and River Plate)
La Liga
Copa del Rey
Spanish Supercup
Europa League
Uefa Super Cup

Getty

2/6 Eddie Howe

Age: 39
Current club: Bournemouth
Honours: Championship

Getty

3/6 Massimiliano Allegri

Age: 49
Current club: Juventus
Honours: Serie C1 (Sassuolo)
Serie A x3 (AC Milan, 2x Juventus)
Italian Super Cup x 2 (AC Milan, Juventus)
Coppa Italia x 2 (Juventus)

Getty

4/6 Thomas Tuchel

Age: 43
Current club: Borussia Dortmund
Honours: Bundesliga II (Mainz)

Getty

5/6 Roger Schmidt

Age: 49
Current club: Bayer Leverkusen
Honours: Austrian League (Red Bull Salzburg)
Austrian Cup (Red Bull Salzburg)

Getty

6/6 Ralph Hasenhuttl

Age: 49
Current club: RB Leipzig
Honours: N/A

Getty
In practical terms this means Wenger wants the players to take control on the pitch, to take the initiative and then, if they have it, not to let up. "What is linked many times with belief is a passive mode and not being proactive enough," Wenger said. "You have to make things happen."
Wenger is not saying that he wants to be more attacking or to go and beat Liverpool 4-3. What he does want though is some conviction, which is one of the things that Arsenal lack so clearly in these big games. In December Arsenal went 1-0 up at Goodison Park but lost their nerve, and the game 2-1. Five days later they went to Manchester City and the same thing happened. Not this time.
"We lost at Everton and City after being 1-0 up," Wenger explained. "Basically it is because maybe we were not in the proactive position after we were 1-0 up. We were too passive."
Even the loss at Stamford Bridge one month ago was put down by Wenger to a lack of faith. "We lost at Chelsea under special circumstances," he said. "We didn't look like we played with enough freedom or enough belief, that we would just turn up and do it. That is what we want to add to our game."
Wenger saw what Leicester City did to Liverpool on Monday but there is little prospect of him ripping up 20 years of work to replicate their style on Saturday. Nor will he be parking his bus at Anfield. "We want to be defensively solid, but you also want to have an attitude and desire to score goals," Wenger said. "We just wait for them to give us an opportunity to go forward, then we will do it. But we also need to be defensively solid and have a strong midfield."
That is why Wenger feels likely to do what he did at Chelsea, abandoning the 4-2-3-1 for a more robust 4-3-3. It did not work that day, but it was not a bad idea. The problem with it is that it means shifting Mesut Ozil from his number 10 role out to one of the wings. Which risks diluting his influence as well as giving an opposition full-back a free ride to attack.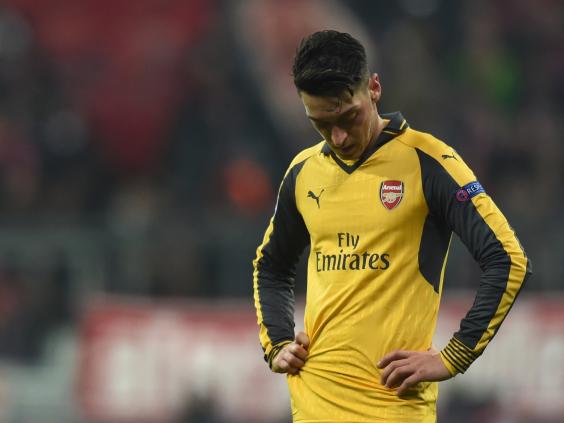 The form of Ozil is Arsenal's biggest on-pitch issue right now and Wenger has even thought about dropping his £42million man. He could have criticised him at this press conference but chose not to. He admitted that "confidence plays a part", without sounding especially confident in that explanation itself, before landing on a better defence of Ozil's disappearing act.
"If you want to park the bus you lose Ozil," Wenger said. "He is a guy who needs possession, and with possession he is a marvellous player. He suffered a lot from the loss of [Santi] Cazorla because Cazorla in deep midfield, he can get out of pressure, plays the ball through to a player who is higher up. Then, Ozil is a player who, with the timing of the pass, can always do damage."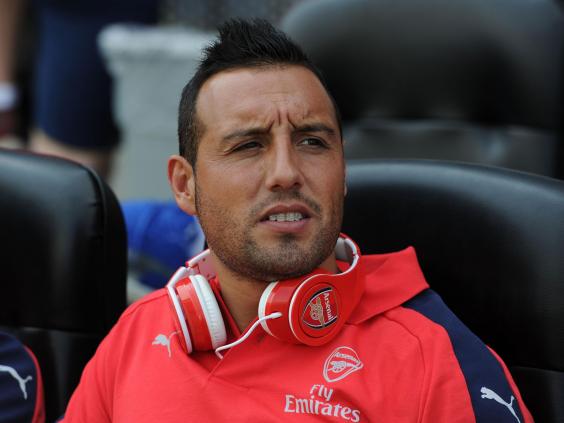 Cazorla's season is almost certainly over after ankle surgery in December has left the midfielder with a scar that still has not healed. This is the second consecutive Arsenal season to be sunk by a Cazorla injury. Wenger said that he was Arsenal's "star" before he broke down and the problem is that he made Ozil better too. Now he has no Cazorla and not much of an Ozil either.
"Ozil had 17 or 18 assists last year, he has less this year," Wenger said. "But especially his numbers dropped, as I told you, since we have less collective possession in deep midfield, providing les ammunition in high midfield."
Wenger said that he did "not want to make a debate about one player" before the Liverpool game. "It is not Ozil alone who will us the game". After trying to defend his misfiring record signing, this time Wenger was right. What Arsenal really need is balance, conviction and a plan. But there was not much to suggest this time will be different.
Reuse content