Arsène Wenger has called for the introduction of retrospective punishment for divers. The Arsenal manager would like to see a panel of former players which would ban players who are found to have committed an "obvious" dive.
Diving is back on the agenda after Jose Mourinho's insistence on Sunday that there was a "campaign" against Chelsea, which led to his players being unfairly labelled as divers, thereby depriving his team of  penalties.
While Wenger would not comment on specific cases, he does want harsher punishments for clear offenders. "I am against diving, we should punish it after the game," Wenger said. "The problem will be to decide when it was obvious diving or not. That's a big issue and sometimes it's not obvious.
"The panel should punish only obvious cases, but not mixed ones. And the most suited to this are people who have an experience in the game. Naming alone doesn't work. You have to suspend the player.
"The only way that the players will stop doing it, is if they feel they can get punished. Whether it is  Arsenal, Manchester United, Liverpool or Chelsea, it is the same for everybody."
Wenger also decried Internazionale's loan bid for unsettled striker Lukas Podolski as a "joke". Arsenal would rather a permanent deal for the Germany striker who has yet to start a Premier League match this season and has just 18 months left on his contract at the Emirates.
"That is a joke," Wenger said, when asked about Inter's approach for Podolski so far. "Inter Milan is not  serious. They talk, there are only talks."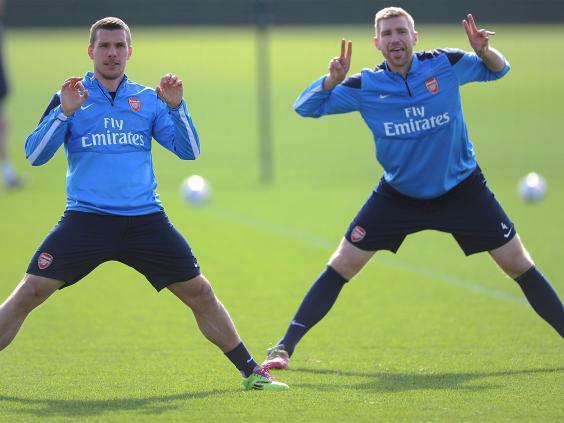 The Inter coach, Roberto Mancini, told Sport Mediaset that "Podolski is a good player. He is part of a list of players that we are following, so  we will see what will come  of it".
Wenger said of Podolski: "He is a player of Arsenal Football Club and I want him to stay. To be professional, as long as you are somewhere, you give your best."
Wenger is in no mood to loan out the 29-year-old, whose transfer value would be even lower in the summer. If Podolski is to leave Arsenal, they want a firm cash offer now. So while Yaya Sanogo may go out on loan, that is not an option for Podolski.
"I don't doubt [the possibility of loan departures] in some positions where players need experience," Wenger said. "That's not the case for Podolski but players who need practice because they're at a very young age, like Sanogo, is not impossible."
Arsenal face Southampton away on New Year's Day and Wenger has admitted that striker Danny Welbeck "could be short" after sustaining a thigh injury against West Ham United.
Wenger said last week  that Aaron Ramsey could be ready for this match but he revealed that the Welsh midfielder, who sustained a hamstring injury playing at Galatasaray in early December, would not be ready yet.
"There is no setback but it is a bit slower than I had expected it to be," Wenger added. "Because he had a setback last year, we have to be very  cautious."
Reuse content