The reaction to Arsenal's 3-2 defeat against Manchester United on Sunday – probably the most callow United team ever to take the field in this blue riband Premier League fixture – was predictable enough. After all, the annual story of Arsenal promising so much in the autumn and fading before the spring could be played on a loop every 12 months.
Graeme Souness led the way, claiming that manager Arsène Wenger must be "tearing his hair out", before deriding the "lack of something that real players have" in the Arsenal team.
Rio Ferdinand joined in on Twitter, claiming: "Arsenal's major failure in recent years is not investing in LEADERS. People that grasp the moment, that set the right tone at the given moment."
During the game itself, Lee Dixon, a four-time league title winner with Arsenal, tweeted: "This is it. The season right here right now. 45 minutes. Man up."
Manchester United 3 Arsenal 2 player ratings
Manchester United 3 Arsenal 2 player ratings
1/22 Manchester United: De Gea 6 out of 10

For all of Arsenal's possession and potency De Gea had little to worry about for much of this match and could do nothing about the visitors' goals.

2/22 Varela 7 out of 10

An unwarranted yellow on eight minutes ought to have led to a difficult day for the youngster, but the full-back managed two assists as he was able to bomb forward throughout.

2016 The Arsenal Football Club Plc

3/22 Carrick 6 out of 10

It wasn't without nervy moments but Carrick got the job done in defence, with one tackle on Welbeck inside the area showing the composure United's youngsters needed to see.

2016 Manchester United FC

4/22 Blind 6 out of 10

The only regular in the back four he rose to the responsibility in style, sweeping up behind Carrick when Arsenal looked to burst in behind.

2016 The Arsenal Football Club Plc

5/22 Rojo 5 out of 10

Ensured the defensive calamities weren't just limited to Arsenal by leaving Welbeck unmarked to head in. Struggled to track the Arsenal forward throughout.

2016 Getty Images

6/22 Schneiderlin 6 out of 10

Hardly slowed the tide of Arsenal's attacks at times in the first half, but in the second United's destroyer did key work in winning the ball back.

2016 Getty Images

7/22 Lingard 7 out of 10

A superb display of industry and application, he was crucial in United's second in teeing up Varela's cross, performing sterling work out wide.

2016 Getty Images

8/22 Herrera 7 out of 10

His fortuitous goal was no less than deserved for a dynamic display that saw him make telling contributions at both ends of the pitch.

9/22 Mata 7 out of 10

Gave Ramsey and Coquelin plenty to worry about as he flitted across the frontline, using his fine passing range to conduct United's deadly counters.

2016 Getty Images

10/22 Depay 8 out of 10

A £25million performance at last. His duel with Bellerin was the highlight of the match and one where the Dutchman often came out on top.

Getty

11/22 Rashford 8 out of 10

This certainly was a romantic story but Arsenal could not have made it easier for the youngster if they'd gift-wrapped the ball. Still Rashford took his chances well and showed serious confidence.

2016 Manchester United FC

12/22 Arsenal: Cech 6 out of 10

Having saved a Depay free-kick smartly early on Cech could once more do nothing but watch as United were allowed to stream forward.

2016 Manchester United FC

13/22 Bellerin 6 out of 10

His advances forward were not slowed by the dangerous Depay and the full-back showed defensive solidity beyond his team-mates.

14/22 Gabriel 4 out of 10

A meek clearance teed up Rashford for the opener. Arsenal fans will find that infuriating familiar, Gabriel always seems to have at least one mistake in him per game.

2016 Manchester United FC

15/22 Koscielny 5 out of 10

Allowed Rashford an unmarked header inside the six yard box and typified a day where he was an utter liability at times.

2016 Getty Images

16/22 Coquelin 5 out of 10

Overwhelmed by the task of covering for five players ahead of him doing minimal defensive work, even the midfielder could not stem the tide of United's counters.

2016 Manchester United FC

17/22 Monreal 5 out of 10

Has kept the likes of Coman, De Bruyne and Mahrez quiet this season. So why were Lingard and Varela such a challenge? A far from typical display

2016 Getty Images

18/22 Ramsey 4 out of 10

After showing defensive resilience against Barcelona this was the worst of Ramsey, nowhere to be seen in attack or defence.

2016 Getty Images

19/22 Welbeck 7 out of 10

Does not deserve an iota of blame for the execrable peformances of his team-mates. Welbeck was full of energy, was looking for the ball and deserved at least one goal.

2016 The Arsenal Football Club Plc

20/22 Ozil 7 out of 10

One of the few who could say they performed to their ability throughout today's game, his sublime range of passing was present throughout, earning him assist number 18.

2016 The Arsenal Football Club Plc

21/22 Sanchez 4 out of 10

An abysmal display by anyone's standards. Every opportunity to get forward seemed to see Sanchez run down a blind alley.

2016 Getty Images

22/22 Walcott 3 out of 10

His first notable action came 30 minutes in when Herrera whipped the ball off Walcott in his own half as United nabbed the opener. His second was being caught offside.

2016 Manchester United FC
But wind the clock back more than two years to October 2013 and the same holes were being picked in Arsenal's armoury, with Alan Hansen dismissing Wenger's hopes of building on their usual impressive start to the season. "I still do not see a leader on the pitch when I look at Arsenal," Hansen said. "They do not have a Roy Keane, Graeme Souness or Patrick Vieira, somebody who can bring it all together when it goes wrong."
Between them, Souness, Ferdinand, Dixon and Hansen won 23 league championship medals during their club careers in England, so Wenger has come under fire from the type of serial winners who now seem to reside at the Emirates only in the form of bronze statues outside the stadium.
But these accusations of a lack of leadership on the pitch are nothing new and it could be argued that it has been a valid criticism ever since the Invincibles of 2004 were gradually replaced by a group of players defined by dressing-room selfies rather than tunnel bust-ups and more belligerent encounters with United than we saw at the weekend.
Arsenal, quite simply, have been soft for a while now, but not just on the field. There is also a distinct Dad's Army feel to the boardroom, where a naivety and belief that everything will be fine "because we are Arsenal" has resulted in the club being overtaken since 2004 by the likes of Chelsea and Manchester City, not to mention United.
Nobody seems to have a nasty streak at Arsenal, but somebody within the club's hierarchy needs to develop one, otherwise the annual sleepwalk to failure in the Premier League could be repeated on a far more damaging scale when the time comes to replace Wenger and recruit a new manager.
Currently, his contract is due to expire at the end of the 2016-17 season. The Frenchman, who celebrates his 20th anniversary in charge in September, may get a new deal to take him beyond next year, but if the Arsenal board were to sit with a blank sheet of paper this morning to devise a plan for life after Wenger, what would be the key points?
Having won just two FA Cups since 2004, do they go for a wholly new approach and target a Diego Simeone, a Roberto Mancini or even Wenger's nemesis, Jose Mourinho? Or do they stay loyal to Wenger's legacy and build on 20 years of continuity by hiring a manager in the same mould, who pursues football utopia on the pitch, but perhaps possesses the edge that the 66-year-old displayed when he arrived from Japan in September 1996 and started getting under Sir Alex Ferguson's skin?
All of the noises from the club suggest the latter, that Wenger's way is the Arsenal way and that there will be none of the turbulence and chaos that have engulfed United since Ferguson retired in 2013.
But the classic image of Wenger (above), arms outstretched on the touchline as he questions a decision against his team, seems to be the most apt when picturing the reaction of the likes of chief executive Ivan Gazidis or majority shareholder Stan Kroenke to a question about "what happens next?"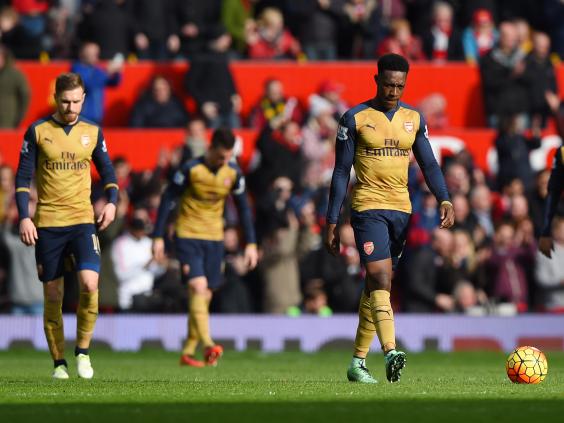 Many Arsenal supporters and former players believe that Wenger's time will be up this summer if he fails to end the club's 12-year wait for the title this season. With Chelsea imploding under Mourinho, United miles off the pace and City failing to play to their potential, Arsenal will never have a better opportunity to win the Premier League, but they sit five points adrift of the leaders Leicester City and three behind Tottenham, whom they face at White Hart Lane this Saturday.
It should be an open goal for Wenger and Arsenal but, in typical fashion, they are pussyfooting around rather than going for the throat.
So if the title goes elsewhere, will the board act decisively or will it allow Wenger to drift on for another year and let the indulgence of his purist philosophy just continue?
With cash reserves announced last week of £135.9m, a sparkling stadium, developing young team and the lure of London all strong cards in their hand, Arsenal should be able to attract any manager in the world to replace Wenger. But Gazidis and Kroenke have allowed Pep Guardiola to leave Bayern Munich for City, therefore ruling out the most obvious candidate to take the job.
Carlo Ancelotti, another good fit, was nailed down by Bayern in December, while Liverpool moved quickly last October to secure Jürgen Klopp.
There are no obvious successors who currently work at Arsenal being groomed by the club, but does two trophies in 12 years justify the continuation of the existing model anyway? Many would argue that it does not, but that is the problem with a club that believes its way is the best way and damn the rest.
United allowed themselves to believe that they were a special case when Ferguson left, only to discover that they had not sufficiently planned ahead by lining up a Guardiola, Mourinho or Ancelotti as successor. So they ended up with David Moyes because he was the only available option and look how that turned out.
Arsenal could be heading in the same direction if they allow Wenger to dictate the terms of his departure and, if that happens, the lack of leaders in the boardroom will be infinitely more costly than the absence of them on the pitch at Old Trafford.
FA's sane decision will only hurt self-importance of Uefa
Well done to the Football Association for ignoring Uefa's restriction on televised domestic fixtures clashing with Champions League games by scheduling the FA Cup fifth-round replay between Hull City and Arsenal for next Tuesday.
The FA faces a fine for placing Hull v Arsenal against Wolfsburg v Gent and Real Madrid v Roma next Tuesday – albeit with an unusual 7pm kick-off – but will fans in Europe really be switching off Champions League games to watch events at the KC Stadium? Or is Uefa guilty of self-importance over its competition?
It's a fairly obvious answer.
'Peter the keeper' seems to have been airbrushed out
Next time you watch the opening credits for Match of the Day, keep an eye out for Peter Shilton.
England's most capped international, a man who won a league title and two European Cups with Nottingham Forest and retired at the age of 47 after playing more than 1,000 league games, is nowhere to be seen among the black-and-white shots of former greats.
Seems like an unusual omission.