"When you first look at him there is nothing special there," Arsène Wenger says of Alex Iwobi, the best young player the Arsenal academy has produced since Jack Wilshere. "He is not the kind of player who impresses you at first."
This is not an unusual view: Arsenal thought very seriously about releasing Iwobi at 14 and again at 16. It was only at 18 that Arsenal, and Wenger, realised just how good Iwobi is, and how important he can be to them. They have guarded him closely ever since.
Iwobi's rise has been a vindication for a player who had been desperate to make it at Arsenal ever since he joined at the age of eight, and who has turned down plenty of good opportunities to leave. It is also a success for an academy which has produced a player whose skills, not as immediately obvious as some, fit perfectly with how Wenger sees the game.
"When you look a bit deeper, Alex is always quick connecting with other players, at a very high level and a very high pace," Wenger explained last month. "Football is perception, decision-making, and acting. The perception he has of the game especially struck me, and the speed of his decision-making. He has something that is very important at the top level: speed and an understanding of the game."
What is so striking about Iwobi's rise, less than one year on from his debut, but approaching his 21st senior start, is how he seems to have arrived into the Arsenal first-team almost fully-formed. Arsenal are better this season than they were last season and Iwobi is crucial to that. Alexis Sanchez has moved up front, giving them more speed and surprises, and Iwobi has fitted perfectly into Sanchez's old role on the left. With Sanchez, Theo Walcott and Mesut Ozil always on the move, Iwobi has to be as fast and as sharp as them. Fortunately for Arsenal he is.
While some young players can look lost without too much specific instruction, Iwobi revels in the creative freedom given to him by Wenger, and the trust and confidence his manager has given him.
He has something that is very important at the top level: speed and an understanding of the game.
Anyone who watches Arsenal can see how well Iwobi fits in with their fast fluent game, but the numbers bear it out too. Iwobi is ranked sixth by Opta in the Premier League for success rate of attempted final-third passes in the Premier League this season, with 86.9 per cent. Of the five ahead of him, three are team-mates: Mesut Ozil, Nacho Monreal and Santi Cazorla. Iwobi has arrived into the team firmly on their wavelengths: he has three assists in his last five Premier League games, as many as Ozil has in his last 18.
Ozil is a great admirer of Iwobi and spoke recently of the great bravery and intelligence of the 20-year-old who plays alongside him. "Alex reminds me of a mixture of Jay Jay Okocha, who I loved watching, and Edgar Davids," Ozil said. "He's really strong on the ball, but good in front of goal too. He knows exactly what he can do, isn't scared, and doesn't hide on the pitch."
Iwobi's fearlessness is what has impressed Arsenal the most, especially when he was thrown into the Nou Camp for what might have been a hiding to nothing last March. Some youngsters might freeze on that stage but Iwobi just enjoyed it for what it was, a game of football. That is the mentality, determined to succeed, but also to enjoy the game, that has got Iwobi this far. That was the determination that saw him follow his heart to represent Nigeria as an international, even when Roy Hodgson and Dan Ashworth tried to persuade him last year to change allegiance to England.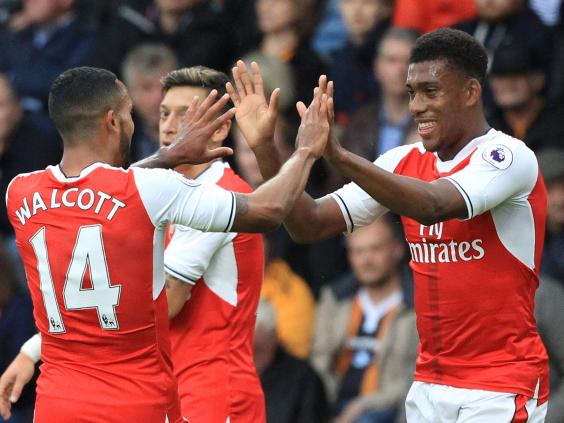 Iwobi was born in Nigeria but moved to England when he was four and great up at Newham. He played football for Rippleway United, along with Chuba Akpom, who has followed him through the Arsenal system. The coaches there remember Iwobi and Akpom as "head and shoulders" above all the other boys, even if it was Akpom, rather than Iwobi, who was scoring the goals.
The two were soon signed up by Arsenal and Iwobi started playing for them at under-9 level. He stayed in touch with Rippleway, attending when he could, providing memorabilia from his famous uncle Okocha for presentation evenings.
Competition is tough in the Arsenal academy and when Iwobi was 14 he was very nearly released. Two years later the club told him that if he had better offers from elsewhere he was free to go. Crystal Palace, Celtic and Southampton were all very keen on him but 16-year-old Iwobi wanted to stay and prove that he was good enough.
Arsene Wenger's best moments as Arsenal manager
Arsene Wenger's best moments as Arsenal manager
1/10 1996 – Becomes Arsenal Manager

Wenger leaves Japanese side Grampus Eight to become the Arsenal Manager.

2/10 1998 – Wins League and FA Cup double

Arsenal win the league setting a new club record of 10 consecutive wins and also secure FA Cup glory beating Newcastle 2-0 in the final.

3/10 1999 – Signs Thierry Henry from Juventus

Arsenal signed Thierry Henry from Serie A side Juventus for £11 million. Henry went on to become the club's all-time top goalscorer with 228 goals in 377 appearances.

4/10 2002 – Second League and FA Cup double

The Frenchman wins his second double with Arsenal tipping Manchester United and Liverpool to top spot in the league and defeating Chelsea 2-0 in the FA Cup final.

5/10 2003 - OBE from the Queen and FA Cup victory

Wenger's men beat Southampton 1-0 at Cardiff's Millennium Stadium and in the same year he given an honouree OBE by the Queen.

6/10 2004 – The 'Invincibles'

In 2004, Arsenal were at the peak of their powers under Wenger. His philosophy of possession-based free-flowing football, combined with the talent of players such as Henry and Dennis Bergkamp, led Wenger's men to the league title and an unbeaten 49 game streak.

7/10 2005 – FA Cup victory against Manchester United

Arsenal beat Sir Alex Ferguson's Manchester United 5-4 on penalties for Wenger's fourth FA Cup trophy.

8/10 2006 – Champions League final v Barcelona

Wenger's team came the closest they have ever been to European glory, narrowly losing 2-1 to Barcelona, after going a goal up through Sol Campbell in the first-half.

9/10 2014 - FA Cup victory against Hull City

Having not won a piece of silverware in nine years, the pressure was certainly on for Wenger as Arsenal took on Hull City at Wembley. It only got worse for Wenger as Hull took a 2-0 lead in the opening 10 minutes. However, his team managed to fight their way back into the game and sealed victory with a dramatic 3-2 comeback in extra-time.

10/10 2015 – FA Cup winners against Aston Villa

After the drama of the previous year's final against Hull, Wenger's side cruised to a 4-0 victory over Aston Villa in front of a packed Wembley crowd.
Eventually given a professional deal, Iwobi did not do much at first for the under-21s, until his breakthrough season in 2014-15. Scoring 10 goals in 19 games, he immediately impressed Wenger, who realised that he had a rare mix of physical, technical and mental gifts, as he showed in first-team training.
Wenger knew that Iwobi was worth hanging on to, so when Brentford, Charlton Athletic and Hull City tried to take him on loan last summer, Wenger said no. He often lets his youngsters go out for experience, but he knew he would need Iwobi. That is the faith that not every youngster is shown, the faith Iwobi was so keen to repay to the manager who saw something special in him.
It did not take long after Iwobi's debut for Wenger to start using him regularly. After showing at the Nou Camp that he could handle big games he was a regular in March and April, and this year he is even more important. He may not have dazzled Wenger at first glance, but he is vital to him now.
Reuse content