Arsenal cannot finish in the top four this season unless they have Alexis Sanchez in their side, according to former England midfielder Frank Lampard.
Sanchez was dropped by manager Arsene Wenger for the weekend trip to Liverpool, where Arsenal went 2-0 behind inside the first half, and the Chile international was subsequently brought on at half-time.
Much has been made of Sanchez's omission since last Saturday's 3-1 defeat, but while Wenger insisted on Monday that the decision was taken due to his desire for a more tactical approach, The Independent has been told that a training ground bust-up between Sanchez and one of his Arsenal teammates was the cause of the selection change, with Wenger deciding to discipline his star player.
That has led to the increasing expectation that Sanchez will leave the club in the summer, with just 12 months let to run on his current contract come the end of the season, and with Arsenal currently fifth in the Premier League, they are struggling to guarantee Champions League football next season.
They take on Bayern Munich in the second leg of their last-16 clash on Tuesday night, but already trail the German champions 5-1 on aggregate after a humbling first-leg defeat at the Allianz Arena, and Lampard warned that if Wenger doesn't restore Sanchez to the starting line-up, he does not believe that Arsenal will be able to finish inside the top four in what would be a first for Wenger during his 20-year reign at the club.
"What I find difficult for Arsene Wenger here is that he's not in a real position of strength at the minute," Lampard said on Sky Sports' Monday Night Football.
"He's been taking some criticism himself and the team. When you've got your star man and you try and discipline him and you go to Liverpool which was a massive game for them and you leave him out... if you leave him out and Arsenal win you've got to go with that team.
6 players who could replace Alexis Sanchez at Arsenal
6 players who could replace Alexis Sanchez at Arsenal
1/6 Marco Reus (Borussia Dortmund)

At 27 years old, this summer is probably Reus' last chance for a big-money move and his direct style of running from wide positions makes him an obvious replacement for Sanchez. The biggest competition for his signature would likely come from Liverpool but, financially, Arsenal should be able to edge it. However, given the Gunners' injury record, how wise would it be signing someone with an injury history as rich as Reus'?

AFP/Getty Images

2/6 Antoine Griezmann (Atletico Madrid)

Highly unlikely with Manchester United sniffing around but if Arsenal make the top four and the Red Devils don't, there is always a possibility. And there's the money available – even at £84m. Griezmann would be the kind of statement signing Arsenal have been yearning for and would be a signal of intent that they are really ready to challenge for the title again.

Getty Images

3/6 Yannick Carrasco (Atletico Madrid)

A more realistic but equally as exciting a prospect. Carrasco has 14 goals already this season and is a powerful runner who seems, physically, like he would adapt quickly to the rigours of the Premier League. His workrate is exceptional – similar to that of Sanchez's – and at only 23 years old he would be a long-term signing and Arsenal could use the uncertainty surrounding Diego Simeone's future to prize the Belgian to north London.

Getty Images

4/6 Isco (Real Madrid)

A top talent struggling to get a place in La Liga's leading side available and looking for first-team football? Sound familiar, Arsenal fans? Both Sanchez and Ozil joined the Gunners in similar situations to the one Isco is currently in and who's to say he wouldn't be as successful as those two? Arsenal would be able to sign the forward for less than £30m, which, at 24-years-old, represents quite the bargain.

Getty Images

5/6 Kylian Mbappe (Monaco)

Arsenal looked at 18-year-old Mbappe last summer and they're continuing to monitor his progress at Monaco. The teenager is one of the most coveted in Europe and after his recent performance against Manchester City in the Champions League he looks like he has all the attributes to fill the Sanchez void. Like Anthony Martial when he left Monaco, Mbappe would not come cheaply, however.

AFP/Getty Images

6/6 Edinson Cavani (Paris Saint-Germain)

Arsenal know they type of damage Cavani can do having impressed against them in this year's Champions League and a 20-goal-a-season, coming in from the left is exactly what they'd be missing should Sanchez. The Uruguayan has been linked with the Premier League for years without a move coming to fruition and it would be a gamble as Cavani would command a hefty transfer fee and wage packet having come from the Qatari-owned PSG.

AFP/Getty Images
"But can that Arsenal team without him finish in the top four? I'm not sure they can. If you lose, as they did, then you've got a real problem too. I don't think they've got a particularly strong dressing room."
Lampard's co-analyst, Jamie Carragher, had sympathy for Wenger, although he also added that he wasn't accepting his explanation for why Sanchez was left out of the squad at Anfield last weekend. Sanchez came off the substitutes' bench to lay on a goal for Danny Welbeck and get Arsenal back into the game, only for a late Georginio Wijnaldum strike to secure the result in Liverpool's favour.
"I don't believe Arsene Wenger for a minute but I totally understand why a manager would say that to protect the player and to protect the club," Carragher explained.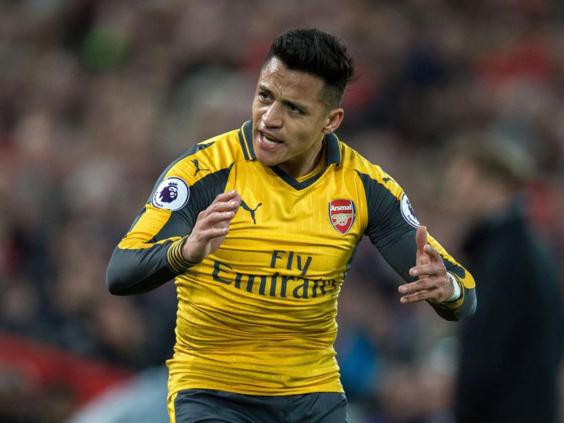 "There's been a lot of stuff about Sanchez in the last few weeks. His demeanour on the pitch and his reaction when he comes off which hasn't been great.
"But I did find it strange because I think when you're disciplining a player you either completely put him out of the squad. If he is a problem and he's not great around the place you make that decision.
"You don't want him on the coach or travelling on the plane or in the dressing room or in the hotel. You'd completely banish him. So all he's basically done is miss 45 minutes of football and the fact he was on the bench heightens the story even more."
Sanchez is expected to return to the starting line-up for Arsenal's home tie against Bayern, but attacking midfielder Mesut Özil will miss the match through illness, despite taking part in training on Monday morning.
Reuse content