Arsene Wenger has earned the right to leave Arsenal on his own terms, according to his managerial predecessor Bruce Rioch.
Wenger steered the Gunners into the semi-finals of the FA Cup on Saturday evening as they brushed aside non-League Lincoln 5-0 at the Emirates Stadium.
But Wenger has come under mounting pressure in recent weeks as Arsenal have slipped outside the top four in the Premier League.
They also crashed out of the Champions League in humiliating fashion, losing 10-2 on aggregate to Bayern Munich.
Some Arsenal fans have protested that Wenger should be replaced, and the manager has admitted that the opinion of supporters will have a bearing on whether he signs a new contract.
But Rioch, who managed Arsenal in the 1995-96 season prior to Wenger's appointment, believes the Frenchman should be shown respect for his loyalty over the past two decades.
"People talk about loyalty in life and how important it should be," Rioch told BBC Radio 5 live's Sportsweek programme.
"I accept he's been paid well, but the loyalty of 21 years should mean something.
"He loves the club like a supporter loves their football club. It's ingrained in him and what's happened over the last few months will have hurt him.
"He has earned the right, with the board of directors, to decide when he should leave the football club."
Arsenal 5 Lincoln 0 player ratings
Arsenal 5 Lincoln 0 player ratings
1/22 Petr Cech – 5 out of 10

Had very little to do throughout, aside from one strike from Arnold.

AFP/Getty

2/22 Kieran Gibbs – 6 out of 10

Impressed going forward and his deliveries opened up the Lincoln back four.

Getty Images

3/22 Laurent Koscielny – 7 out of 10

Held the shape well at the back, did his job and made light work of the Lincoln attacks.

Getty Images

4/22 Shkodran Mustafi – 5 out of 10

Struggled with the strength of Rhead – was simply not physical enough for him.

Getty Images

5/22 Hector Bellerin – 6 out of 10

Impressed going forward and played with with confidence, both on and off the ball.

AFP/Getty Images

6/22 Granit Xhaka – 6 out of 10

Battled relentlessly throughout and managed to keep the Lincoln midfield quiet.

Getty Images

7/22 Aaron Ramsey – 6 out of 10

Scored the fourth following a clever Sanchez cross. Worked well going forwards.

Getty Images

8/22 Alex Oxlade-Chamberlain – 5 out of 10

Was subbed in the early stages of the game due to injury.

AFP/Getty Images

9/22 Theo Walcott – 7 out of 10

He looked clinical today and managed to open the scoring with a strike inside the box.

Getty Images

10/22 Olivier Giroud – 5 out of 10

Got himself on the scoresheet, but it was a quiet display overall.

Getty Images

11/22 Alexis Sanchez – 7 out of 10

His late goal was an example of how he can make a goal out of nothing.

Getty Images

12/22 Paul Farman – 5 out of 10

Made a handful of important saves, but it's never good to concede five.

Getty Images

13/22 Bradley Wood – 5 out of 10

Defended aggressively, but fairly. Was not afraid to put his body on the line.

Getty Images

14/22 Sean Raggett – 6 out of 10

Was well positioned and managed to defend a number of Arsenal crosses.

AFP/Getty Images

15/22 Luke Waterfall - 6 out of 10

He led by example at the back, but it just was not enough. Unlucky with the own goal.

Getty Images

16/22 Sam Habergham – 5 out of 10

He was outclassed – struggled to keep up with The Gunners pace going forward.

AFP/Getty Images

17/22 Nathan Arnold – 6 out of 10

Came close to scoring the opener, only to be denied by the finger tips of Cech.

Getty Images

18/22 Alex Woodyard – 6 out of 10

The energetic midfielder showed a good understanding of the game, but could have assisted his strikers more.

Getty Images

19/22 Alan Power – 5 out of 10

Drifted in and out of the action. Quite simply he looked outclassed.

Getty Images

20/22 Terry Hawkridge – 5 out of 10

Defensively he tracked back well, but he failed to provide an outlet going forward.

Getty Images

21/22 Matt Rhead – 6 out of 10

Bullied the Arsenal defenders at times. Made it hard work at the back.

Getty Images

22/22 Jack Muldoon – 6 out of 10

Chased every over the top ball, but it just was not enough to make a real impact.

Getty Images
Rioch says he accepts the frustration of supporters who have seen their team fail to win the title since the 2003-04 'Invincibles' season.
But the former Scotland international fears Arsenal could encounter the same problems post-Wenger that Manchester United did when Sir Alex Ferguson's 26-year stay at Old Trafford came to an end in 2013.
"It didn't work out for David Moyes and Louis van Gaal and United are in sixth position at the moment," Rioch said.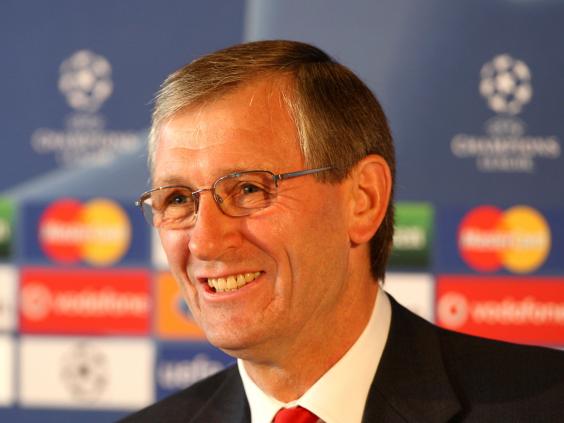 "It's not easy to replace a person who has put his stamp on the football club for a long period.
"Arsene has proven he is one of the great managers and you don't want to lose the best people.
"Once you lose them they are gone forever, and that's a shame.
"He's won the Premier League three times, only Alex Ferguson has won it more, and his time at Arsenal has been brilliant, quite fantastic."
PA
Reuse content