Arsene Wenger admitted on Thursday morning that while he does want to stay on as Arsenal manager beyond this season, he will be "objective and lucid" enough to recognise if in fact it is time for him to go.
Wenger wants to sign the two-year contract extension that has been on the table all season. But he spelled out at his press conference that if his head told him it was time to go, he would listen to it, overruling his heart.
No decision has been reached yet and Wenger wants to leave it as late as possible before deciding whether he will sign. He does not want to go anywhere else, and distanced himself from the FC Barcelona job that will now be open this summer when Luis Enrique leaves.
But Wenger has turned down lucrative jobs before, with Manchester City, Real Madrid, Paris Saint Germain and the English and French national teams. He insisted at his press conference that his preference, to stay at Arsenal, "has always been the same and will remain the same". He is not job-hunting.
"I have been here for 20 years and I had many times the opportunity to leave," Wenger said. "So I don't think I have to convince you that my preference has always been Arsenal. But of course I am objective and lucid enough to make the right decision for myself and the club as well. The club is free to make the decision it wants and I will respect that."
Wenger accepts that the club could withdraw the contract offer if they decide that they do not want him to stay. He insisted that he would go along with decision of "the club" on his future. In reality it is likelier that if Wenger does not stay, it is of his choosing, depending on how the final months of the season play out.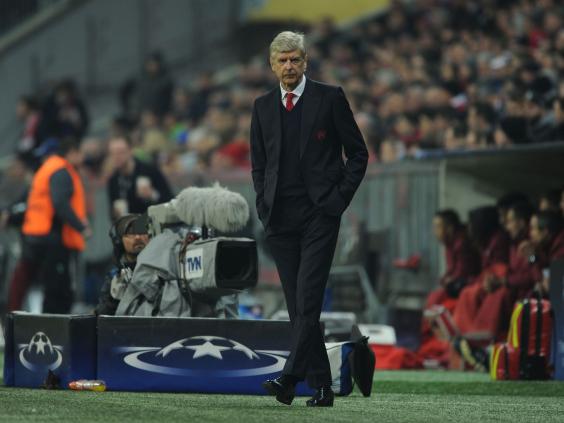 What Wenger wants to do, ultimately, is to stay at Arsenal and to continue to develop as a manager, even after more than 20 years in the role here.  Even though he now sometimes appears like a manager whose best days are behind him, Wenger insisted he was still committed to self-improvement at Arsenal and trying to become a better manager, even now at 67 years old.
"I am focused on me, getting to the next level and trying to improve," Wenger said. "Because I think competent managers always try to improve and are always trying to see what you can do better and reinvent yourself and that's what I try to do. That's basically it."
Arsenal candidates to replace Arsene Wenger
Arsenal candidates to replace Arsene Wenger
1/6 Diego Simeone

Age: 46
Current club: Atletico Madrid
Honours: Argentine Primera Division x2 (Estudiantes de La Plata and River Plate)
La Liga
Copa del Rey
Spanish Supercup
Europa League
Uefa Super Cup

Getty

2/6 Eddie Howe

Age: 39
Current club: Bournemouth
Honours: Championship

Getty

3/6 Massimiliano Allegri

Age: 49
Current club: Juventus
Honours: Serie C1 (Sassuolo)
Serie A x3 (AC Milan, 2x Juventus)
Italian Super Cup x 2 (AC Milan, Juventus)
Coppa Italia x 2 (Juventus)

Getty

4/6 Thomas Tuchel

Age: 43
Current club: Borussia Dortmund
Honours: Bundesliga II (Mainz)

Getty

5/6 Roger Schmidt

Age: 49
Current club: Bayer Leverkusen
Honours: Austrian League (Red Bull Salzburg)
Austrian Cup (Red Bull Salzburg)

Getty

6/6 Ralph Hasenhuttl

Age: 49
Current club: RB Leipzig
Honours: N/A

Getty
"Management allowed me to get to the next level as a human being, to develop my strengths in what makes a human being great as well," Wenger said. "To get the best out of people, that is absolutely fantastic. it is as well a fantastic opportunity in life to go for what is really great in human beings, to get yourself to the next level always, to improve, to invent yourself, to push your limits further up and not to have an average life."
Wenger admitted for the first time that Santi Cazorla is unlikely to play again this season after undergoing ankle surgery back in December. The Spanish midfielder had an operation on the plantaris tendon of his right foot and was expected to be back in February but he has not even resumed fitness work yet.
Given how much work Cazorla would have to do to start playing again, Wenger said Cazorla would likely to be "short" to return by the end of May.
Reuse content