Ian Wright has accused Arsene Wenger of "going soft" in the transfer market after allowing Arsenal's best players to leave the club during his 12-year Premier League title drought, but believes that he deserves to remain manager for at least another three years because he has been "let down so badly" by some of his players during his 20-year career.
Wenger reaches his 20-year milestone on Saturday ahead of the trip to Burnley the following day, and a number of former players have been reflecting on the 66-year-old's stay in the Premier League that will tick over into a third decade by the time he arrives at Turf Moor.
Wright joined fellow ex-Arsenal players Martin Keown and John Hartson to take part in a BBC discussion about Wenger's career, where the former England striker revealed that he believes Wenger deserves to be given another contract.
Wenger's current deal expires at the end of the season, and he confirmed in a press conference this morning that he will wait until the summer before deciding whether or not to extend his stay at the club – providing there is an offer on the table to be signed.
Wright believes there should be, and feels that he should be given another three years in order to bring success back to the Emirates Stadium.
"I would give him another three years, simply because I think he's put a lot of faith into a lot of squads who have let him down miserably. So badly," Wright said on BBC 2's The Premier League Show.
"I always curse the fact I didn't have more time with him. I'd have loved to have been around 'the Invincibles' but it hurts me to the core to see us not really challenge for the last years."
Arsene Wenger's best moments as Arsenal manager
Arsene Wenger's best moments as Arsenal manager
1/10 1996 – Becomes Arsenal Manager

Wenger leaves Japanese side Grampus Eight to become the Arsenal Manager.

2/10 1998 – Wins League and FA Cup double

Arsenal win the league setting a new club record of 10 consecutive wins and also secure FA Cup glory beating Newcastle 2-0 in the final.

3/10 1999 – Signs Thierry Henry from Juventus

Arsenal signed Thierry Henry from Serie A side Juventus for £11 million. Henry went on to become the club's all-time top goalscorer with 228 goals in 377 appearances.

4/10 2002 – Second League and FA Cup double

The Frenchman wins his second double with Arsenal tipping Manchester United and Liverpool to top spot in the league and defeating Chelsea 2-0 in the FA Cup final.

5/10 2003 - OBE from the Queen and FA Cup victory

Wenger's men beat Southampton 1-0 at Cardiff's Millennium Stadium and in the same year he given an honouree OBE by the Queen.

6/10 2004 – The 'Invincibles'

In 2004, Arsenal were at the peak of their powers under Wenger. His philosophy of possession-based free-flowing football, combined with the talent of players such as Henry and Dennis Bergkamp, led Wenger's men to the league title and an unbeaten 49 game streak.

7/10 2005 – FA Cup victory against Manchester United

Arsenal beat Sir Alex Ferguson's Manchester United 5-4 on penalties for Wenger's fourth FA Cup trophy.

8/10 2006 – Champions League final v Barcelona

Wenger's team came the closest they have ever been to European glory, narrowly losing 2-1 to Barcelona, after going a goal up through Sol Campbell in the first-half.

9/10 2014 - FA Cup victory against Hull City

Having not won a piece of silverware in nine years, the pressure was certainly on for Wenger as Arsenal took on Hull City at Wembley. It only got worse for Wenger as Hull took a 2-0 lead in the opening 10 minutes. However, his team managed to fight their way back into the game and sealed victory with a dramatic 3-2 comeback in extra-time.

10/10 2015 – FA Cup winners against Aston Villa

After the drama of the previous year's final against Hull, Wenger's side cruised to a 4-0 victory over Aston Villa in front of a packed Wembley crowd.
But Wright was also critical of Wenger's decision to let the likes of Thierry Henry, Cesc Fabregas and Robin van Persie leave the club to join European rivals, and felt that it sent out the wrong message to the rest of the squad in their attempts to win silverware at Arsenal. A nine-year trophy drought was ended in 2014 when they lifted the FA Cup and repeated the feat the following year, but Wright believes the tone was set from the moment that Henry was allowed to leave in 2007 to join Barcelona.
"When Thierry left and went on with Barcelona to win the Champions League, that was basically saying to the players 'you're not going to win the Champions League here'," Wright added.
"That made me quite sad when it happened.
"Then for Robin van Persie to go to Man United and score all the goals like he did, they literally won the league with his goals. I don't think they would have won it without it.
"I think that somewhere along the line Arsene Wenger got really soft on that."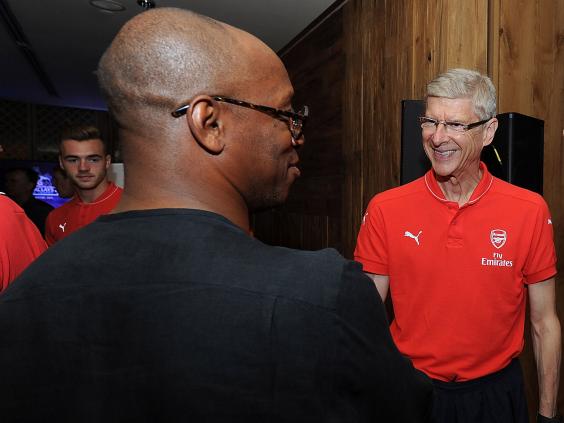 His former teammate, Hartson, erred caution in rushing into contact negotiations with Wenger though and said that he wants the Frenchman to earn a new deal by proving he can still challenge for the title this season.
"Twelve years without a title, but this season there's a real feel-good factor around the Emirates. He's added well in Lucas (Perez), (Granit) Xhaka and (Shkodran) Mustafi," said Hartson.
"But in terms of a new contract, he's got to really challenge this season."
Reuse content