Wenger faces big call on dropping Özil for Bayern trip
Arsenal are right to expect more from their £42.5m club-record signing. Mesut Özil has not scored a goal since the 10 December, has only two assists since the 3-1 victory over Stoke that day and now, as revealed by The Independent, is concerning the high-level staff at the club with his behaviour on and off the pitch.
Following the 2-0 victory over Hull on Saturday, Özil walked straight down the tunnel rather than applaud the fans, and one member of the Arsenal hierarchy has already poked fun at his selfie following the hat-trick against Ludogorets after joking he must have been paid by a sponsor to get his car in the shot.
Arsenal vs Hull player ratings
Arsenal vs Hull player ratings
1/22 Petr Cech – 6 out of 10

Had a very quiet first half. Made an impressive stop to deny Niasse just after the interval.

2/22 Hector Bellerin – 6 out of 10

It was a disciplined display from the Spaniard. He did his job in the defensive third.

3/22 Shkodran Mustafi – 5 out of 10

He was caught out of position at times, but managed to clear the danger for The Gunners on numerous occasions.

4/22 Laurent Koscielny – 6 out of 10

Worked relentlessly, made a number of vital tackles and led by example at the back.

5/22 Keiran Gibbs – 5 out of 10

Played a big part in Sanchez's opener, but was lucky not to see red for his challenge on Markovic.

6/22 Francis Coquelin – 6 out of 10

His influence on the game was obvious – broke down several Hull moves.

7/22 Alex Oxlade-Chamberlain – 7 out of 10

Despite being subbed, it was an incredibly positive performance. He was alert, made clever decisions and passed the ball cleverly.

8/22 Alex Iwobi – 6 out of 10

Looked confident on the ball, but at times he was wasteful and made the wrong decisions.

9/22 Mesut Ozil – 5 out of 10

Another lacklustre display from one of Arsenal's top players. He had no influence on the game and did not make an impact.

10/22 Theo Walcott – 6 out of 10

When he had the chance and ran at the Hull defence, he caused problems. Lacked any menace in front of goal, though.

11/22 Alexis Sanchez – 8 out of 10

Bagged the two goals for the Gunners, worked relentlessly and was a nuisance in the final third.

12/22 Eldin Jakupovic – 6 out of 10

Made a handful of important saves, but he was helped by Arsenal's lack of product in front of goal.

13/22 Omar Elabdellaoui - 5 out of 10

Struggled to keep up with the likes of Walcott and Sanchez. Looked lost at times.

14/22 Andrea Ranocchia – 6 out of 10

Made a number of last ditch challenges to deflate Arsenal attacks. Clumsy in his challenges though – picked up yellow card.

15/22 Harry Maguire – 7 out of 10

Defended bravely – was jumping in front of every loose ball, going into tackles hard and clearing the danger regularly.

16/22 Andy Robertson – 4 out of 10

His lapse on the goal line led to Sanchez's opener – should have done better.

17/22 Alfred N'Diaye – 6 out of 10

His pace caused problems and he looked confident in possession. Nevertheless, his shooting could certainly do with some work.

18/22 Tom Huddlestone – 5 out of 10

Failed to make an impact in the midfield. He provided the strikers with no service and looked lacklustre throughout.

19/22 Kamil Grosicki – 7 out of 10

His deliveries into the box created a string of chances, but the strikers failed to find the final product. Impressive display, but he was subbed after the interval.

20/22 Sam Clucas – 3 out of 10

His intentional hand-ball gave Sanchez his second. Red card was the correct decision.

21/22 Lazar Markovic – 7 out of 10

The 22-year-old was oozing confidence today. He was the biggest threat in Hull's side, but his efforts went unrewarded.

22/22 Oumar Niasse – 6 out of 10

His shooting was sublime, but his positioning was somewhat questionable at times.
These are a couple of many incidents, the biggest being the current contract stand-off between player and club, that is fuelling the possibility of Wenger deciding to drop Özil from the starting XI for their biggest game of the season so far when they take on Bayern on Wednesday. It would be a huge call from Wenger, but one that proves not even Özil can get away with going through the motions.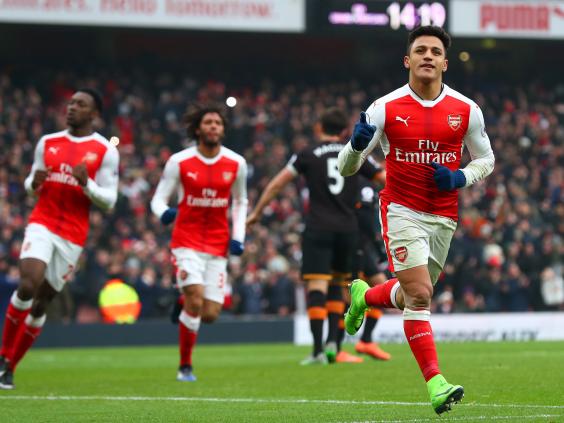 Not even Chelsea can break the Turf Moor resilience
Burnley's home record in the Premier League this season has been well documented, especially in this weekend round-up, and they once again proved why they are a match for any side when they battled back to claim a 1-1 draw against runaway leaders Chelsea.
Based on home form alone, Burnley would be fourth in the table, ahead of Liverpool, Everton and both Manchester clubs, and have just four points fewer than Chelsea. It's been a remarkable showing of resilience and confidence from a side many expected to be in the middle of the relegation battle, but instead Burnley are on the cusp of the top half of the table and have a healthy 10-point advantage on the drop zone.
Sunday's draw also suggested that Sean Dyche has come up with a gem of a signing in Robbie Brady, after the January addition struck a sublime free-kick that not even Thibaut Courtois could beat.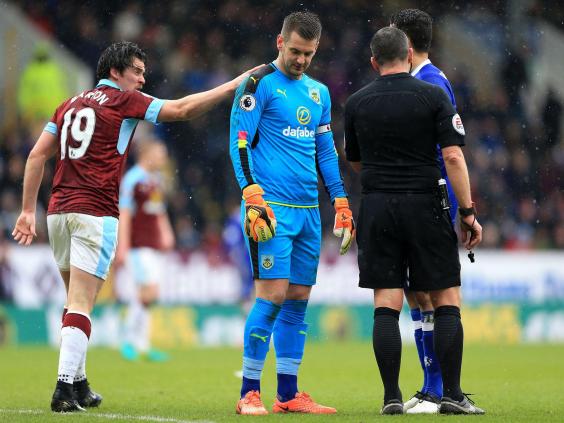 Tottenham showing exactly the same traits as Arsenal
Arsene Wenger called for Arsenal to show the same unity as Tottenham last week, with the fans all falling in behind manager Mauricio Pochettino's belief that they are on course for something big. However, Pochettino does not want Spurs to be more like Arsenal, but that's exactly where they are heading.
Every time Spurs do something to suggest they have cracked the title race, they do something to put their credentials in doubt. Take last season for example, when they moved into position to win the title only to suffer an end-of-season collapse and see their hopes ended by Chelsea. This time around, it was the 2-0 win over Chelsea that fuelled talk of Pochettino's side being the best-placed challengers to catch the Blues, but they followed that up with a 2-2 draw at Manchester City and a 0-0 stalemate with Sunderland.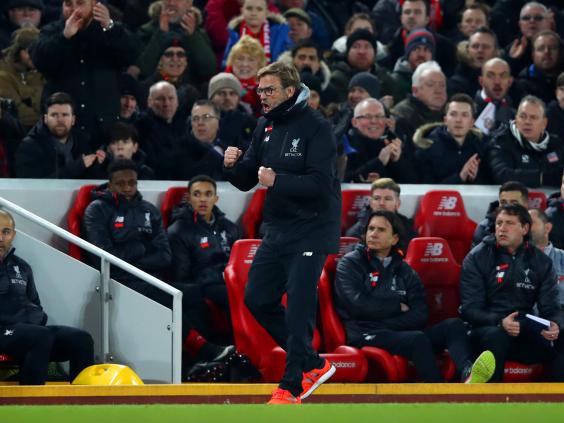 At the weekend, with the chance to prove they can be taken seriously, Spurs suffered a 2-0 defeat by Liverpool – one of the most out-of-form sides in 2017 – and they are displaying exactly the same nearly-men traits as their north London rivals have done for the last decade.
Sunderland's yo-yo effect gives Moyes' critics plenty of ammunition
If David Moyes had any hopes of using the 4-0 dismantling of Crystal Palace as a catalyst for Premier League survival, then this weekend's 4-0 trouncing by Southampton will not have done confidence in the north-east any good at all.
The problem for Sunderland this season is their failure to back up positive results, as only once this season have they managed to record consecutive victories in the Premier League which came in wins over Bournemouth and Hull back in November. After a draw with Spurs and the win over Palace, another three points would've given the Black Cats a very tidy seven points from nine, but instead they are now bottom of the table and facing difficult matches against Everton and Manchester City in the next few weeks.
The only way Sunderland will stay up is finding that consistency, but time is quickly running out.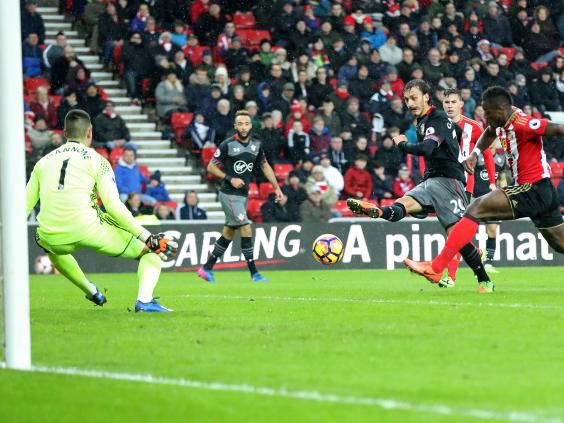 Palace in serious trouble as Allardyce fails to inspire
Premier League clubs facing the threat of relegation are quick to pull the trigger on firing a manager because history shows the new man more often than not gives the club a bounce effect and can earn a result or two within a few weeks of their arrival.
But since replacing Alan Pardew, Sam Allardyce has seen his Crystal Palace side record just one victory from eight Premier League matches and, more alarmingly, suffer six defeats, dropping them to 19th in the process. Allardyce spoke on Friday about his record against relegation, but those words are wearing thin and his actions are letting him down.
Palace have Middlesbrough, West Bromwich Albion and Watford up in three of their next four matches, and if they are to survive the drop, they need to create something in the next run of games.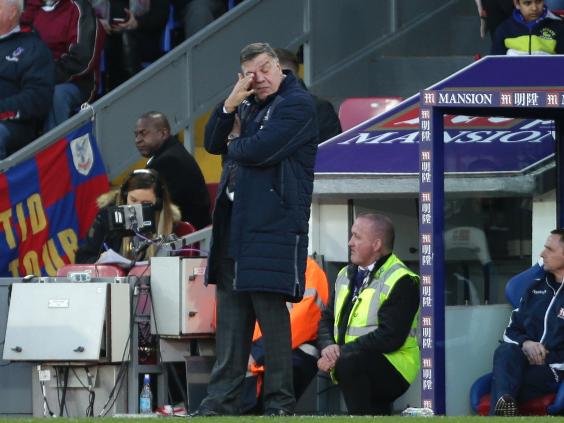 Is this really what Leicester's squad is capable of?
Both Palace and Liverpool have been criticised here for their form in 2017, but neither have records as bad as reigning Premier League champions Leicester. The Foxes have taken a solitary point this calendar year and are yet to score a single league goal in 2017, and last season's successes seem an awful long time ago.
Any Leicester fan will probably tell you that two seasons ago, they would've accepted relegation for the 2015/16 title triumph. But given this is a squad of Premier League winners, it begs the question: what are Leicester really capable of?
Having triumphed in what was an off-year for the Premier League's 'Big Six', surely this is a squad that is still capable of a mid-table finish at worst. The fact that they're nowhere near where they should be raises serious questions about the motivation of the players and, more importantly, of the manager in Claudio Ranieri.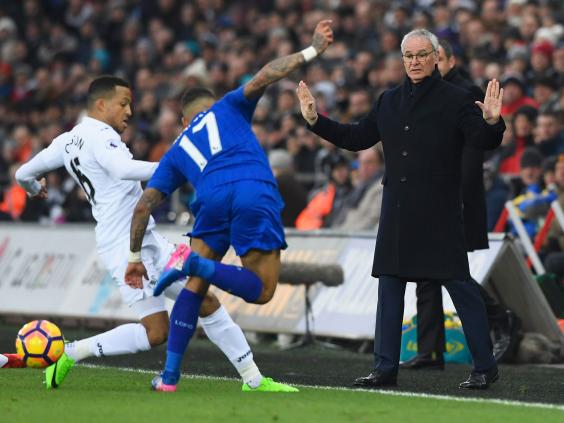 Pulis and Hughes face-off has all the ingredients for an all-Welsh charity boxing match
It started with the 'leak' that Saido Berahino, the new Stoke signing, failed a drugs test last year and served an eight-week ban in secret while with West Brom. Then came the 1-0 victory for the Baggies over Stoke, giving Tony Pulis a cherished victory over his former side. He celebrated by ringing Ryan Shawcross and leaving him a voicemail, in which he labelled his former defender a "loser".
Pulis's response was to criticise Mark Hughes, calling the Stoke boss "disgraceful" for telling the media last Friday about the phone call, failing to see that no matter how he painted the voicemail it did not reflect well on Pulis himself. It's worth remembering that Pulis and Hughes hail from different areas of Wales, Pulis from Newport in the south and Hughes closer to Wrexham in the north.
Alfred Zimmern, a former professor of international relations at the University of Wales, Aberystwyth, argued nearly 100 years ago that there is a clear division between the north and south that brought with it a rivalry to beat each other. That may be true here, but the more likely scenario is that Pulis and Hughes simply don't like each other.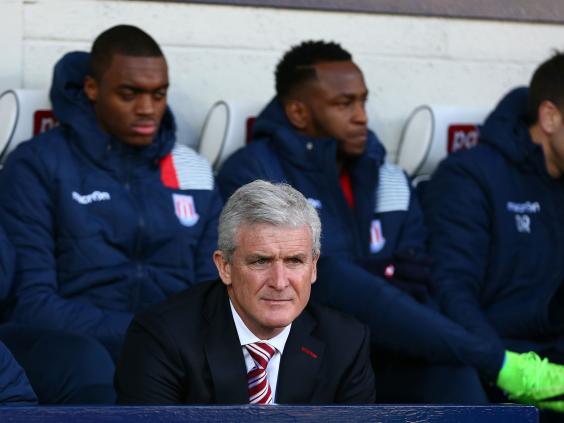 Let's just cut out the verbal barbs, and get the pair in the ring so they can sort it out once and for all.