Arsene Wenger has condemned a small contingent of Arsenal fans who staged a protest against the Frenchman at the club's training ground on Tuesday morning, stating that "it is good that they can waste their day like that".
Prior to Wenger's mid-week press conference, three protesters travelled to Arsenal's training base in London Colney to call for the manager to step down.
With disaffection reaching boiling point among sections of the Arsenal fan base, this is the first time that protests against the Frenchman have been staged at the Gunners' training ground.
But speaking ahead of his side's clash with West Ham United on Wednesday night, Wenger was in no mood to acknowledge the protests.
"It is three guys. Honestly," he said. "Why should I waste energy on that? Honestly.
"I don't know what to say. It is good that they can waste their day like that."
With Arsenal currently experiencing their worst run under Wenger since he joined the club, in which the side have managed just two wins from their last seven fixtures, calls for the 67-year-old to step down continue to surface with each passing week.
Arsenal have the same season every year
Arsenal have the same season every year
1/8 Surprise early defeat

A surprise early defeat, such as 2013/14's to Aston Villa or 2015/16's to West Ham United, makes July's Emirates Cup win seem like a distant memory.

Getty

2/8 Impressive win against top club

A promising win against a title rival, like last season's 3-0 victory over Manchester United or this season's win over Chelsea, has the Emirates hoping for the best again.

Getty

3/8 Injuries start to mount up

However, a long queue starts to form outside the treatment room. Key players, as well as regular absentees, tend to be the victims.

Getty

4/8 November curse strikes again

Arsene Wenger's side then begin to unravel in November, with the curse kicking in after an away defeat against one of the top flight's lesser lights. It's around now that the already-faint hopes of a title challenge start to fade.

Getty

5/8 Champions League elimination

The most predictable part of it all comes in February, with Champions League elimination, usually to Bayern Munich, Barcelona or Monaco, if they are really unlucky.

Getty

6/8 Title hopes finally killed off

A heavy, signature defeat to a fellow top six side puts paid to any lingering hopes of a title challenge in late February or March. 2013/14's 6-0 reverse at Chelsea, Arsene Wenger's 1,000th game in charge, is perhaps the most memorable example.

Getty

7/8 Strong rally to finish

The pressure is off, time to turn the style on. A rally at the tail end of the season does wonders for Arsenal's league standing, but little to combat allegations of flakiness.

Getty

8/8 Top-four finish

Arsene has his 'trophy'. Champions League football is coming to the Emirates again next year. What more could the fans want?

Getty
An estimated 400 'Wenger-out' fans gathered outside the Emirates' old Highbury East stand ahead of Arsenal's humiliating 5-1 defeat by Bayern Munich last month, while 'Wenger-out' banners were displayed during the side's subsequent 2-0 victory over Sutton United.
More recently, pro-Wenger fans clashed with those calling for his resignation during Arsenal's 2-2 draw with Manchester City on Sunday.
But amid such a turbulent backdrop, Wenger remains unperturbed and has insisted he is "not scared" by the increasing unrest at the club.
"Honestly, I am professional and when you are professional you perform in ideal conditions and non-ideal conditions," he added on Tuesday.
"I love to win football games. I just focus on that. I work for my club with honesty and integrity. 
"I am not scared. I accept the judgement of people and focus on the game. That's it."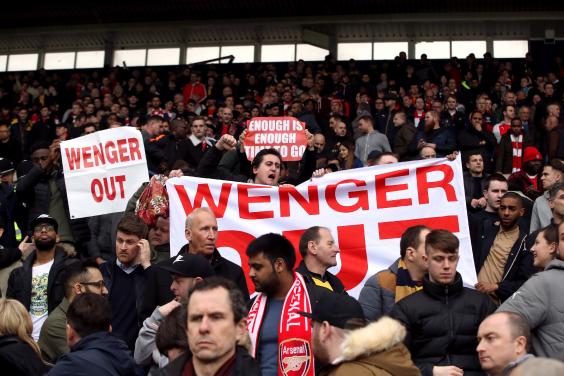 The Arsenal manager also refused to accept the need to "change" his philosophy at the club, but argued "evolution" was instead vital to taking his side forward.
When asked if he needed to reinvent himself, Wenger replied:  "That has nothing to do with you to change.  That is something to do with you to improve. 
"My battle in my whole life is to improve and to be better. That is evolution, not change. Change is the heart of who you are. That's difficult. Evolution? Yes."
Reuse content