Gary Neville has urged Arsenal fans not to overreact to this season's performance in the Premier League if they win the FA Cup this season, stressing that every team is "allowed a blip".
Arsenal's 2-0 defeat by Tottenham on Sunday has confirmed that they will finish below Spurs for the first time in 22 years, meaning that manager Arsene Wenger has lost out to the club's north London rivals on league finishing position for the very first time.
With Arsenal six points off the top four – albeit with a game in hand – the prospect of qualifying for next season's Champions League next season is reducing week by week, but Neville believes that failure to reach Europe's premier competition should not be reason to panic given the club is through to the FA Cup final, where they meet Premier League leaders Chelsea.
"If they won the FA Cup this year, would that be seen as a successful season? I'd say probably yes," Neville said on his podcast.
"People will argue their league performance has been the worst it's been for 15-20 years but maybe they are allowed a blip."
Chelsea endured such a blip last season when, having won the previous season's Premier League title, they finished in 10th after dropping as low as 17th, leading to Jose Mourinho's sacking and the eventual appointment of Antonio Conte.
However, while Chelsea have bounced back in style with a new man at the helm, Arsenal look likely to return with the same manager, with Wenger closing on a new two-year deal with fewer than two months left on his current contract.
The initial offer made by the Arsenal board saw them attempt to extend Wenger's deal by two years at the start of 2017, and Neville admits that Arsenal's slump in results – winning 11 of their 22 matches along with eight defeats and three draws – will not have changed what lies in store for the Arsenal manager.
"I don't think it leaves Wenger in a different position," Neville added.
Tottenham vs Arsenal player ratings
Tottenham vs Arsenal player ratings
1/23 Player ratings

We run the rule over the two teams after Tottenham's derby victory.

Getty

2/23 Hugo Lloris - 7

Rarely called into action but on those occasions when he was tested he held his nerve to keep Arsenal out.

Getty Images

3/23 Kieran Trippier - 6

Not his best of performances. Made a hash of a number of crosses and was quiet at times. Some of his tackling was impressive, though.

Tottenham Hotspur FC via Getty I

4/23 Toby Alderweireld - 7

Defensively solid both in the air and on the deck. Rarely gifted Arsenal's front men the space or time to trouble the Tottenham goal.

AFP/Getty Images

5/23 Jan Vertonghen - 8

Tested Cech on a number of occasions with some sharp shooting. A real threat at corners. Fierce at the back. Excellent defensive display.

Tottenham Hotspur FC via Getty I

6/23 Ben Davies - 7

Hit the ground running and provided Spurs with a real sense of danger down the left flank.

Tottenham Hotspur FC via Getty I

7/23 Eric Dier - 7

An assured and rounded performance. Kept the Tottenham midfield ticking over all game long.

AFP/Getty Images

8/23 Victor Wanyama - 8

A true warrior at times. Seemed to emerge victorious from all of his challenges and was brilliant at dictating the tempo of Tottenham's game.

Getty Images

9/23 Christian Eriksen - 7

Provided the magic to open up Arsenal for Tottenham's first. Particularly dangerous in the visitors' final third. Passing was on point.

Tottenham Hotspur FC via Getty I

10/23 Dele Alli - 8

Showed real desire and fight for the first goal. An absolute menace across the entire front line for Tottenham. Very rounded performance.

AFP/Getty Images

11/23 Son Heung-min - 7

Was moved back into his preferred position and looked all the better for it. Enjoyed some piercing runs early on.

Tottenham Hotspur FC via Getty I

12/23 Harry Kane - 7

Excellent penalty to double Arsenal's lead. Hard working and tireless in his movement.

Getty Images

13/23 Petr Cech - 7 out of 10

Was tested by a number of challenging shots in the first half and put in some fantastic saves late on to limit the damage. One of the best shot-stoppers in the league. Would have been more were it not for him.

Tottenham Hotspur FC via Getty I

14/23 Gabriel - 5

A disappointing and uninspiring performance from him. His reckless challenge handed Spurs their second goal after Kane converted from the spot.

Getty Images

15/23 Laurent Koscielny - 6

Was off the pace for Tottenham's first. Should have moved quicker to close down Alli. Up until then he'd battled relatively well with the home side's front line.

Tottenham Hotspur FC via Getty I

16/23 Nacho Monreal - 4

Outclassed for much of the game. A considerable chink in Arsenal's weak armour.

Getty Images

17/23 Alex Oxlade-Chamberlain - 5

Out of his depth. Defensively poor and offered little going forward.

Tottenham Hotspur FC via Getty I

18/23 Aaron Ramsey - 6

Got a grasp of the game as it wore on and was one of the few Arsenal players to really test Lloris. Drifted out of the game though.

Getty Images

19/23 Granit Xhaka - 5

Made some solid challenges here and there but largely directionless in his play.

Getty Images

20/23 Kieran Gibbs - 4

Made little impact on the game. Another player who looked out of their depth.

Getty Images

21/23 Mesut Özil - 4

Another game in which he went missing. Dreadful display.

Getty Images

22/23 Alexis Sánchez - 6

Like Ramsey, the Chilean took a while to get going but by the end of the first half he was starting to have an influence on the run of play. Went off the boil in the second half though.

Getty Images

23/23 Olivier Giroud - 6

Willing to get back and help out his team mates defensively but failed to provide any real danger and creativity up front.

Getty Images
"There won't be a straw that breaks the camel's back with Arsene Wenger. It's a more the long term principle of whether the board and the manager feel it's the right time - and no-one knows the answer to that. We'll just have to wait and see - it is a unique situation where a manager has been there for so long.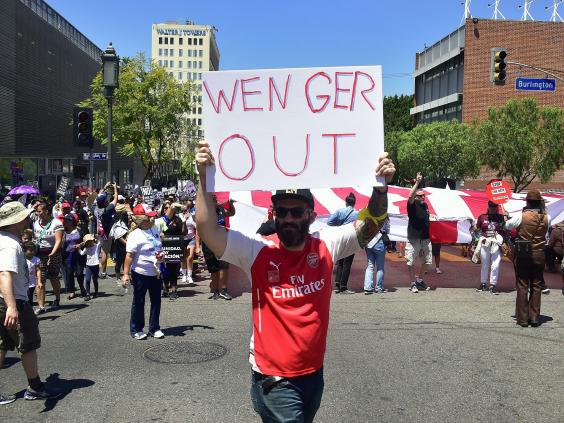 "The board have got an incredible amount of loyalty to him and rightly so. The manager seems to be in a strong position, where he can almost dictate when he finishes. Everyone wants an answer today but I can't see that happening while the FA Cup and league campaigns are still going on."
Reuse content