Arsene Wenger insists Mesut Özil suffered mentally from Arsenal's 10-2 defeat by Bayern Munich because he wants to win the Champions League for a second time with the Premier League club.
Arsenal appear a long way from winning the Champions League after slumping to their seventh consecutive last-16 elimination this season in the humiliating aggregate defeat by the Bundesliga champions that triggered plenty of the fan backlash that has arisen at the Emirates in recent weeks.
Part of that frustration has extended to Özil, with the belief that the club-record £42.5m signing has not lived up to his billing this season after experiencing a slump in form that coincided with Arsenal falling out of the title battle and into a six-team shootout for the top four – one they are currently losing given they have dropped down to fifth.
But ahead of Monday's Premier League clash with Crystal Palace, Wenger defended Özil once again after claiming he struggled to cope with the European exit, and explained why he took it worse than some of the other players among the Arsenal squad.
"I feel that he is back physically," Wenger said of Özil. "He is focused. I know him quite well."
He added: "He's very ambitious. He wants to win the Champions League. He cares much more than people think that he does.
"He was hit hard by us going out in the Champions League - it took some time for him to recover mentally. He has really been focused in training in last few weeks.
"We live in a world of extremes. We are always praised maybe more than we deserve it and punished more than we deserve it when it doesn't go well. That's our world."
Wenger has also talked up the chances of Özil signing a new contract with Arsenal, with the World Cup winner ticking towards the final year of his contract with his current deal up for renewal at the end of next season.
With Özil demanding in excess of £200,000-per-week – and possibly as much as £270,000-per-week according to Gary Neville – a stalemate has developed between the club and player, which has led to negotiations being put on hold until the end of the season.
Arsenal have the same season every year
Arsenal have the same season every year
1/8 Surprise early defeat

A surprise early defeat, such as 2013/14's to Aston Villa or 2015/16's to West Ham United, makes July's Emirates Cup win seem like a distant memory.

Getty

2/8 Impressive win against top club

A promising win against a title rival, like last season's 3-0 victory over Manchester United or this season's win over Chelsea, has the Emirates hoping for the best again.

Getty

3/8 Injuries start to mount up

However, a long queue starts to form outside the treatment room. Key players, as well as regular absentees, tend to be the victims.

Getty

4/8 November curse strikes again

Arsene Wenger's side then begin to unravel in November, with the curse kicking in after an away defeat against one of the top flight's lesser lights. It's around now that the already-faint hopes of a title challenge start to fade.

Getty

5/8 Champions League elimination

The most predictable part of it all comes in February, with Champions League elimination, usually to Bayern Munich, Barcelona or Monaco, if they are really unlucky.

Getty

6/8 Title hopes finally killed off

A heavy, signature defeat to a fellow top six side puts paid to any lingering hopes of a title challenge in late February or March. 2013/14's 6-0 reverse at Chelsea, Arsene Wenger's 1,000th game in charge, is perhaps the most memorable example.

Getty

7/8 Strong rally to finish

The pressure is off, time to turn the style on. A rally at the tail end of the season does wonders for Arsenal's league standing, but little to combat allegations of flakiness.

Getty

8/8 Top-four finish

Arsene has his 'trophy'. Champions League football is coming to the Emirates again next year. What more could the fans want?

Getty
But Wenger insists that Arsenal have proven that they can challenge for the silverware that Özil craves despite the 10-2 thrashing by Bayern, as the French manager drew on the two first half performances in the last-16 tie that saw the Gunners still in the game.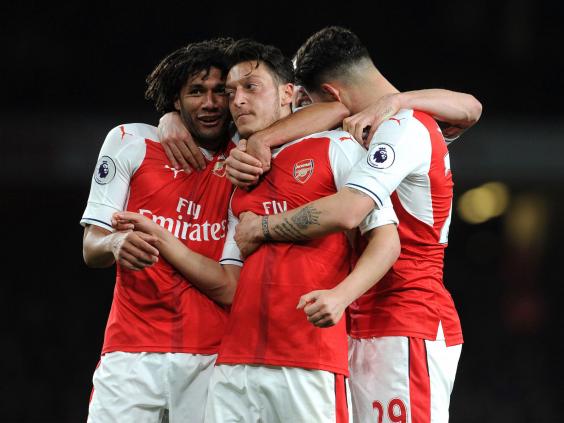 Wenger's point was that, had the two matches been called at half-time, Arsenal would have triumphed 2-1 on aggregate. But what seems to be lost on the Arsenal manager is that his side shipped nine goals across two woeful second-half performances, yet he has been keen to talk up how well his side played.
"If you look at the two games, the first 45 we are qualified but we went out in such an emphatic way," Wenger added.
Reuse content