Arsenal's humbling at the hands of Bayern Munich, a two-legged humiliation stretching to double figures, provoked an inevitably strong reaction across the continent.
And it is telling that this team are now perceived in similar fashion both at home and abroad, with the overriding emotion coming through the European media in attendance being one of pity and resignation - this is a manager whose time is at an end. 
If there is a silver lining to this lingering cloud over Arsenal, then it is that they will no longer have to battle on multiple fronts. Their Premier League campaign is long over and, in such humiliating fashion, their Champions League one ended too. 
Arsenal 1 Bayern Munich 5 player ratings
Arsenal 1 Bayern Munich 5 player ratings
1/22 David Ospina – 6 out of 10

This Champions League tie may be Arsene Wenger's last as Arsenal manager

2/22 Hector Bellerin – 6 out of 10

Played well in the first half in attacking down the right to support Walcott, but was ineffective in the second and he fell asleep to allow Costa and Vidal in behind him for the fifth, though by that point the entire Arsenal side was asleep.

3/22 Shkodran Mustafi – 5 out of 10

Showed a nice pass to put Walcott in when he should have bagged a second, but the loss of Koscielny alongside him again exposed his weakness. Sloppy passing after the break, and completely gave up after the second goal.

4/22 Laurent Koscielny – 6 out of 10

Looked switched on from the get-go a he blocked Robben's shot before deflecting two crosses out for a corner. However, the game turned again on his departure, as he tripped Lewandowski in the area without trying to play the ball, receiving a red card in the process.

5/22 Nacho Monreal – 5 out of 10

Got forward on occasion and offered support to Giroud as the striker preferred the left side of the Bayern defence. However, he simply isn't good enough to defend at this level as he repeatedly played the Bayern attack onside.

6/22 Aaron Ramsey – 6 out of 10

Looked a yard short of his best given his lack of football, but grew into the game as it wore on. Won a free-kick just before the break with a nice turn on Martinez and started to have a bigger influence in the central role that he craves. Replaced when the game was done at 2-1.

7/22 Granit Xhaka – 6 out of 10

Looked much more controlled early on as he protected his back line and showed a nice passing ability to spray the ball from flank to flank. But with the collapse went his discipline, and picked up another booking for a terrible tackle on Rafinha.

8/22 Theo Walcott – 7 out of 10

Started the match with a point to prove and went about doing it in the perfect way. Two early runs should've alerted the danger, and the third produced the opener as he beat Neuer at his near post, seven years after his last Champions League knockout goal. Should've had a second from the same position, but fired into the side-netting. Much quieter in the second half, and probably the only Arsenal player who showed his best out there.

9/22 Alex Oxlade-Chamberlain – 6 out of 10

Moved to a central role and enjoyed having more influence in the game. Drifted to the right on occasion but the end result was missing.

10/22 Olivier Giroud – 6 out of 10

In at the last minute for the ill Danny Welbeck. He brought a physical threat to Bayern, and nearly found the net with an early header after getting above Hummels. Missed na even better chance after the break when unmarked in the centre of the box, but somehow headed over.

11/22 Alexis Sanchez – 6 out of 10

A lively start on his return to the side, as he was providing the link between the midfield and Giroud up top. Gave away possession that nearly led to a Bayern goal for Lewandowski, and departed when Wenger knew the game was gone.

12/22 Manuel Neuer – 6 out of 10

It's not often you can say he should have done better, but he should have done better. Punched Walcott's fiercely struck effort high into the roof of his own net. Rarely tested otherwise.

13/22 Rafinha – 6 out of 10

Brought into the side for the suspended Philipp Lahm, and he did an adequate job of shackling Sanchez that forced him inside.

14/22 Javi Martinez – 6 out of 10

Booked for a cynical foul on Ramsey as he ran towards the Bayern area. Looked the weak link at the back, but once the Arsenal attack wilted he was allowed to run forward and nearly bagged himself a goal, heading just over.

15/22 Mats Hummels – 6 out of 10

Passed too easily by Walcott for the goal, and struggled to cope with the England winger's pace on the left.

16/22 David Alaba – 6 out of 10

Struggled desperately with the Walcott-Bellerin combination on his flank, and his early shot at goal from a Robben corner was always curling away from the target.

17/22 Xabi Alonso – 7 out of 10

Apart from a corner that failed to beat the first man, he oozed control and class in the middle of the field. Happy to sit back and let his teammates take the plaudits, but he'll be sorely missed.

18/22 Arturo Vidal – 8 out of 10

Lucky to get away with a high foot on Sanchez that could have brought a booking, and his early sighter at goal from long range wasn't a handsome one. But as Bayern cut loose, so did he, and he linked up delightfully with Douglas Costa twice at the end to go home with two goals to his name.

19/22 Arjen Robben – 8 out of 10

Gave Monreal problems early as he cut in on his left foot, only to have his shot blocked. Saw another effort from the right well saved by Ospina. Lovely flick over the defence should've brought a goal from Lewandowski before the break. Aware enough to capitalise on Opsina's poor clearance and link with Lewandowski to score his goal.

20/22 Thiago Alcantara – 8 out of 10

Another virtuoso performance from the midfield that is really starting to come of age. Links the play beautifully between midfield and Lewandowski.

21/22 Franck Ribery – 6 out of 10

Stood still and watched Walcott run away from him for the opener in a lazy daze. The only disappointment the Bayern attack.

22/22 Robert Lewandowski – 8 out of 10

Missed a sitter late in the first-half when put through by Robben, and he could only guide the ball wide of the far post. Split the Arsenal defence after the break to win a penalty and send Koscielny for an early bath, and tucked home the spot-kick coolly, as you'd expect. Should have had a second, but his close-range effort struck the post.
"The Premier League escaped them a few weeks ago…" said AS, "and once again only the FA Cup remains to gloss over their season… disappointing."
"Arsenal bleed themselves to death again," read Mundo Deportivo's headline, describing the evening as "one of the most sad scenes that one can remember at the Emirates."
Bild, predictably, focused on Bayern's strengths but delivered one killer line on the two teams' respective second half performances - "the Munichers turned up, the Londoners gave up."
There were few summaries as brief yet so cutting. 
"Arsenal said adiós at the last 16 phase of the Champions League for the seventh time in a row," recalled AS, leading on Wenger's sorry record in Europe's top competition. And to go with a sorry record was a sorry performance. 
A performance akin to giving up, according to L'Equipe, who felt that "Wenger's players stopped pressing, and then playing, after the equalizer which was a synonym for elimination.
"Bayern then reminded us that they were a European giant, beating the Gunners over and over in an Emirates that was emptying bit by bit."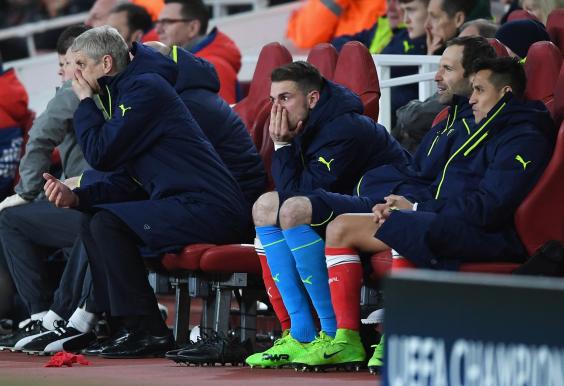 "If there was no balance from Bayern in the first half," posited Italian newspaper Gazzetta dello Sport, "then in the second half the greater strength, both technical and mental, of the Bavarians shone through."
Across the board the verdict on Arsenal, the team and the manager who personifies them, was damning and yet there were individuals who received some credit. 
Alex Oxlade-Chamberlain, who was awarded the maximum grade of three stars byAS - the same as Arjen Robben and Robert Lewandowski - was described as "omnipresent". 
L'Equipe was full of praise for Hector Bellerin and Theo Walcott, who combined down the right flank "to make Bayern suffer." Walcott was, they said, "the author of a great first half."
But ultimately this result was what it was, a doubling of an already humiliating scoreline played out to a backdrop of inevitability and increasingly restless home fans.
"The result said everything," concluded Marca. 
"Arsenal, completely sunk, said goodbye to the Champions League with a scandalous performance that unmasked Wenger. Twenty years later, it is time to say goodbye to the French coach. 
"This team's performance said all that needed to be said."
Reuse content